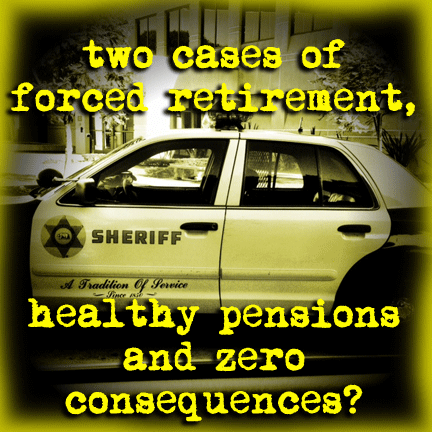 SCANDAL-RIDDEN SHERIFF'S DEPT. CAPTAINS CRUZ AND ABRAM RETIRE QUICKLY….AND TAKE THEIR PENSIONS WITH THEM

by Matt Fleischer

Los Angeles Sheriff's Department spokesperson Steve Whitmore confirmed Wednesday morningwhat sources have been telling us for weeks: Captain Daniel Cruz, a key figure in the jail abuse scandal at Men's Central Jail, is no longer with the Los Angeles Sheriff's Department.

"Dan Cruz is retired as of January 1st," Whitmore told WitnessLA.

Cruz had been on paid leave for around a year pending an LASD Internal Affairs investigation into alleged misdeeds during his tenure as Captain of Men's Central Jail. LASD's Whitmore tells us he isn't aware of any finding in Cruz's case, but sources with inside information on Cruz's departure tell us that Cruz was scheduled to be demoted to lieutenant, and chose instead to retire as a captain.

As WitnessLA first reported back in December of 2011, Cruz had a key role in allowing deputy on inmate violence to spiral out of control at MCJ. During his tenure as MCJ's captain from April 2008 until December of 2010, Cruz sat on piles of force packages—often excusing deputy misbehavior after only cursory review, other times tacitly killing the cases by ignoring the requisite investigations until the year-long statue of limitations expired.

According to testimony before the Citizen's Commission on Jail Violence by LASD Captain Michael Bornman, who worked under Cruz at MCJ, Cruz routinely declined to pursue cases of deputy misdeeds even when they strayed outside the jail walls. In one such incident, according to Bornman, Cruz balked at launching an investigation when several off-duty MCJ deputies got into a drunken fight with a construction worker at BJ's brewery in West Covina. During the furniture-throwing melee, a deputy punched a woman in the face. Another deputy allegedly flashed his gun. When Bornman approached Cruz with the incomplete administrative investigation into this reported assault, Cruz told him not to "look too hard." Then when Borman further noted that the 365-day window to complete inquiries into the matter was fast approaching, Cruz was unfazed. Said Bornman of Cruz: "He said, 'Oh, well. If it drops dead, it drops dead.'"

Additionally, Cruz was one of two captains present when the now infamous fight between deputies broke out during a 2010 Christmas Party at the Quiet Cannon banquet hall in Montebello that left two deputies severely beaten and led to the firing of 6 others. When Montebello police got the call that there was a fight at the Quiet Cannon and went to investigate, it was Cruz who told the Montebello cops that it was a "Code 4," no big deal, nothing to see here, the sheriffs would handle it.

But the matter was not handled at all and the beaten deputies returned to Montebello two days later to press criminal charges.

That problems occurred under Cruz's watch at MCJ should have been no surprise. Earlier in Cruz's career, when he was a lieutenant at Lennox Station in Inglewood, his boss, Commander Ralph Martin and his boss, LASD Division 2 Chief Ronnie Williams, pushed hard to get Cruz transferred out of their area because of his failure to investigate citizen complaints (called "watch commander service comment reports" or SCR's) against the station. Cruz was as much as 18 months behind in responding to what sources told us were "three massive boxes of complaints" cluttering his desk.

Despite his shortcomings as a supervisor, Cruz was promoted to captain and installed as head of MCJ thanks to his relationship with current LASD Undersheriff Paul Tanaka—who sources say "rescued" Cruz from career oblivion.

When then-LASD commander Bob Olmstead tried to crack down on Cruz in an effort to get a handle on rising force incidents inside the county's most troubled jail, Bornman testified that Cruz told him: "Fuck Bob Olmsted. I don't work for him. Lee Baca is my sheriff, but I work for Paul Tanaka."

Shortly after his promotion to captain, Cruz made two separate donations to Tanaka's Gardena Mayoral campaign–once on December 18, 2008, and again on January 6, 2009

"None of this needed to happen," former Commander Olmsted told WitnessLA of Cruz's seemingly premature retirement and the continued fallout from the captain's tenure at MCJ. "Misplaced loyalty within the organization can create divisions amongst personnel and the various functions in the organizations. And any time this occurs you have the possibility of serious dysfunction."

WitnessLA has also learned that LASD Captain Bernice Abram—-also a longtime ally of Paul Tanaka and a routine donor to his Gardena Mayoral campaigns—retired the day before Cruz. Abram had been under investigation for more than a year for her alleged role in a Compton drug ring. According to sources familiar with the situation, Abram was fired from her position, but was able to retire prior to the termination taking effect. Whitmore did not comment on Abram's alleged firing, but did confirm that she had retired.

Both Cruz and Abram are eligible to receive a normal pension—despite the fact, according to our sources, Cruz was set to be reprimanded with a demotion and Abram to be terminated. "Your retirement is based on your largest salary during a 12-month period," says Professional Peace Officers Association President Brian Moriguchi. "IA investigations are administrative in nature. Once you are retired, they close. There are no longer any administrative remedies."

Thus, now that their retirements are a done deal, only a felony conviction could impact either Cruz or Abram's pension. In the case of Abram, it would require federal charges, as the Los Angeles County DA's office has already decided not to pursue charges any kind of case against Abram.