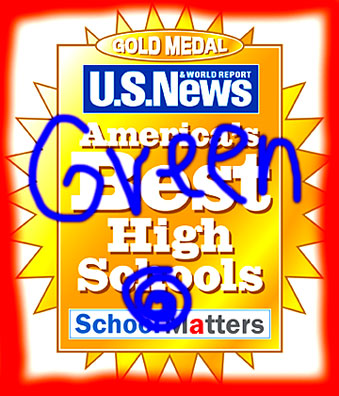 The US News and World Report has announced their 2009 list of America's 100 best high schools.
In the article, which may be found here, the magazine tells how—together with their project partner School Matters— they evaluated a total of 21,069 public high schools , out of which 1,925 were recognized for considerably outperforming their state's standards. In that group, there were 604 schools that also were "found to be doing an excellent job of preparing students for college-level coursework." Then out of the 604, USN found 100 that " performed the best in our three-step America's Best High Schools analysis."
Two of Green Dot's charter high schools were in that top 100.
Oscar De La Hoya Animo Charter High was 53rd on the list.
And Animo Inglewood Charter High School was 94th.
I know I natter on a lot about Green Dot on this site. And, look: I don't think they're perfect by a long shot. They've got a good model, but in some of the newer schools there are ups and downs as they continue to refine their stroke, so to speak.
But they're doing an awful lot right, as this ranking suggests. And they're doing it in areas of town where students have been chronically underserved to the point of what often constituted grinding neglect.
Oscar de la Hoya, which was originally located in Boyle Heights, opened its doors to kids who'd been failing in other East LA Schools. At De La Hoya, they began to thrive. (I watched it happen with a couple of kids I knew well, who had crashed and burned at their local public school, and then first began to feel capable at De La Hoya.)
So when, one wonders, are Green Dot's critics (cough–teachers union—cough) going to decide to do all they can to replicate the best aspects of these school's successes—- rather than peevishly opposing them?
*********************************************************************************************************
PS: While we're on the subject, here is a video of the three Locke student's self-taped reactions to the documentary ion the Green Dot charter conversion of Locke High School in which they were profiled.