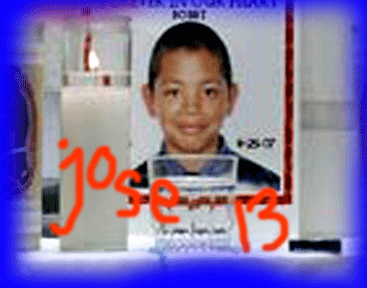 Six years ago, Kathleen Soliah AKA Sara Jane Olson, a former member of Symbionese Liberation Army (the group that kidnapped Patty Hearst) pled guilty to second degree murder for her part in a bank robbery where a customer was killed by one of her cohorts. Olson also pled to "two counts of attempted explosion of a destructive device with intent to commit murder" for her failed attempt to blow up a police car. Olson as served six years of a 12 year sentence and was released from prison this week. The rationale was that her sentence could be cut in half because Olson was a model prisoner, worked while she was locked up and was a middle class mom, married to a surgeon, thus no danger to society.
(Olson was on the lam from 1975 to 1999, sentenced in 2001. The LA Times has the rest of the story in case you want to read it.)

Then in another part of town, the Long Beach prosecutor's office announced Thursday that it intended to try two kids ages fourteen and fifteen as adults for the shooting death of another kid, a sixteen year old. Naturally gangs were involved.

If convicted, the two teenagers will get a minimum of 50 years to life in prison. But with the gang allegations that the DA's office is already lining up, the sentences will more likely be 75 years or longer.

Olson did whatever she did when she was in her early 20's and got caught up with cult (sort of like a gang) that was retaliating because the the death of her friends (sort of like gangsters might).

Broadly speaking, the case of Eric Benites, 15, and Jason Trejo, 14, has some similarities. Both participated in the death of another—a sixteen year old named Florentino Rivera, whom Benites and Trejo are accused of shooting on January 6, when they fired into a group of gang members with whom Rivera was standing.

As with Olson, Benites and Trejo were retaliating for another killing: Eric Benites 13-year-old brother, Jose Cano, was stabbed to death this past summer. According to Long Beach Press-Telegram's Tracy Manzer, an excellent reporter who's been covering the story, Benites was incarcerated in a juvenile facility at the time of his baby brother's murder so couldn't go to the funeral.
So when he got out, he went crazy. He tried to get his gang, the East Side Longos, to retaliate for his brother's death, but they didn't—perhaps in part because those alleged murderers were locked up awaiting trial for the crime. (The story of the younger brother's death is its own strange and tragic drama. Here's Manzer's account.)

Thus fifteen-year Eric Benito got his friend Jason Trejo, and the two of them allegedly got guns and, incredibly, decided to shoot at Eric's own gang (an all but suicidal act)—which also happened to be his brother's gang. They hit Florentino Rivera, a kid who it appears was not in a gang at all ,but had the tragically bad luck to be standing with gangsters.

Tracy Manzer was in court today when the two kids were charged. She told me afterward that Benito and Trejo were drowning in the adult sized jail sweatshirts, the sleeves pooling around their skinny arms. "Trejo doesn't even look fourteen," she said.

After talking to neighbors and friends of the two alleged shooters, Tracy said that both boys seemed to have less than ideal home lives. No dads on the scene, moms with a string of kids from different men. "I heard Benito's mom would brag about how tough her sons were," Tracy says. "The mom would say, 'Esta cabron.' " He's an S.O.B, a badass. And records show that the now dead younger kid, the 13-year-old, hadn't been in school since he was 11.

Okay, so let's go over our tally: We have two kids dead and three angry, damaged kids likely going away for the rest of their lives. (The sixteen year old who allegedly stabbed the 13-year old is being tried as an adult too.)
And the middle-aged, middle class white lady does six years. Sure. That works. Some lives are evidently just a little more worth saving than others.
'