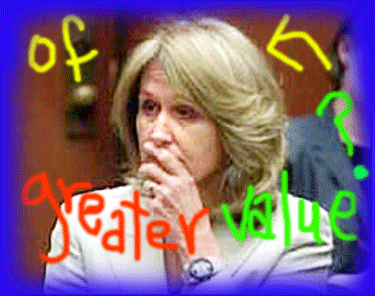 6 PM UPDATE: Sara Jane Olson has just been taken back to prison. It seems that the CDCR counted on its fingers wrong and forgot that she had another two years on her sentence (even though they said she didn't), meaning they will let her out in one.

(The CDCR has had a habit of miscalculating release dates of late.)
CONFUSED? HERE'S HOW IT WORKS: For murder you generally get life in prison, but if you're Sara Jane Olson that's divided by 2 because your hair is blond going tastefully gray, and you have a really, really expensive attorney, which means your sentance is now…..let's call it half-life. Divide that half-life sentence by 2 again because you look very sad and are very, VERY regretful, and your attorney says you can't get a fair trial because of September 11. [Nope. Not joking.] And then multiply the total by point 5 because your husband is a rich surgeon and he is very sad too, and you told the press that you only did the bank robbery, bomb, murder thingy because "It was in the air. It was impossible not to be involved." Okay, so now the total sentence equals 12 years. Divide 12 by two because although you were in a bank robbing, murdering, kidnapping, would-be-cop exploding cult, at least your cult wasn't all robby and murdery in a bad way, like say, a street gang; it was more hip and counter-culturally murdery, which is, when you think about it, VERY different, paradigm-ly speaking. Now were down to 6, but then add back 2 because the cops are super-pissed that a murderer and a would-be cop killer is out, which equals eight, but then subtract 1 because the CDCR looks like complete idiots for doing the math wrong, and that means Sara Jane Olson will get out next March 20.
See, once you understand it, it's simple.
**********************************************************************
3 PM: Sara Jane Olson, who was released from prison a few days ago after serving six years of her already low 12-year sentence, was re-arrested at noon today when she attempted to leave the state of California, which is a violation of the terms of her parole.

Ooops.

(Its a violation of nearly any felony parole, girlfriend. In fact, not leaving the state is Parole 101.)

UPDATE: It turns out she had permission from her parole officer to leave the state, although why she was given permission to do something that most parolees would never have been allowed to do so soon after their parole, if ever, is another question.


Now there is some rumbling from the California Department of Corrections about her sentence being miscalculated.

The LAPPL—LA's police union—who had not been in a good mood about Sara Jane Olson's release to begin with, was very much in favor of her rearrest, and sent out a new press release to that effect this afternoon. The statement from union prez Tim Sands reads in part:

"Justice is not served if convicted murderer Kathleen Ann Soliah can simply wander back to Minnesota after having served only a token sentence for murder and attempted murder. Her prison sentence is not completed until her time on parole has been served. The fact that parole might be an inconvenience to her should be weighed against the heinousness of the murder she committed and the coldblooded criminal intent she demonstrated by trying to blow up police officers and innocent bystanders. She was a flight risk 30 years ago, and she is a flight risk now."

As it happens, I agree with the union, although for slightly different reasons than those Sands cites. Look, I personally have no interest at seeing Sara Jane or Kathleen Ann or whatever her name is…locked up for decades at taxpayer's expense. Yet she was convicted of 2nd degree murder and two counts of attempted murder.

Now, let's imagine for discussion's sake that a former gang member participated in a drive-by shooting in 1994 when he was young and stupid. Let's say that, as a result of his and his friends actions, an "innocent" person died. Maybe the victim was sixteen-year-old boy who was a good student at a local high school, or maybe the victim was a mom with kids—sorta like Myrna Opsahl, Olson's group's murder victim.


Then let's imagine that this same gang member went on the run, like Olson, and managed to elude the cops for 16 years, during which time he mended his evil ways and settled down with a good job, a wife, and became a soccer dad—again, like Olson. Let's further imagine that, at the end of 16 years, he was caught and belatedly tried for the murder. In our insanely law-and-order world, I assure you we'd throw the book at him. He'd not see the light of day again….ever. If he was over 18, at the time of the murder, it would be a special circumstances case if it could be proven that the murder was gang-related, meaning that prosecutors could ask for the death penalty.

By contrast, middle-class Olson is not locked away forever. She gets fourteen years, which is reduced to 12 years, and she's out in six. Then, while out, she and her attorney are piqued because she can't travel as she wishes. Bummer.

I know a guy who was prevented from traveling from California to Arizona in order to participate in a two-week LA County-sponsored job training program. His parole officer said, absolutely not.
I know another former gang member who was invited personally to the White House by Laura Bush (I'm not kidding about this) after the first lady met the guy during a tour of Homeboy Industries. When he asked his parole officer if he could go with a well-escorted group to the special White House dinner, she said no, and left zero room for discussion.
I could tell you 30 of these stories. I also know another 30 stories that illustrate what happens if those on parole disobey the rules.

I'll give you one completely average example: There was the guy named Robert who was accepted into a great LA-based job training course and was doing well. But one weekend he went to the Pico-Aliso housing projects to visit his baby's mother, who was also his girlfriend. Unfortunately the area was off limits according to the conditions of his parole. Still, everything was going so well, and his girlfriend had no transportation at the time, so he figured he'd just slip in and out for a few hours visit to see his kid and his girlfriend. What was the harm? The cops spotted him when he walked to the little corner market on Third and Clarence Streets to pick up some orange juice for the baby. Robert went back to prison for another ten months—-for that and for no other reason. (Oh, and you and I picked up the tab.)

There is no question that we are in desperately need of sentencing and parole policy reform. But, as long as we are stuck with this lousy, law-and-order-heavy mess of a system, at least apply the rules equitably.

HINT: Equitable does not mean one person gets a 12-year-sentence for second degree murder and gets out in six, while fourteen, fifteen and sixteen year olds commit equally tragic murders and get put away for the rest of their lives, and the rest of us nod sagely and mutter things about "urban terrorists" and "public safety."

I just attended a juvenile justice working group yesterday and several of those present were mothers of incarcerated juveniles. I talked to a couple of the mothers afterward. In the case of one, he son was present when a kid was killed in the course of a fight, but took no active part in it. Yet, he and all the other participants were given life sentences.

In other words, Sara Jane Olson, who participated in a murder and two attempted car bombings can reform, but the kids whose mothers I met yesterday, and those mentioned in the post below (who are, after all, young adolescents whose brains aren't even fully developed, for God's sake) are totally irredeemable and must be locked away until the end of their lives.
In what world is that imbalance logical or moral?

So are we terribly sympathetic because poor Sara Jane can't leave the state whenever she wants to less than a week after her release from lock-up?

No, frankly, we are not.