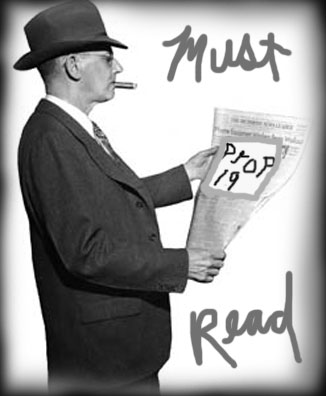 GEORGE SOROS WILL PUT $$$ INTO PROP 19
Gazillionaire George Soros is about to donate some big bucks to Proposition 19, the pot legalization initiative. He explains why in an op ed that appears in, of all interesting places, the Wall Street Journal. Since it's the WSJ, Soros leads his reasons with those relating to the fiscal side of the initiative.
Here are some clips:
Our marijuana laws are clearly doing more harm than good. The criminalization of marijuana did not prevent marijuana from becoming the most widely used illegal substance in the United States and many other countries. But it did result in extensive costs and negative consequences.

Law enforcement agencies today spend many billions of taxpayer dollars annually trying to enforce this unenforceable prohibition. The roughly 750,000 arrests they make each year for possession of small amounts of marijuana represent more than 40% of all drug arrests.

Regulating and taxing marijuana would simultaneously save taxpayers billions of dollars in enforcement and incarceration costs, while providing many billions of dollars in revenue annually. It also would reduce the crime, violence and corruption associated with drug markets, and the violations of civil liberties and human rights that occur when large numbers of otherwise law-abiding citizens are subject to arrest. Police could focus on serious crime instead.

[SNIP]

Who most benefits from keeping marijuana illegal? The greatest beneficiaries are the major criminal organizations in Mexico and elsewhere that earn billions of dollars annually from this illicit trade—and who would rapidly lose their competitive advantage if marijuana were a legal commodity. Some claim that they would only move into other illicit enterprises, but they are more likely to be weakened by being deprived of the easy profits they can earn with marijuana.
---
FLORIDA 23-YEAR-OLD CASUALTY OF THE DRUG WAR
This story by Vince Beiser isn't directly related to Prop 19, but there's a thin thread of relationship. In any case, it's upsetting—and worth reading.
Here's the opening.
She should have been scared. Rachel Hoffman, a slim, pretty redhead freshly graduated from Florida State University, had $13,000 in cash and a police wire in her purse. She was about to make a major buy from two armed drug dealers.

Rachel, 23, had never done anything remotely like this before. She was in her silver Volvo S40, way out in the thickly-wooded outskirts of Tallahassee, following the grey BMW of the two men who were going to sell her a pile of cocaine, Ecstasy, and a gun. But she felt safe. Once the deal went down, all she had to do was say "looks good," and the dozen-plus cops tailing her would pounce. It would be a thrill, like a real-life episode of one of her favorite shows, DEA.

But what mattered most was that the police had promised that if she did this sting, they wouldn't prosecute her for the marijuana they'd found in her apartment…..
---
AUTOMATED POLLS SHOW HIGHER PERCENTAGE FOR PROP 19
Or so the YES on Prop 19 folks say of their internal polls, according to FireDogLake:
Yes on Proposition 19 has just released a set of internal numbers for polling they conducted last week, which compared responses given to live interviewers versus automated telephone polling. Interestingly, there is a huge divide between the level of support expressed for Prop 19 with the two methodologies. They find that if an individual is responding only to a computer program, they are much more likely to express support for Prop 19.
In other words, people are more likely to admit their support for weed to a machine (that won't have a judgment) than to an actual person (who people imagine might have a judgment).
Or so they say.
And earlier LA Times/USC poll showed Prop 19 losing support.
---
ON BEING A DEPUTY IN HUMBOLDT COUNTY
The LA Times Sam Quinones follows a deputy sheriff through the slightly unreal world of law enforcement in Humboldt County:
Fantasy often mixes with reality in the work life of Deputy Sheriff Robert Hamilton of Humboldt County, the center of California's marijuana outback.

It happened again a few months ago in the isolated coastal resort of Shelter Cove, where Hamilton lives and patrols. The deputy came upon nine young men tending a marijuana plantation….
---
AND ON AN UNRELATED ISSUE…
Turns out it's not out of policy for the LA County Sheriff's Department to use department resources to do special investigations for big campaign donors.
Um, really?
The LA Times is as perplexed as I'm guessing the rest of us are about that little policy.