---
by Taylor Walker
---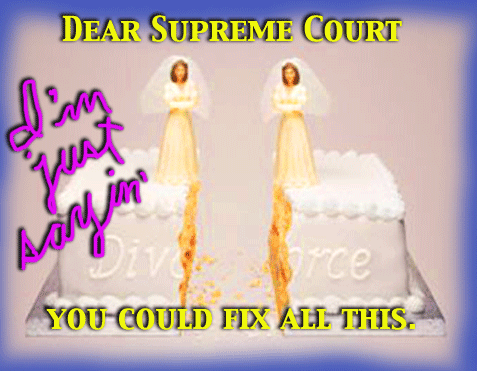 CAN MARRIED GAYS DIVORCE IN NON-GAY MARRIAGE STATES?
Washington Post's Ellen McCarthy reported Monday
on a same-sex couple seeking divorce in Maryland, where gay marriage itself has not been legalized.
Here's a clip:
The electronic board outside the courtroom identified the case as "No. 69, Jessica Port v. Virginia Anne Cowan." That title is misleading. Port and Cowan are on the same side of this case: They both want to get divorced. But a Prince George's County judge said they could not, reasoning that because same-sex marriage is not legal in the state, neither is same-sex divorce.

Now the highest court in Maryland will decide whether he was right, and whether the women will be required to maintain a bond they've tried for almost two years to sever. The case represents just one of the many blind spots in the legal infrastructure of same-sex marriage in America. Couples often have different rights when they cross jurisdictional lines and may not have the same status in the eyes of the federal government as they do in their home states. The laws are constantly evolving and election-year politics promise to heighten the already divisive passion surrounding the issue.
---
VISIONARY LEADER OR AUTOCRATIC BULLY? WHY DO THOSE WHO WORK WITH LAUSD'S SUPT. JOHN DEASY SEEM TO EITHER LOVE OR LOATH HIM?
The LA Times' Teresa Watanabe and Howard Blume took a look at LAUSD Superintendent John Deasy's aggressive methods for cleaning up the K-12 school system and the wildly divergent opinions of his efforts thus far.
Here's a clip:
…Deasy is pushing to change the culture of a behemoth school system with 660,000 students on 743 campuses across 710 square miles of urban sprawl. Some see Deasy as a dynamic leader driven by a moral urgency to give all students a quality education. But others view him as a relentless taskmaster intolerant of dissent.

"Either you do what he wants or you're gone," said one senior administrator who, like most senior aides and top administrators contacted, asked for anonymity for fear of reprisals.

Antonia Hernandez, president of the California Community Foundation, is one of many civic leaders who believes Deasy should press harder to improve a district where just over half the students graduate on time and half are not proficient in reading and math.

"We all know what LAUSD has been doing in the past hasn't worked," she said. "He needs to be even more aggressive. People are hungry for leadership."

Deasy admits he can be impatient and undiplomatic but otherwise makes no apologies for his style. He says he wants to find common ground with teachers and administrators; consensus is his preference rather than his priority.
---
THE NY TIMES ASKS WHY IN SOME STATES KIDS ARE STILL HOUSED WITH ADULTS IN ADULT PRISONS A NY Times Sunday Op Ed called on the DOJ to reform the juvenile justice system nationwide and eliminate the unethical placement of youth in adult facilities. An estimated 10,000 youths under 18 can be found in adult jails or prisons on any given day, according to federal statistics. As [32 members of Congress] pointed out, data from a 2005 study showed that youths made up only 1 percent of the inmates in jails and prisons, but 21 percent of the victims of sexual violence.
Numerous studies show that placing children in adult prisons leads to more suicide, victimization and recidivism, which is costly in both human and economic terms.
---
EDITOR'S NOTE; A RALLY FOR KENDRIC MCDADE WILL BE HELD TUES. 6 PM ON THE STEPS OF PASADENA CITY HALL
According the the email from the Youth Justice Coalition, the NAACP of Pasadena will be attending, so will the Pasadena Foothill ACLU, the League of Women Voters, the Pasadena Community Coalition, various religious leaders and a list of others.