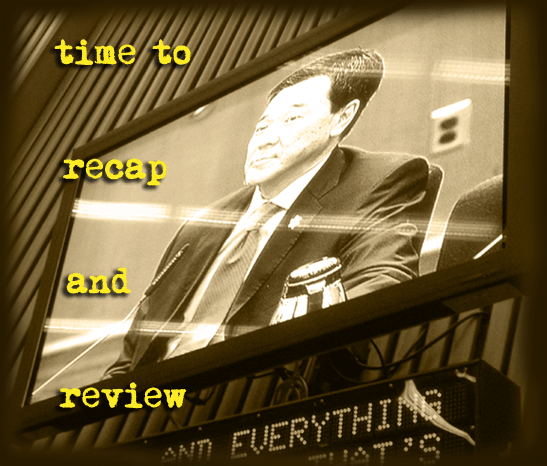 EDITOR'S NOTE:
The very last jails commission meeting is next Friday, September 7, 2012.
Then in early October, the commission will deliver its final report.
Thus as we head into the home stretch of what will have been a year-long process, we thought it might be beneficial to review some of what has come to light in the course of the commission's investigations.
In this first such review, WLA's Matt Fleischer looks long and hard at the substance and the meaning of the testimony given by Undersheriff Paul Tanaka, who appeared before the commission on July 27.
---
---
TRUTH, CONSEQUENCES & THE TESTIMONY OF PAUL TANAKA

by Matthew Fleischer

---

It's been just over one month since Los Angeles Sheriff's Department Sheriff Lee Baca and Undersheriff Paul Tanaka testified before the Los Angeles Commission on Jail Violence-—a blue ribbon panel charged with investigating the brutal and systemic deputy-on-inmate violence inside the county jails. Interestingly, it was the testimony of the notoriously media-shy Tanaka, not Baca, that was the most hotly anticipated.

In previous testimony by others before the commission, as well as in numerous reports in the media, Tanaka had been accused of failing to do anything to stop a culture of violence from growing and festering in the jails after he was reportedly warned verbally and in written reports about the growing crisis. Even worse, according some who testified, he had tacitly facilitated an anything-goes ethic among those working in Men's Central Jail– breeching the chain-of-command to interfere when lesser-ranked supervisors attempted to hold out-of-control deputies accountable.

For instance, in September of 2011 WitnessLA reported that, in 2006, Tanaka unilaterally shut down a pivotal anti-force reform effort by then-Men's Central Jail captain John Clark—a reform that was since enacted years later once news of the brutality inside the jails began to leak to the press. In the months that followed, we reported that Tanaka was widely rumored to be running a pay-to-play promotional scheme inside the sheriff's department—in which LASD donors to his Gardena mayoral campaign were placed in key supervisory roles and other coveted positions, throughout the department, and most crucially in Men's Central Jail (MCJ), in several cases, despite troubled managerial backgrounds. Prominent among those Tanaka-favored figures was Captain Dan Cruz, the highest-ranking member of the department put on leave for his role in failing to check the violence inside the jails, and allegedly in many instances appearing to sanction it.

The undersheriff had never publicly answered any of the accusations despite the repeated calls for accountability by social justice advocates and outraged LASD personnel.

At the commission, deputy general counsel Bert Deixler questioned Tanaka on these and other topics–including pinning the undersheriff down for encouraging deputies to work the "gray area" of law enforcement. Yet Deixler spent the most time trying to get Mr. Tanaka to explain his failure to contain, or even to address, the growing violence in MCJ.

In response to Deixler's questions, Tanaka provided little of substance, falling back repeatedly on, "I don't remember" and "I don't recall" in response to even the most basic of inquiries by Deixler.

Tanaka's testimony may not have provided the commission with the answers they were looking for, but it did provoke several significant questions: what did Tanaka know about force problems inside the jails and when did he know it? Did Tanaka lie throughout the commission hearing about his knowledge of the epidemic of force? Or was he bizarrely incurious about and irresponsibly unaware of the enormous problems that were facing the nation's largest jail?

Thus far there is no smoking gun to provide an unassailable answer one way or the other, but there is a wealth of evidence compiled by WitnessLA, the jails commission and others that suggests his claim of ignorance is simply untrue. However the implication of his purported ignorance of force issues is nearly as profound.

---

TANAKA TESTIMONY, REDUX

Though he denied being aware of them at the time, when presented with document after document that outlined widespread instances of excessive force inside the jails and noted a pattern of clumsy attempts to cover-up that violence, Tanaka admitted to the commission that there were extensive problems with jail violence under his watch that should have been a "significant cause for concern."

Yet while the undersheriff acknowledged that there were fundamental issues plaguing the jails during his tenure as assistant sheriff overseeing the department's custody division (and in the three plus years directly after when he still frequently meddled in custody matters) he stuck to his mantra that he simply wasn't aware of the problems until a flood of bad publicity, and the commission's own work, brought the matter to his attention. According to Tanaka, his failings as manager were not that he ignored dire warnings and reports of excessive force inside the jails (as a preponderance of evidence and other testimony suggests) It was the staff beneath him who failed to adequately inform him or to handle the job on their own initiative. Had he only been informed of the problems, Tanaka claimed, he would have gone into action.

When Deixler asked Tanaka directly if he had any knowledge of deputy-on-inmate force problems inside the jail system during his tenure as assistant sheriff in charge of custody from 2005-2007, Tanaka flatly replied "No."

Deixler followed up: "When you were assistant sheriff for custody, did you receive or request reports about problems with deputy cliques?"

"I did not receive any reports that there were problems with deputy cliques during that period of time," Tanaka said.

Later, Deixler asked about the statements of retired LASD Commander Robert Olmsted, who oversaw the jails from 2008-2010, and whose testimony before the commission had been—prior to Baca and Tanaka—the most dramatic. Olmsted testified he told Tanaka directly in a 2010 meeting that "…force is out of control. There are issues that need to be addressed down there [in MCJ]" Tanaka listened stone-faced, then replied to Deixler, "That's a fictional account of what occurred."

It was a reaction that left many in the audience scratching their heads.

"It seems to me everybody buried their head in the sand in regard to this issue," Commissioner Dickran M. Tevrizian Jr. told Tanaka. "It's very hard for a rational person to understand this."

Indeed, it was hard for us at WitnessLA to comprehend how Tanaka could have been unaware of high levels of force inside MCJ. From 2008 to 2010, custody supervisors generated no less than four internal reports, each intended to raise the alarm that there were serious and ongoing issues of excessive force inside the jail that were being inadequately reported and, in many instances, likely outright covered up:

Lieutenant Steve Smith compiled a force report in the fall of 2009, in which he noted that 42 deputy sheriffs had 10 or more uses of force over the last 24 months. (To put those numbers in perspective, it helps to know that, one week after Tanaka's testimony, former commissioner of the New York City Department of Corrections Martin Horn testified that only three uses of force by an officer at Rikers Island Prison Complex would trigger an automatic interview with the warden of the facility.) In another report, Smith looked at the patterns that could be seen with the highest force users, and what might be done to address the problem. In 2009, Lieutenant Mark McCorkle analyzed 154 force reports from 2005 to 2009 and found a list of red flags—cases of "repeated blows to the heads" of inmates, "personnel not held accountable," and "events dramatized to justify the outcome." And in January of 2010, Captain Gregory Johnson wrote a report that analyzed force packages at MCJ, and how they were improperly investigated, often in a manner that appeared to be consciously designed to let deputies off the hook for misdeeds.

Robert Olmsted, who oversaw the jails as a commander from 2008-2010, said he explicitly told Tanaka about these reports when he met with Tanaka in 2010.

"You don't get called into the Assistant Sheriff's office too often," Olmsted told WitnessLA. "When you do, it sticks."

Olmsted said he was called into Tanaka's office to discuss the contentious relationship that had developed between himself and then-MCJ Captain Dan Cruz—over Cruz's unwillingness to seriously address the problem of force inside the jail. He said he came to the meeting armed with "a stack of documentation, three or four inches high" about excessive and unnecessary force under Cruz's watch. According to Olmsted, a livid Tanaka countered, "I'm going to find out if you're the problem or if Dan Cruz is the problem."

Tanaka then sent then-Lieutenant Duane Harris into the jail to return with yet another report. Roughly two weeks later, Olmsted said, after Harris completed his report, Tanaka called the commander back in for another meeting, where he apologized to Olmsted and pinned the blame for the jail violence on Cruz.

In his own testimony, Tanaka admitted he called Olmsted into his office for both meetings—-but that force was never discussed. Instead, Tanaka claimed, the meeting was not about force, but instead about a pernicious "personality conflict" between Olmsted and Cruz. He said he did send Harris into MCJ to conduct a report, but force issues were never addressed in that discussion.

Other than the reports he said that he brought to the undersheriff (which Tanaka said he never received), Olmsted doesn't have any documents proving he discussed the escalating force problems with Tanaka during their meetings. But he did provide WitnessLA with a 2010 email to then-Custody Chief Dennis Burns citing the desperate need to review excessive force issues inside Men's Central Jail.

The email was sent during the time period that Harris was conducting his report on MCJ at Tanaka's behest, and documents Olmsted's contention that he had gone up the chain of command with his concerns regarding force. Thus, if Olmsted himself commissioned several reports about the violence in the jails, and was willing to share his concern, as well as the reports, with the Chief of the custody division, it becomes difficult to believe that he would have failed to mention those same concerns with Tanaka during a meeting Olmsted had expressly requested to discuss problems in Men's Central Jail. More to the point, since Olmsted had a stack of documentation showing that Cruz had allowed violence inside the jail to escalated unchecked, why would he hide those documents from Harris—who was conducting an examination to determine whether Olmsted or Cruz was culpable for serious problems in the jail? And why would Harris then hide those findings from Tanaka?

In addition to the blockbuster commission testimony by Olmsted, there was the testimony of former MCJ Lieutenant Albert Gonzalez and Sergeant Dan Pollaro. Both testified before the jails commission that Tanaka told supervisors gathered for a 2006 meeting at MCJ, that they needed to "coddle deputies." They also testified that Tanaka screamed at Gonzalez "How dare you call any deputy a gang member?"

Prior to the commission's hearings, WitnessLA broke the news of this meeting in Part 4 of our Dangerous Jails series. We spoke with other supervisors who were in the room that day who confirmed Gonzalez and Pollaro's account. They found Tanaka's prohibition against referring to certain deputy behavior as gang-like particularly memorable because it seemed to deny the existence of problematic deputy cliques that were growing powerful inside the jails—cliques whose members were often responsible for more than their share of force incidents against inmates.

Tanaka, however, flat out said Gonzalez, Pollaro and our sources were lying. "You can bring them here, you can bring me here. You can put us on a lie box. You can ask me that question."

---

PAUL TANAKA v. JOHN CLARK

The most troubling and difficult story to believe is Tanaka's account of what happened in 2006, when he shut down an effort to stem the tide of violence in MCJ by the jail's then-captain John Clark. Faced with growing piles of force reports littering his desk, Clark attempted to reduce violence in the jail by implementing a policy of assignment rotation.

"We had cases of force where there was either unnecessary or excessive force, or force that wasn't reported," Clark explained of his plan in a sworn 2012 deposition. "And that's the kind of thing we were trying to address."

Clark further testified that his supervisor Commander Dennis Conte and his supervisor Chief Sam Jones were aware of the plan and had approved it. Clark testified that Conte had made Tanaka fully aware of the plan and the rationale behind it.

In his testimony before the jails commission, however, Tanaka denied Clark's sworn account.

"That's not what was brought to my attention. What was brought to my attention is that there were a handful…of problem deputies with no specific indication or reason as to what the problem was."

In other words, Tanaka says he spiked a plan approved at every level of the chain of command beneath him without inquiring why the plan was needed in the first place. Tanaka was aware of "problem deputies," but never bothered to inquire what behavior made them problematic.

WitnessLA has obtained a copy of 2011 sworn deposition given by Tanaka where he discusses his decision to kill Clark's assignment rotation plan. Interestingly, under oath, faced with potentially perjuring himself, Tanaka was far more cautious than he was before the jails commission.

Q. Did [Clark] indicate during this meeting that [deputies] were problematic because of their use of force?

Tanaka: I don't recall that.

Q. Do you recall if he said they were problematic because they had bad attendance?

Tanaka: I don't recall.

Q. Do you recall any detail he gave you about why he thought these deputies were a problem?

Tanaka: No.

Q. Did Capt. Clark give any other justification or grounds for doing this shift rotation?

Tanaka: I don't remember.

Q. Did Capt. Clark ever express to you any other concerns about the deputies in the Men's Central Jail and their use of force against inmates?

Tanaka: I don't recall him doing so.

Q. Did Capt. Clark or any of your other command staff in the Custody Division report to you any concerns during this two-and-a-half-year period about the level of force being used by deputies against inmates?

Tanaka: I don't have any specific recollection of that.

Q. Did anyone report to you any concerns about deputies becoming overly clique-ish or engaging in gang-like behavior?

Tanaka: I don't recall hearing anything like that.

Q. When you say, "I don't recall," does that mean you don't believe you did that, or you don't recall one way or another?

Tanaka: I don't recall one way or another.

Instead of the definitive "that's not what was brought to my attention," under oath, Tanaka preferred instead to stick with the evasive and ambiguous "I don't recall."

---

THE DEVIL OR THE DEEP BLUE SEA

In short: in order for Tanaka's jails commission testimony to be believed—-i.e. that he had zero knowledge of force issues inside the jail system (save the occasional isolated incident)–it would mean that former LASD Commander Robert Olmsted lied to the commission about his meeting with Tanaka. It would mean that former MCJ captain John Clark had multiple discussions with Tanaka about "problem deputies" inside the jail, but failed to inform Tanaka what the phrase "problem deputies" meant. It would mean that Tanaka unilaterally spiked Clark's assignment rotation plan for dealing with these vague and undefined "problem deputies"—without ever having been informed of the reasons behind the strategy by Clark's immediate supervisors Commander Dennis Conte and Chief Sam Jones, as well as LASD employee relations head Larry Brogan, all of whom personally approved the plan. It would mean that retired LASD lieutenant Alfred Gonzalez and sergeant Dan Pollaro–as well as other supervisors WitnessLA spoke with—are all lying when they claim that Tanaka told them to "coddle" deputies in a meeting with all MCJ's supervisors. It would mean that those same men were also lying about Tanaka dressing down supervisors for referring to cliquish deputies as behaving like "gang members." It would mean that, several years later, when Tanaka sent his hand-appointed supervisor Duane Harris into the jails to determine the source of conflict between Olmsted and Cruz, Harris failed to mention that force was an issue—despite the existence of four internal reports that sent up major red flags. It would mean that former custody Chief Dennis Burns knew of alarming force problems inside the jails during Harris' investigation, but failed to report them to Tanaka. And it would mean that the current commander of LASD's Internal Affairs Bureau, John Clark, lied under oath, by testifying in a sworn deposition that excessive force was one of the underlying concerns behind his assignment rotation plan for Men's Central Jail—a concern he claims he made abundantly clear to every supervisor who queried him about the plan.

It is possible, of course, that this long list of department supervisors-–working and retired—are guilty of multiple elaborate falsehoods or dereliction of duty, or both, and Paul Tanaka alone is telling the truth. Let us say, for argument's sake, that those who claim they attempted to sound the alarm and were shut down by Mr. Tanaka, are in fact liars engaged in a conspiracy to frame the undersheriff. The story that Paul Tanaka presents in his testimony is not any prettier. It speaks of a bungling, incompetent bureaucrat who was somehow too busy or distracted by other departmental affairs to pay any attention at all to a major abuse problem inside the jails, that had resulted in a pile of broken bones and worse injuries, and turned MCJ into a virtual lawsuit factory. And yet this same bureaucrat still somehow found time to unilaterally shut down a crucial jail reform effort–without bothering to get to the bottom of why that reform was necessary.

Tanaka's explanation for nixing John Clark's assignment rotation plan is almost comically implausible. His ignorance of four crucial reports on force inside the jails is equally difficult to swallow. But, even if it happens to be true, it implies a level of managerial incompetence unfit for Mayberry, let alone the second in command at the largest sheriff's department in the United States.
---
UPDATE: For those who have not read the rough transcript of the testimony of the undersheriff and the sheriff before the commission, and would like to take a look, you may find the transcript here.