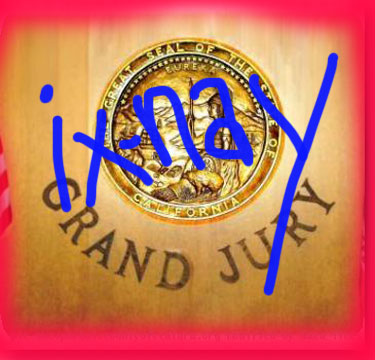 The bill that could have given City Attorney Carmen Trutanich his own grand jury was shot down in the Assembly's Public Safety committee, thus never made it out to the state assembly floor for a vote. The bill, SB 1168, introduced by Senator Gill Cedillo, passed in the state senate. However the committee defeat means that that SB 1168 is dead for another year, maybe forever.
It likely didn't help the bill's chances that such state organizations as the California District Attorneys Association and the California Chamber of Commerce were against the idea.
A motion to oppose the SB 1168 was to have been discussed in Wednesday's LA City Council meeting, but the bill's death in legislative committee made the local motion a moot point,
However, the city's Chief Administrative Officer still delivered his planned cost analysis of the proposed new grand jury.
Mr. Trutanich contended the grand jury would save money. However the CAO's report indicated that this was not the case In fact, according to the CAO, the $$ needed to impanel a grand jury, along with other court costs, would put the City Attorney over budget.
In Sacramento, Assemblyman Tom Ammiano (D- San Francisco), the Public Safety Committee's chair, told the LA Times' Patrick McGreevy that he felt he was being asked to jump into an "internecine battle" going on in Los Angeles.
"I just thought it was inappropriate to bring to the Legislature," Ammiano said Wednesday, the day after the committee action. "I don't want to play in somebody else's backyard."
Right, and in that same vein, kudos to council members Jan Perry and Bernard Parks for staying on the subject, while most of the rest of the council either sided unquestioningly with Trutanich or seemed to remember urgent appointments elsewhere when the grand jury topic arose. Jan Perry in particular refused to bend to the insistent winds blowing out of the city attorney's office.