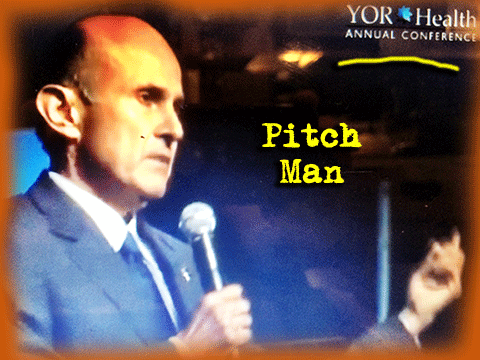 According to an upcoming report on ABC 7 (appearing Monday at 11 pm) Sheriff Lee Baca has been acting as a pitchman for a health supplement company called Yor Health.
(NOTE: The videos that were posted here" frameborder="0" allowfullscreen> and here, suddenly vanished during the day on Monday after this story ran, and more reporters began inquiring. They showed Baca as a keynote speaker addressing thousands of Yor Life devotees and sales people at the company's 2010 annual conference. ABC 7 also reports on Baca's most recent go round at the company's September 2013 sales conference earlier this month. Videos from that conference, that had been posted on Yor Health's site, have also been blocked from public view.)
We understand that ABC 7 has been digging deeply into various aspects of the sheriff's pitchman activities at Yor Health,—including the question of what if any financial arrangements may have been made in return for Baca's hawking of the company's products.
We suspect that the report will also look into the ethics of an elected official pitching for a profit making concern such as Yor Health.
We'll link to the network's online report after the segment with Marc Brown airs.
In the meantime, it is interesting to note that the Yor Life sales strategy is described by its founder Dennis Wong as "network marketing."
Yet, according to other reports, like this one by Bradley Cooper for the NY Sun, Wong has displayed a liking for multilevel marketing and that, around ten years ago, Wong was charged by the Federal Trade Commission for allegedly engaging in an illegal pyramid scheme. Wong and his partner settled with the FTC, and the settlement, among other strictures, "bars them from participating in any prohibited marketing scheme, including any business that operates as a pyramid scheme."
While we've seen no indication that Wong and Yor Life's business strategy is in any way illegal, complaints about the company's multi-level marketing efforts have surfaced on various sites the web (such as this one and this one).
In any case, be sure to tune in at 11 pm for ABC 7's full story on Sheriff Lee Baca as pitchman.
---
UPDATE: Here's a link to the broadcast, for those who didn't get a chance to see it. Plus we have a fuller rundown in WLA's Monday post by Taylor Walker.
---
ONE MILLION ELEMENTARY SCHOOL KIDS ABSENT EACH YEAR IN CALIFORNIA SAYS CA AG
In an alarming report released Monday by California Attorney General, Kamala Harris outlines a truancy crisis that is costing the state a fortune in funding, and creating a damaging achievement gap for many of the state's children.
The AP's Robert Jablon has more on the story. Here's a clip:
California must act to reduce rampant truancy that saw an estimated 1 million elementary students absent in the last school year and may cost the state billions of dollars through increased crime and poverty, according to a study released Monday by the state attorney general's office.

"The empty desks in our public elementary school classrooms come at a great cost to California," the report said.

The report, scheduled for release at an anti-truancy symposium in Los Angeles, said children have unexcused absences from school for a number of reasons, including family issues, neighborhood safety concerns and bullying. It called for a sweeping battle against absenteeism that brings together parents, educators, lawmakers, law enforcement and community groups.

"The findings are stark. We are failing our children," the report's executive summary concluded….

---
LA'S CITY ATTORNEY GOES AHEAD WITH ECHO PARK GANG INJUNCTION
There has been strong advocacy pro and con about the new gang injunction in Echo Park that has just received court approval.
The LA Times Hailey Branson-Potts has more on the story. Here's a clip:
A Los Angeles County court last week granted a permanent injunction against six gangs in Echo Park and its surrounding neighborhoods, according to the city attorney's office.
The injunction prohibits known members of the gangs from associating with each other in public, possessing firearms or narcotics, or possessing alcohol in public, officials said. It also prohibits gang members from possessing aerosol paint containers, felt-tip markers and other items that can be used to apply graffiti.
The gangs named in the injunction are the Big Top Locos, Crazys, Diamond Street Locos, Echo Park Locos, Frogtowns and Head Hunters.
"We've got to be tough on violent gang activity, and gang injunctions such as this one … are an important step," Los Angeles City Atty. Mike Feuer said in a statement.
The city has 45 other active gang injunctions, according to the Los Angeles Police Department. The city's lawyers filed the Echo Park injunction in June. It creates a 3.8-square-mile "safety zone" in Echo Park, Elysian Valley, Historic Filipinotown and portions of Silver Lake, court documents say.
The injunction — a civil suit that seeks a court ruling declaring a gang a public nuisance — also includes Echo Park Lake and Dodger Stadium
---
AND MORE ON THE STATE'S PRISON OVERCROWDING CRISIS
We didn't want you to miss the LA Times editorial on the latest wrinkle in the state's prison overcrowding crisis and what to do about it. Here's a clip:
The three federal judges who have ordered California to dramatically reduce its prison population have now pushed back their deadline by 30 days. The delay is both less and more than it seems.

It's less, because it's nothing close to the three extra years that Gov. Jerry Brown said he would need to reduce overcrowding and to keep the number of inmates capped. Instead of facing a Dec. 31 compliance date, the governor and the Department of Corrections and Rehabilitation now have until late January. That's not enough time to reduce crowding by attrition, or even by assigning newly convicted felons to leased cells in and outside of California.

But it's also more, or at least it could be. It's a signal from the judges that they believe, perhaps for the first time since the reduction order was handed down four years ago, that California may be ready to devote considerable thought and resources to reducing the flow of felons into the system….
We agree. And may we step up to the plate.