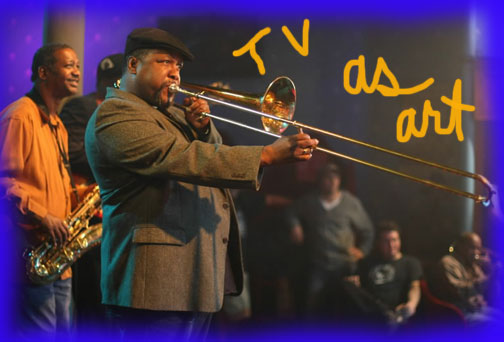 Just a note in passing, David Simon and Eric Overmyer's new HBO series, Treme, about post-Katrina New Orleans, began Sunday night.
I found it quite amazing. Gorgeous. Not quite like anything you've ever seen.
If you're expecting The Wire, redux….Don't. This is a wholly different creation. The story unfolds slowly, with novelistic rhythm. As has been noted by others, it centers around, not crime or politics, but music. (Let's just say that if you are made nervous by the repeated desire to leap up and dance around in front of your TV screen, this may not be the series for you.)
The moment when Treme locked completely into place for me personally was when Mardis Gras Indian Chief Albert Lambreaux (played by Clarke Peters from The Wire) materialized alone on a darkened street dancing with ferocious yet supremely dignified intensity wearing his stupendously yellow feathered chief's regalia, which he had, a few scenes earlier, found perfectly unmarred amid the rubble of the ruined bar he is trying to rescue.
Mary McNamera said in the LA Times that Simon isn't doing Dickens this time, he's doing opera. Okay, that's as reasonable a description as any.
In any case, he's doing art.
Don't believe me. Just see for yourself.