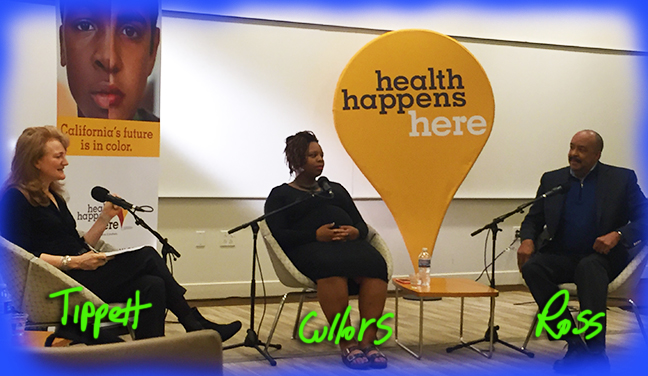 "The most important indicator of your life expectancy in this country is your zip code," said Dr. Robert Ross, president and CEO of the California Endowment, and a former pediatrician. "Race and racism, schools and public education, public housing, jobs, trauma, toxic stress—that's the toxic brew that leads to disparities for African Americans in this country, and for communities of color in general," Ross said. "Eighty percent of your life expectancy has nothing to do with health care."
Ross made the observation at a cross-generational conversation with #BlackLivesMatter co-founder, Patrisse Cullors, about the violence and trauma plaguing inner city communities, how to help cure that trauma, and what can be learned from the civil rights movement of the 50's and 60's to better address today's public health problems.
The exchange was moderated by Krista Tippett, host of NPR's On Being for later broadcast on her show, and it took some surprising directions.
---
THE VALUE OF ACTIVISM
When the California Endowment—the state's largest non-profit health foundation–was founded in the 90's, racial bias, trauma and resiliency, and a broken criminal justice system were not yet on the radar as public health issues. Ross took over as head of the Endowment in 2000, and has steered the foundation in some significant new directions as research has started to catch up to the realities of underserved communities of color in California and beyond. One of those new directions involves supporting the efforts of #BlackLivesMatter and other activist groups.
The #BlackLivesMatter movement, which started on social media, was founded by three queer black women—Patrisse Cullors, Opal Tometi, and Alicia Garza—in response to the 2013 acquittal of George Zimmerman in the death of Trayvon Martin, an unarmed black teen in Florida. Through "hashtag activism" and protests, the organization has been integral in bringing to public attention the disproportionate number of deaths of black Americans at the hands of law enforcement. Not surprisingly #BlackLivesMatter developed into a flashpoint for controversy, with opponents countering with hashtags #AllLivesMatter, and #BlueLivesMatter (in reference to police).
But, in the conversation with Tippett, Cullors emphasized that the "conversation about black lives mattering is a conversation about all lives mattering."
According to Ross, the Endowment believes that supporting activist groups like #BlackLivesMatter in their fight against systemic racism in its many forms has become an important component in the foundation's effort to improve the health and well being of California's communities. "What we found is that by funding and supporting activism and leadership, we are actually addressing public health," he said.
Cullors, who is in her early 30's and very pregnant, talked about why she has found the work of #BlackLivesMatter to be so healing and how her upbringing framed her life of activism on behalf of people of color.
A South Los Angeles native, Cullors was brought up by an activist grandmother whom she said "stood up for black life" while her own mother worked three jobs. "My grandmother showed me what it could look like to live a full life as a black woman in this country with integrity."
While Cullors grew up during LA's crack epidemic and watched the war on drugs unfold, Ross, who is 60, grew up in south Bronx during the tail end of the civil rights movement, and was working as a pediatrician at Children's Hospital when crack made its appearance in the US.
As crack spread through poor urban neighborhoods, Ross said he watched youth violence, gun violence, and property crimes skyrocket. He also attended numerous deliveries of crack babies and said that the nation's medical community was not prepared for the effects of widespread drug addiction.
"I wasn't prepared for any of that based on my training," Ross explained. "I could treat a kid with asthma or an ear infection, or even meningitis. But there was this other thing happening that was quite powerful, for which I had zero training."
Ross explained that the shock of dealing with the catastrophic effect of the crack epidemic of the 1980's and 1990's on poor urban neighborhoods was his introduction to what we now call the "social determinants of health"—factors like housing, education, and lack of employment that impact wellness.
He was further angered, he said, as he watched what he called the nation's "fear-based" response to what he saw plainly to be a public health crisis. "I was quite bitter at what the nation's response was—which was to criminalize drug addiction," Ross said.
---
CIVIL RIGHTS LEGACY
Now, 30 years later, said Ross, the nation is only starting to reverse the damages done by the war on drugs and poverty.
Ross said he felt that part of the problem was the failure of his generation to take action on these issues that affected African American communities disproportionately. "It was my parents' generation that weathered the depression, defeated Hitler, brought the civil rights movement," he said. "Our generation has pretty much dropped the ball…We left the business of addressing structural racism and inequality undone." Ross said he wants to see "defeating inequality as the next moon shot for this nation."
Part of the problem, according to Ross and Cullors, is that many believed changing discriminatory laws would change the public narrative. "You can't policy your racism away," said Cullors. "We no longer have Jim Crow laws, but we still have Jim Crow hate."
---
CIVIL DISOBEDIENCE AND PUBLIC HEALTH
Tippett asked Cullors about the fact that the #BlackLivesMatter movement has drawn criticism for using anger and civil disobedience as a strategy for combating racism and injustice. Cullors replied that, if looked at from another angle, the acts of resistance are acts of love. "When we show up on the freeway, when we chain ourselves to each other, that's an act of love," she said. "It's an act of love that we will put our bodies on the line for our community and for this country. In changing black lives we change all lives."
Ross noted that research is beginning to indicate that outrage and activism are actually good for our health, especially for those who have been "traumatized, stigmatized, and oppressed" he said. "The science on trauma and what it does to us is a lot better developed than the resiliency side. But there is something about civic activism and engagement that appears to be powerfully immunizing against poor health."
Both Ross and Cullors pointed to the importance of social media as a tool to reframe public narratives. "Social media allowed for a new generation to speak from their own perspective," said Cullors. "It's allowed for a new conversation, a new reach. As we know so much of media is corporatized. You're not going to get the authentic messaging from folks who are on the ground who are having these conversations."
Framing is crucial to #BlackLivesMatter, and the civil rights work of today, Ross pointed out. "How issues are framed dictates how public policy conversations are laid out," said Ross. "'Three strikes and you're out' went from a bumper sticker and a slogan to national and state policy in a minute. And bingo–440% increase in America's prison population."
Cullors agreed, adding that it is important to treat racism and every other form of discrimination as a sickness. "We are social creatures. Human to human, if you take a moment to be with somebody to understand the pains they're going through, you get to transform yourself. #BlackLivesMatter is a re-humanizing project," she said.
Ross added that the power of personal stories is essential in reversing racial bias in the justice system. "What we try to execute is this combination of storytelling and science to move the policy agenda," Ross said. "We are going to reform the criminal justice system, and we are going to do that with young peoples' stories."