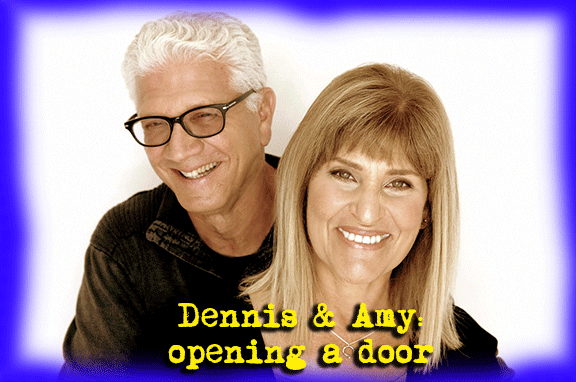 THE FORMER "DESPERADO'S WIFE" NOW HELPS KIDS COPE WITH THE PAIN OF HAVING AN INCARCERATED PARENT

by Amy Friedman

---

---

When I first met Dennis Danziger over a decade ago, I was reluctant to tell him anything about my first husband. Finally, after Dennis and I had known each other for a couple of months and as we were falling in love, I confessed my secret: that my ex-husband had been in prison for murder when we met and married and was now serving a lifetime parole. Dennis, who is a writer and teacher at Venice High School and is an exceptionally compassionate, accepting person, initially had the reaction I had over the years come to expect.

He expressed disbelief and fear—for his safety and for his children's.

That fear infuriated me. We spent hours talking as I tried to educate him about prisoners. To begin with, that they are human beings not caricatures, I told him. My ex and I had separated amicably and his sole interest was in living a quiet, law-abiding life, that he had no interest in Dennis and certainly not Dennis's children.

Still, Dennis struggled with what clearly felt to him as the threatening shadow of my past, but we continued to talk about about his preconceptions and fears. Then I finally introduced Dennis to my stepdaughters, who were by then in their twenties, he fell completely in love with them.

His relationship with the girls was the window through which Dennis began to understand the prejudice and punishment so many prisoners' families and friends face for having committed no crime; the only thing the girls (and I) had done was love someone who had done something terrible and was locked up and paying for it.

And there was another change meeting my step daughters brought to my new husband. Until he met me, Dennis assumed he did not know anyone—at least not well—who was related to a prison inmate. It turned out he was wrong. When he started paying closer attention to hints dropped by his students in stories they were writing, he began to suspect what they were not writing. Over time, he discovered that in nearly every class he taught–first at Palisades Charter High and later at Venice High–he had at least one student who was coping with the heartbreak of having a parent inside, or a friend, or a brother or sister or cousin. The students ranged across ethnic, socioeconomic, and racial boundaries.

Quietly, carefully, my kind (and newly informed) English teacher husband helped his students to tell begin to tell these stories.

According to a 2010 study, one in 28 children in this country have a parent in prison (two thirds of whom are in for non-violent offenses). Given the vast numbers we imprison in this country, this fact is not surprising. Since 1980 the US prison population has grown by 790%. We have the largest prison population in the world, with 2.5 million men and women in prison and more than seven million on some sort of probation or parole. Yet, while there is a lot of conversation in California and around the nation about the cost/benefits of our hyper-aggressive incarceration policy, there is too little discussion about the collateral effect that same policy has on the children (and siblings and friends) of those in prison.

For a long time after Dennis and I married in 2002, we thought and talked about those kids. Then one day in early 2013 several things happened, all right in a row, that forced us to stop merely thinking, and start acting:

First, last December I published a memoir, Desperado's Wife, about my life when I was married to a man inside.

On the day the book was released, my eldest stepdaughter, who is in her 30s now, called to tell me she never wanted to speak to me again. I wept, of course. But I also understood her anger. She spent her entire life hiding this one fact of her life—that her dad had been a prisoner—and she didn't want to be outed. She didn't want to remember the families who wouldn't let her visit their homes when she was young, or the misery and insults of prison visits, or the loneliness and fear and prejudice she faced throughout her childhood and early adulthood.

A few days after she called, Dennis got a letter from one of his favorite former students. When he was 17, John was arrested for shooting someone in the shoulder. The victim was in and out of the hospital that night. But to our horror and sorrow, John was tried as an adult and sentenced to serve 22 years in state prison.

Dennis had recently visited him in New Folsom, and now John was writing to ask Dennis to share his cautionary tale with his students, which he did. When Dennis came home from school, the day when he recounted John's story, he told me about a miracle that had occurred. Dennis had just finished relating to the kids what had happened to John, ending with, "So a few weeks ago I went to New Folsom to visit him…"

As he was talking, a student named Kylie lifted her head from her desk, and raised her hand. Dennis was stunned. School had been in session for 26 weeks, and prior to that day, Kylie had never said a word in class. But on this day, she began to talk.

"My brother's at New Folsom…" she said, her tone at first tentative. "I visit him…" As she spoke, she seemed to gain confidence. Kylie kept talking. And talking. It was as if that word Folsom had unleashed a torrent of memories she suddenly was able to share with the people in this classroom and, once started, the flood of words had a force of their own.

In class, high school students generally do not speak at length, and Dennis wondered if he ought to stop her, but the kids were rapt. They wanted to hear Kylie's story, and Kylie clearly needed to tell it. So he stayed silent and listened, and when she was finished her face had changed—her eyes were bright, the habitual strain in her expression had washed away.

After Dennis told me of the Kylie miracle, I said, "We should start a club for these kids."

"Let's do it," he said.

We began making plans.

He thought it possible his school's principal wouldn't approve, worrying that a public school might not want to be associated with anything prison-related.

But Dr. Elsa Mendoza wholeheartedly approved the club, and the next week Dennis told one or two of his classes. "We're going to meet this Wednesday. Lunch will be served."

We spent Tuesday evening making peanut butter and jelly sandwiches. When lunch hour came on that chilly February day, twelve students quietly filed into the room.

"You?" Nelvia said, looking at one of her friends since first grade, Adrianna. Nelvia's godfather had gone to prison when she was four or five, and Adrianna's father had been inside since she was three. Yet although the girls had known each other for years, neither ever told the other about her incarcerated loved one.

As with Kylie, once the dam was opened, the girls could not stop sharing stories about visits, sadness, struggles. The same thing happened for the boys. Tony talked about his brother who was coming home soon after a decade inside. Steven talked about wanting to break the cycle of imprisonment that had wreaked havoc on his family. Brian shyly waited until after the meeting to tell us his dad had gone to prison when Brian was seven, and Brian needed help figuring out how to reach out to him.

The second week 20 kids showed up, and the third week 25. We began to think about guests we could invite to speak to the kids.

Years earlier, Anastasia had been one of my students at UCLA Extension and had written a story I couldn't get out of my mind. She wrote about being busted for dealing pot in a small Georgia town when she was 17; about being thrown out of every school in the county, being locked up in jail for four days awaiting bail to be set; about the next five years she spent on probation and working to pay off lawyers' fees and court fines because the lawyers told her if she pleaded under the first time offenders' act and got through probation, her record would be clean.

I called Anastasia. "Want to talk to our POPS kids?" I asked. (By week three the kids had come up with both the name POPS, for Pain of the Prison System, and the logo and were talking tee-shirts).

Anastasia is a beautiful, bright, successful film world denizen who, at 35, wasn't so sure she was willing to openly expose to strangers this part of her past but after we talked a while, she reluctantly agreed

When Anastasia walked into the school, she was shaking.

"It's my first time I've set foot in a high school since I graduated with straight Ds in 1995…" she said. But the minute she was with the kids she relaxed and talked from the heart. Afterwards, she told me that although she thought she had come to help the kids, she realized it was she who was released.

"I'm in," she said. "I'm going to help you create this, build this, make this happen.

As Harvey Milk wrote back in the '70s, when people tell their stories, their shame begins to drop away. When people discover their community, their fears diminish. When people do not have to spend their energy hiding and lying and pretending, their strengths and abilities have room to flourish.

It has been just a few months since we started the program. In that time, five of our POPS' kids who had been thinking about dropping out of school decided to stay because of POPS. In addition, Brian and his dad reconnected. Alondra and Nelvia and E'majin and Tony have become ardent artists—writing, dancing, and rapping their stories—and passionate activists—pulling in those kids they recognized in the hallways, kids they know need understanding, community and a place to tell their stories.

By June, after four months of meetings, POPS was hosting more than 40 kids each week. We kept inviting new speakers, and Dennis and I quickly understood that not only would POPS at Venice continue, but we had to grow.

We created a website and have invited (all) kids (everywhere) to submit their stories—in writing, in video, in raps or dance or music or art. We plan to share the words and music and art of these POPS stars on our website—stories like the one that 15-year-old Alondra emailed to us a few weeks ago.

When Alondra first came to a POPS meeting, her sorrow was evident in the slump of her shoulders and the set of her face, but one day in May her mood was visibly brighter as she reported that her father was coming home and had asked to attend a meeting. The next week she brought him along, and he effused about his gratitude for the solace the club had offered his kids.

Though always an ardent POPS supporter, Alondra remained quiet, so I had no idea what to expect from her email.

This is what she wrote:

"P.O.P.S. released the shame I felt about my relationship to prison. I thank P.O.P.S. for pushing me in the right direction mentally and emotionally. For allowing me to make long-lasting friendships and for providing me with unforgettable memories. For filling me up on brownies and lemonade every Wednesday. For listening to my stories and accepting my past."

The timing of the email was fortuitous. Dennis and I had been wondering if we were too ambitious to to envision a POPS club in every school, but Alondra's words made clear to us that we were on to something important. Something essential. These POPS Stars had voices that needed to be heard. And the rest of us needed to hear them.

---

Author Amy Friedman's most recent book is her memoir, "Desperado's Wife," in which, as Thomas Frick wrote, a "smart, accomplished, attractive reporter goes on the prison beat. Meets a seductive inmate, a murderer. Falls in love. Marries him and helps get him out of jail. Loses friends, battles age-old prejudice and the dark politics of the prison system." For more on the book, you can watch Amy on the Katie Couric show right here.

Dennis Dansiger's latest book is the novel A Short History of a Tall Jew.
---
EDITOR'S NOTE: Please contact Amy or Dennis at www.popstheclub.com if you'd like to learn more and become involved.