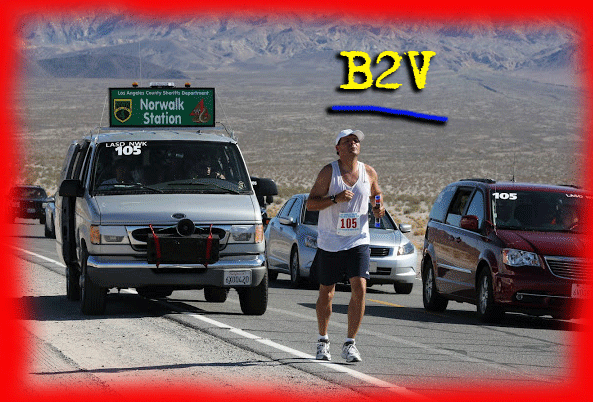 While it doesn't rise to the seriousness of illegal juicing for the Tour de France, cheating on the once-a-year, 120-mile charity foot race known as Baker to Vegas, a competition open solely to law enforcement agencies from all over the country, is considered to be something approaching a sacrilege.
So when it was found that a Baker to Vegas team from the Los Angeles Sheriff's Department may have put an especially skilled ringer in as one of their runners, all hell deservedly broke loose.
The discovery of the alleged cheating resulted in an internal affairs investigation and, as of this week, disciplinary action is being taken against at least four LASD members, including the demotion of a captain and one commander—-both of whom work for the Transit Policing Services Bureau (TSB), which is one of the bureaus that the LASD is contracted to run.**
To demote multiple command staff members at once is close to unprecedented, said department insiders.
"It's an A bomb!" one department source told us.
According to several department sources in a position to know, the two demoted command staffers are Captain Holly Perez and Commander Pat Jordan.
---
**EDITOR'S UPDATE: A second captain, Matthew Rodriguez, was originally slated for discipline, but after his case was revisted, it is our understanding that any discipline was fully rescinded. To date, Rodriguez has retired at the rank of captain. [Updated: Aug. 1. 2013]
---
An emergency meeting was reportedly held on Wednesday afternoon at Transit Policing Services to discuss the startling turn of affairs, which left staffers reeling.
The popular charity event known as the Baker to Vegas Challenge Cup Race, or B2V, is a competitive foot race through the Mohave Desert that has been in existance since 1985, and has grown to include law enforcement teams made up of probation officers and district attorneys along with the traditional police and sheriffs competitors. B2V is held each year on a weekend in March or April. (For instance, this year's race was last weekend, on Saturday, April 13.)
The course begins 25 miles north of Baker CA. on Highway 127 and finishes inside the Hilton Hotel Convention Room in Las Vegas. It is run as a relay, with approximately 20 runners on a team, each running a leg, plus support team members to track and aid their runners with follow cars.
The highly festive event is a favorite of both the LAPD and the Los Angeles Sheriff's Department, which each fields several teams every year.
The team from Men's Central Jail won several years in a row from 2007 to 2011. Then for 2012 and 2012, the winning baton passed to the LAPD's Elite team of runners.
Sources tell us that last year's Transit team substituted a "ringer" for one of their officially listed runners. The alleged substitute runner was reportedly the son of a department member who did not himself work for the department, and thus was entirely ineligible to run. The ringer reportedly turned in one of the best times for any leg of the race.
When news of the alleged deception and the subsequent demotions surfaced, members of other law enforcement agencies expressed surprise and dismay.
"How freaking stupid can you be to do something like that?" an LAPD source wrote to WLA in an email.
According to department spokesman Steve Whitmore, the disciplinary action was made solely by Sheriff Lee Baca, although newly hired Homeland Security Chief Ted Sexton, who oversees the Transit Police along with Aero Bureau and other LASD units, was fully briefed on all stages of the decision making.
"The Sheriff takes matters like this one very seriously, and he acted accordingly," said Whitmore, who also said he was prevented by the Peace Officers Bill of Rights from confirming any names or ranks of those disciplined.
EDITOR'S NOTE: While it's commendable that the department took swift action on The Great Foot Race Cheating Scandal, we cannot help but note that it has seemingly been in no hurry to come to a conclusion on far more serious matters like, say, this one, which began in February of 2012, more than a year ago.
---
---
IN OTHER NEWS….MONTEREY COUNTY USES ALTERNATIVES TO INCARCERATION TO KEEP JAIL POPULATION DOWN, POST-REALIGNMENT
Although a 2012 civil grand jury in Monterey County was critical of the county's handling of the additional inmates coming to the county's jail, most of the county's other stakeholders approved of the way Monterey's sheriffs, DA, probation, public defender, and others, have effectively used methods such as own-recognizance release, pretrial screening and involuntary home detention, as well as pending plans to transfer inmates to other counties, according to a report by Jim Johnson of the San Gabriel Valley Tribune.
Here's a clip:
Monterey County's already overcrowded jail is not more packed than usual due to realignment of state prison inmates to local control, contrary to a county civil grand jury's findings.

The efforts of local law enforcement officials to use alternatives to locking up inmates have helped keep it that way.

But the county jail is facing the prospect of a growing inmate population because of realignment in the near future until the effects of treatment and rehabilitation programs are fully realized.

That is the main message the Board of Supervisors indicated Tuesday it wanted to send to the 2012 civil grand jury in response to its findings and recommendations. The supervisors approved a modified response to the grand jury's suggestion the jail was suffering from "gross overcrowding" largely because of the "increased incarceration of serious offenders and the additional population resulting from the implementation" of AB 109, the state legislation that transferred responsibility for a large percentage of state prison inmates to local oversight.

Supervisor Jane Parker asked county staff to include a list of efforts local law enforcement officials have undertaken to manage the jail population. She noted the jail has been stretched beyond its capacity for years, long before realignment, and could have been a bigger problem without management efforts.

"They've done a lot of work setting up" alternative methods, Parker said. "They'd be even more overcrowded
under AB 109 without those efforts."
---
CITY ATTORNEY CANDIDATE HOLDS PRESS CONFERENCE IN RESPONSE TO WEDNESDAY'S SENATE DEFEAT OF ASSAULT WEAPON BAN.
City Attorney candidate Mike Feuer will hold a press conference Thursday at 2 pm with leaders of the Brady Campaign to Prevent Gun Violence, along with victims of gun violence, to discuss his plan to reduce gun violence as L.A.'s next City Attorney.
The press conferences is, in part, in response to the blocking by the US Senate, on Wednesday, of the assault weapon ban legislation.
Jonathan Weisman of the New York Times has a story on the Senate's action. Here's a clip:
A wrenching national search for solutions to the violence that left 20 children dead in Newtown, Conn., all but ended Wednesday after the Senate defeated several measures to expand gun control.

In rapid succession, a bipartisan compromise to expand background checks for gun buyers, a ban on assault weapons and a ban on high-capacity gun magazines all failed to get the 60 votes needed under an agreement between both parties. Senators also turned back Republican proposals to expand permission to carry concealed weapons and to focus law enforcement efforts on prosecuting gun crimes.

Sitting in the Senate gallery with other survivors of recent mass shootings and their family members, Lori Haas, whose daughter was shot at Virginia Tech, and Patricia Maisch, a survivor of the mass shooting in Arizona, shouted together, "Shame on you."

President Obama, speaking at the White House after the votes, echoed the cry, calling Wednesday "a pretty shameful day for Washington."

Opponents of gun control from both parties said that they made their decisions based on logic, and that passions had no place in the making of momentous policy.

"Criminals do not submit to background checks now," said Senator Charles E. Grassley, Republican of Iowa. "They will not submit to expanded background checks."

It was a striking defeat for one of Mr. Obama's highest priorities, on an issue that has consumed much of the country since Adam Lanza opened fire with an assault weapon in the halls of Sandy Hook Elementary School in December.
Jeremy Peters of the NY Times reports here about the feelings of personal defeat felt by Senator Dianne Feinstein when she watched helplessly as her bill went down in flames, despite her efforts.