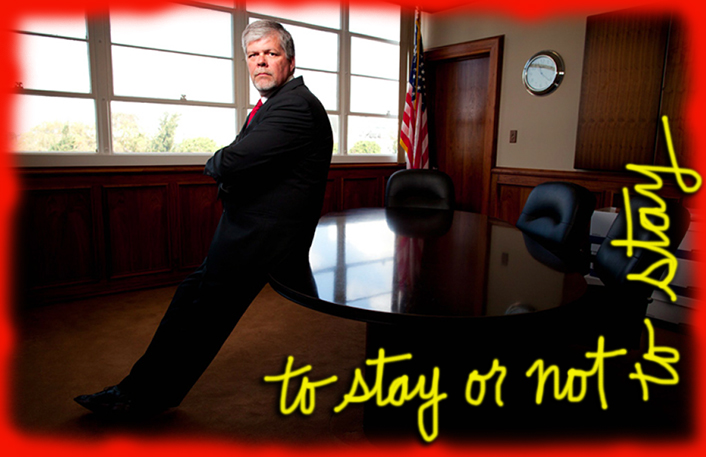 UPDATE: Although the closed-door meeting referenced in the story below resulted in "nothing to report," the matter is reportedly not over, so stay-tuned for additional news this week. (Updated Sept. 9 2015)
---

THE CLOSED-DOOR MEETING
On Tuesday, the LA County Board of Supervisors will reportedly meet in a closed-door session with Probation Chief Jerry Powers to discuss a personal relationship that Powers may or may not be having with his top administrative aide, Kym Renner.
If the allegations of a relationship are true, this will be problematic for Powers. For one thing, Renner, 42, is his subordinate. But, more relevantly, sources say that the 52-year-old Powers began the relationship prior to Renner joining the LA County Probation Department. In addition, Powers reportedly brought Renner on board at a salary that is now nearly twice what she was making in a prior position in Stanislaus County.
Powers, if you'll remember, was the probation chief for Stanislaus County before taking the job in LA in the fall of 2011. Renner, who was married when Powers took the LA job, worked in Human Resources for the same county with a base salary of $87,812. In August of 2013, Renner—who was then still going by her married name of Vieira—left Stanislaus to take a job as director of human resources in Redondo Beach, at a base salary of $32,505.
Four months later, on December 16, 2013, Vieira/Renner went to work at LA County Probation as Chief Powers' closest aide. At the present time, Renner oversees the department's nearly billion dollar budget, accounting and expenditures, for a base salary of $159,660, plus benefits—bringing the total package well past $200,000.
As to who called the upcoming meeting with the supervisors, that depends on whom you ask. Powers says the Supes wanted to meet to talk about the reported personal relationship. On Monday night, sources close to the board told us that Powers wanted the meeting to announce his retirement that, according to our sources, would have taken place in January.
Most recently, however, according to department sources, Powers told several department members and others that he wasn't leaving "with this out there."
By "this" Powers presumably means the allegations of an improper relationship.
---
ROSES & JAMAICA
One of the elements that reportedly caused the relationship rumors to hit critical mass was when each member of the board received an anonymous email that contained what were purported to be scans of receipts for three-different purchases and deliveries of flowers sent by Powers to Renner, each complete with a mushy message along the order of: I LOVE YOU AND I ALWAYS WILL.
(WitnessLA too received the mailing with the purported flower receipts.)
The first of the supposed flower deliveries took place on December 6, 2013, when Renner was still working at Redondo. The second floral arrangement was supposedly delivered to Renner at probation headquarters on January 8, 2014. The third delivery of two dozen long-stemmed roses was again supposedly sent to Renner at probation headquarters, this time on February 11, 2014, in advance of Valentine's Day.
Renner reportedly told the Times' Therolf that she never received the flowers in question, and denied a romantic relationship with Powers, suggesting that union officials who have long-been at odds with the chief had ginned up the supposed receipts.
In addition to the putative flower orders, however, WitnessLA, along with at least some of the supervisors, received a copy of what appears to be a receipt for COSCO-purchased airline and accommodations reservations for a trip for two to Jamaica—the "Couples Negril Package," to be exact— booked for May 8-15, 2015, in the names of Jerry Powers and Kym Renner, for a total package price of $4277.98, with Powers the purported purchaser.
WitnessLA reached out to Chief Powers multiple times on Monday for comments on the above issues and on the retirement talk, but despite assurances that we would hear back, the day and evening ended without a call from the chief.
---
RECENT CRITICISM
Initially, Powers was popular with many of the county's juvenile advocates and others due to his strong support of such projects as the innovative Freedom School program that was expanded this past summer to multiple juvenile probation camps, and the $53 million Camp Kilpatrick project, a soon-to-open juvenile facility that, it is hoped, will pioneer a new relationship-centric, therapeutic model for helping kids.
More recently, however, Powers has been criticized for reportedly failing to accomplish a list of much-needed reforms in both the juvenile and adult probation realms despite a shrinking number of kids and adults on the county's caseload and a yearly budget that is higher than it has ever been.
So will Jerry Powers stay or go?
In the last 48 hours or so, Powers has reportedly given his closest staffers conflicting messages about whether he is exiting or fighting to remain.
So stay tuned.
---