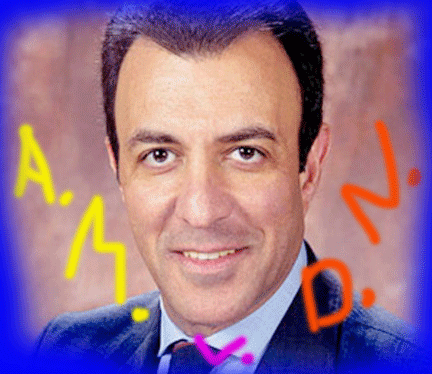 It's been a good week for LA Blogs.

Alan won't brag, so I will in his behalf. In case you missed it (or missed the LAObserved mention of it), yesterday the Daily News published a fascinating editorial that completely copped to the fact that the DN got snookered by David Nahai who, clearly backed into a corner by Alan's perfectly reasonable request (okay, and his legal threat) that Water King Nahai release his water bill, decided to do so—-to another journalist, who would then paint him as a swell and very forthcoming guy for doing the releasing.

Nahai may very well be a swell guy outside this incident. (He has a very nice and talented wife. And Kevin Roderick has an interesting profile on him in the July issue of Los Angeles Magazine that is well worth reading. For instance, I was personally happy to learn that Nahai has been known to quote Jackson Brown lyrics when giving speeches.) But with regard to the Great Water Bill Controversy his behavior was less than stellar.
Anyway, read the editorial, and kudos to the Daily News for admitting to having been pawns, and appropriately, even if belatedly, crediting Alan.

By the way, this series of Alan's is an excellent example of what blogs can do well. It was perfectly reasonable for a reporter—-or for an LA resident, for that matter—- to demand that the guy who seeks to lead us down the path of righteousness in the quest for water conservation should have to fork over his own personal water bill. When Nahai declined, Alan's pursuit of him made for an excellent—and frankly very funny— ongoing day-by-day narrative that accomplished several things. It….

A) brought attention to an important issue (water conservation)…

B) amused us as we drank our morning coffee (never a bad thing), and…

C) reminded us that the ordinary citizen has the right to ask for certain kinds of information, and the fact that a public official doesn't want to comply because it makes him or her feel a tad uncomfortable, doesn't mean we should smile politely and back off.

Yet–unless your name is Steve Lopez—few if any papers would have published Alan's series of stories, as written, nevermind that Alan is a longtime journalist/editor with an excellent professional reputation and the information he was after was legitimate news.

Ditto the ongoing and important stories that LA Observed's Kevin Roderick is doing about Sam Zell and the Los Angeles Times. Would a newspaper run what journalist, radio-commentator, former-LA Times staff writer/senior editor Roderick is posting? A smidgen of it, yes. Most of it, no.
But blogs can and do. And that's a healthy development.

UPDATE: Kevin Roderick did a smart radio broadcast on the just past good week for LA blogs in which he highlights Patterco's excellent coverage of the way the LA Times completely overstated and misled regarding the issue of Judge Alex Kozinski's oneline porn collection, and Alan's wonderful Water King's story.

"Blogs," Roderick concludes , "the better ones, are changing the media scene in Los Angeles, like they are everywhere. And even with the occasional dishonest actors that go with that, I think we're all better off."
Yep. Me too.
Okay, happy Friday.