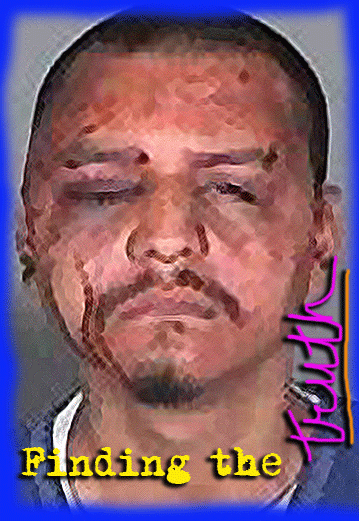 TRUTH AND LIES
Criminal trials are about the law, of course, and hopefully about truth. They are also about theater, and about narrative, specifically the daily push and pull to determine who can manage to control said narrative.
The trial of former LASD sergeant Eric Gonzalez, and deputies Sussie Ayala and Fernando Luviano will wind up with closing arguments on Tuesday of this week, and then the case will go to the jury.
When it came to the three federal trials that took place last year, in which seven former members of the Los Angeles Sheriffs Department were accused of obstruction of justice, the jury's task was less about determining whether certain events and actions occurred, as it was about deciding what those events and actions meant.
In this trial, however, the outcome depends on which group that the jury believes is telling the truth. Either the three defendants are straight up lying about their account of the events of February 26, 2011, or it is the witnesses for the prosecution who are the bald-faced liars. There is no middle ground.
No one disputes that Gabriel Carrillo was badly beaten by LA County Sheriff's deputies on that Saturday when he and his girlfriend and his grandmother went to the visitors' center at Men's Central Jail, in order to see Carrillo's brother who had been arrested a few days before, and who had also been beaten by members of the LA County Sheriff's Department in the course of his arrest.
Nor does any one dispute that both Carrillo and his girlfriend brought their cell phones into the jail visiting area, although phones are clearly prohibited, and to bring one in is a misdemeanor. It is agreed that Carrillo and his now wife, Grace Torres, got caught with their phones, and were each at different times escorted back to an enclosed area off the visiting area called the "break room."
Once Gabriel Carrillo was taken to the break room, however, the description about what occurred between him and a cluster of Los Angeles County Sheriff's deputies plus their immediate supervisor, a sergeant, heads in two radically divergent directions.
---
CHANGLINGS
According to the defense, when former deputy Pantamitr Zunggeemoge—whom his former LASD colleagues refer to as "Z" or "Deputy Z"—learned that Carrillo had a cell phone in his possession, he handcuffed the man, then marched him into the small break room at which point he, shut the door, and uncuffed one of Carrillo's wrists in order to fingerprint him. But, rather than cooperate, the angry and out of control Carrillo began swinging the handcuff chain dangerously at Z as a weapon. Zunggeemoge was hurt by Carrillo, at which point a "violent fight" ensued when other deputies came to Deputy Z's aid.
Carrillo tried to escape the break room, "manhandling" defendant deputy Ayala, on the way out, and punching defendant Luviano as well. In order to subdue the highly aggressive jail visitor, physical force had to be applied, which included blows to Mr. Carrillo's face and body, plus the use of OC spray also known as pepper spray.
Even after Carrillo was "taken down" and sprayed multiple times, he continued to try to assault deputies by spitting and kicking them, until finally the deputies were able to successfully subdue the man.
Zunggeemoge, was one of the five department members originally indicted in December 2013 for abusing Carrillo and others in the visitors' center, and then writing false reports to cover up the abuse. But in early 2015, Zunggeemoge reversed his story and said that the above narrative was carefully concocted to cover what had been a brutal beatdown of a man who may have mouthed off slightly but who, while committing a misdemeanor with his possession of the cell phone in the visiting area, cooperated when the phone was discovered—albeit unhappily—and presented no threat.
On Wednesday of last week, "Deputy Z" was the first witness for the prosecution and was not easily rattled by the three defense attorneys who cross-examined him.
On Thursday, first Carrillo's former girlfriend, now wife, Grace Torrez, then Carrillo himself testified, and each were consistent with their descriptions of what happened on February 26, 2011. Carrillo, 27, who is 5'5″ and weighed around 150-155 lbs at the time of he incident, gave a harrowing description of the day's events and was not easily rattled by cross examination. (More on Carrillo later.)
After Carrillo stepped down, next up was former deputy Noel Womack.
---
GUN & BADGE TO FORKLIFT
Former sheriff's deputy Womack is 6'4," in his late 30's, married with kids, and has the body of a defensive linebacker. He worked for the Los Angeles Sheriff's Department for 8 ½ years—much of that time spent working in the visitors' center—and reportedly he liked his job very much. Now, he works in a warehouse and drives a forklift.
He is the second out of the five originally charged in the so-called visiting center indictment, who asked his attorney to find a way to make a deal with the feds.
The other deputy who flipped was Zunggeemoge, as mentioned above. But Z made his deal early in 2015. Womack did not have his come-to-Jesus moment until near the end of May.
Womack's involvement in the actions that led to this case, began around midday of February 26, 2011, when he heard what is known as a 415 call over his radio. The 415 means that there is a some kind of fight going on and deputies need assistance. The call was made by his supervisor, former sergeant Eric Gonzalez, who is one of the defendants. The call indicated the trouble was occurring in the break room of the visitors center, which is a small, enclosed room used by deputies for rest and sometimes booking, accessible only by department members.
Womack said that, as he headed for the break room, he saw that the deputy who was his main work partner was also headed that direction. "So I followed him," said Womack.
When he got to the break room, he saw various deputies inside the room and, most importantly, he saw two visitors' center deputies—Z and Fernando Luviano (who is one of the five defendants)—hitting a "suspect" who was face down on the room's floor.
"And there was a lot of blood on the floor."
Assuming his colleagues were trying to subdue an aggressive dangerous man, Womack rushed to their aid and piled on, grabbing one of the suspect's legs. His partner rushed in too. But when Womack actually reached the threesome he saw that the man—whom he later learned was Gabriel Carrillo—was actually handcuffed. He was "kicking," Womack said, but given his facedown position, it was more of a squirming to dodge blows combined with a swimming "flutter" kick.
"He was no threat to anyone."
"Typically, when a suspect is in handcuffs," said Womack, "that means the use of force is concluded."
Plus, as Womack noted in response to questioning by government prosecutor, Brandon Fox, Carrillo was a small man—around a 150 lbs. at the time—he was face down, and he had approximately 800 lbs worth of sheriff's deputies on top of him. And that was in addition to the fact he was handcuffed.
In this case, however, use of force went on, according to Womack. Luviano OC sprayed Carrillo several times close-up in the face.
Shortly after the spraying, Womack said he heard Luviano say, "Stop spitting! Stop spitting!"
Although Womack knew that the man on the floor posed no danger, the notion that he was spitting at a colleague, even though he did not actually see any spitting action, caused the big deputy to join with the aggressive actions of the other deputies now surrounding Carrillo. Womack slugged Carrillo five times in the leg.
When asked by prosecutor why he repeatedly hit a man whom he saw was no threat, Womack paused for a moment or two, his expression pained.
"I was angry at the fact that he was spitting at my partner."
Womack hit Carrillo hard enough that he injured his hand, a fact that was demonstrated to the jury with a projected photo of the former deputy's red and slight scraped right hand in the area surrounding the knuckles.
According to Womack, he, Luviano and Ayala all sought medical treatment for scraped appendages and the like.
---
COPYING HOMEWORK
After his health clinic visit to get his scrapes looked at, Womack returned to the visiting center to write up his obligatory Use of Force Supplemental Report. But before he did so, Womack said he first checked with his main work partner to see what he had written in Womack's absence. He checked with Zunggeemoge's report as well.
Womack said he was not surprised to find that both reports told a completely different story than the events Womack had actually observed. For instance, in the new and improved version, Carrillo was portrayed as not being handcuffed.
Womack said he dutifully fashioned his own report to match the other two, using his partner's writing as his main "guideline.".
Although he didn't copy "word for word," Womack said, the made sure that his report contained the same essential points as those of his colleagues: Carrillo wasn't handcuffed, he kicked "violently" at the deputies, attempted "to push himself off the ground, then rolled on his back and spat at deputy Luviano causing Sgt. Gonzalez to tell Luviano to pepper spray Carrillo… and so on.
So was his account true? prosecutor Brandon Fox asked him.
No it wasn't, Womack said. But he felt he needed to protect his partners and colleagues.
The former deputy said he also lied on the stand at the preliminary hearing for the criminal case against Carrillo that had resulted from the reports Womack characterized as false. Similarly, he lied he said to the investigators from Internal Affairs, and the department's criminal investigative unit, ICIB.
"Whatever is put on paper, that's pretty much what you have to stick with."
And, yes, he lied to the feds, when they came knocking. And kept lying to them.
"I know what's right and wrong. I'm not denying that I lied," he said.
But then in the spring of 2015, Womack said he heard a recording of former deputy Zunggeemoge's revised account of the events February 26, 2011, and learned that Z had made a deal with the prosecutors.
Womack said that, after hearing the recording, he asked his attorney to approach the U.S. Attorney's office and tell the feds he wanted to plead, and to try to get the best possible deal.
However, at his meeting with the feds on May 11, 2015, Womack wasn't really ready to come clean. Instead, he basically stuck to a slightly modified version of the description of events that would continue to back up that of his colleagues. "I was still holding on to the defense of my partners," he said, with an unhappy glance at those "partners" sitting at the defense table.
The prosecutors were not thrilled and made it clear, according to Womack, that he better fork over the full truth, if he wanted to even have any kind of conversation about deals—and even then, no guarantee..
Eleven days later, on May 22, Womack met again with the prosecutors. This time, he said, he told all.
Before he was protecting his partners, he said. This time he decided to protect himself.
"It wasn't worth it for me to defend a lie and have it affect everything."
---
I LIED, OKAY, I LIED!
When it was time for cross-examination, defense attorney Patrick Smith and his colleagues hammered Womack hard. If Womack lied on official reports, Smith said, and perjured himself at a preliminary hearing, why in the world should anyone believe him now?
I mean, wasn't it true that, in order save his own skin, he'd done an about face and was just telling the feds what he knew they wanted to hear?
"I lied to protect my partners," Womack countered, then said it again for good measure. "I lied for my partners. And, yes, I told the truth to help myself."
As the cross examination continued, Womack's composure, which had been solid in the beginning, began to slip.
I'm not denying that I lied. I'm not denying that," he said. "But I got to the point when I couldn't continue with the lie."
As Smith continued to slam his veracity and his motives, Womack struggled for a few seconds to control his now very visible angst. Then, suddenly, he swiveled to face the jury directly.
"I lied!" he said to them, his voice laced with emotion. "I lied!"
The jury members stared back at him, quietly goggle-eyed.
Womack seemed prepared to go further with his jury-directed monologue. However, Judge King quickly pointed a parental finger, and barked at Womack to stop.
Womack stopped.
To be continued…