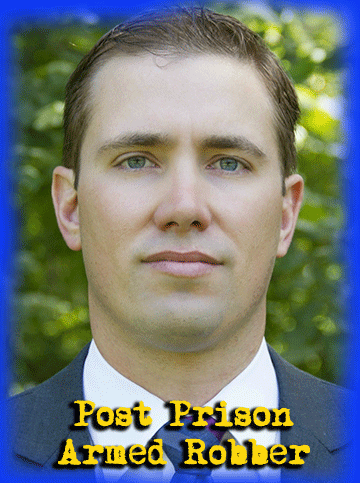 BETTING WRONG ON AN ARMED ROBBER WHO CHOSE TO DO RIGHT
In 1999 Judge Richard Kopf sentenced a young bank robber to 147 months in prison after the armed law-breaker, a 23-year-old named Shon Hopwood, pleaded guilty to five counts of bank robbery, and one count of "using a firearm during a crime of violence." In addition, the judge ordered Hopwood to pay $134,544.22 in restitution.
The judge glumly assumed that the sentence would not be enough to keep the armed robber from a future life of crime.
"My gut told me that Hopwood was a punk–—all mouth, and very little else," wrote Kopf on his blog, "Hercules and the Umpire," earlier this month.
As it turned out, Kopf's gut feeling did not dictate the rest of the story.
Adam Liptak writes about the tale of the judge and the "punk" armed robber in Tuesday's New York Times. Here's a clip:
A 23-year-old bank robber named Shon R. Hopwood stood before a federal judge in Lincoln, Neb. He asked for leniency, vowing to change.

Judge Richard G. Kopf had no patience for promises. "We'll know in about 13 years if you mean what you say," he said. It was 1999.

Judge Kopf reflected on the exchange this month. "When I sent him to prison, I would have bet the farm and all the animals that Hopwood would fail miserably as a productive citizen when he finally got out of prison," he wrote on his blog. "My gut told me that Hopwood was a punk — all mouth, and very little else."

"My viscera was wrong," Judge Kopf went on. "Hopwood proves that my sentencing instincts suck."

Judge Kopf had just heard the news that Mr. Hopwood, now a law student, had won a glittering distinction: a clerkship for a judge on the United States Court of Appeals for the District of Columbia Circuit, which is generally considered the second most important court in the nation, after the Supreme Court.

Mr. Hopwood's remarkable ascent began in the prison law library, where he became not only a good jailhouse lawyer but also a successful Supreme Court practitioner. Persuading the justices to hear a case is a roughly 100-to-1 proposition, but the court granted the first petition Mr. Hopwood filed….
EDITOR'S NOTE: I'm partial to tales like this one because, in the course of my reporting, I've been privileged to know a remarkable number of men and women whom others have written off for their early mistakes, and who had nearly written themselves off out of terrible childhood wounds, yet who somehow found the needed courage to transform the trajectory of their lives.
---
TWO SHERIFF'S DEPUTIES ARRESTED AFTER MULTIPLE SHOTS FIRED AT POPULAR CAMPGROUND
Two LA County Sheriff's Deputies have been arrested and relieved of duty (with pay) after the deputies each allegedly angrily brandished, then fired their guns while staying at a popular family campground in Prado Regional Park. The incident, which occurred at around 1:30 Sunday morning, is thought to have started as a verbal conflict over loud music.
Prado is a 2000-acre regional park in San Bernardino County, well-liked for its camp facilities, fishing lake, hiking, biking and nature trails, and activities such as disc golf.
The shots were reportedly fired in the air and not aimed at anyone, according to Chino police.  
It should be noted, however, that shots fired into the air can be deadly, as has occasionally been the case on New Year's Eves past when revelers fired guns skyward with unintentionally tragic results.
LASD spokesman Steve Whitmore was particularly emphatic on the topic.  "Firing a gun into the air is absolutely one of the most negligent and dangerous things a person can do because when the bullet comes down people can be injured or killed. And for law enforcement to do that makes this more reprehensible!" he said. 
Whitmore was quick to add that the investigation was in progress, and that the allegations against the deputies were just that, allegations.
"But, on the surface of it," he continued, "this is an event that is going to be career changing."
Robert Faturechi of the LA Times broke the story and reported that neither of the deputies—one of whom works at the county courts, the other for the LASD's transit services— knew that the other was law enforcement until after the reported weapons brandishing and shot firing.  
According to Whitmore, the two deputies, DeJay Barber, 44, and Matthew Rincon, 24, joined the Los Angeles Sheriff's Department in November 2001, and November 2007, respectively.
---
JERRY BROWN PUSHES $315 MILLION PLAN TO EASE PRISON POPULATION, SOME LEGISLATORS BALK BIGTIME
Dan Whitcom from Reuters has this story about the resistance from some prominent state legislators to Governor Jerry Brown's latest shockingly expensive and regressive plan to address the state's ongoing prison overcrowding problem. Here's the relevant clip:
…Though Brown's joint appearance with Republican leaders and Democratic Assembly Speaker John Perez suggested bipartisan support for his plan, Senate President pro tem Darrell Steinberg took immediate issue with the bill.

'NO PROMISE, NO HOPE'

"The governor's proposal is a plan with no promise and no hope. As the population of California grows, it's only a short matter of time until new prison cells overflow and the Court demands mass releases again," Steinberg said in a written statement.

"More money for more prison cells alone is not a durable solution; it is not a fiscally responsible solution; and it is not a safe solution," he said. "We must invest in a durable criminal justice strategy, which reduces both crime and prison overcrowding."

According to the governor's office, his plan would allocate $315 million for the state to "expeditiously" lease in-state and out-of-state prison capacity, including at county jails and private facilities.

Brown's proposal comes as new attention is being focused on California prisons during a hunger strike by inmates to protest conditions in special housing units where some prisoners are held for prolonged periods in isolation.
---
THE HUNGER STRIKE: HOW WILL IT END?
Tuesday marks the 51st day of the California prison hunger strike that is being run out of the Security Housing Unit—or SHU—at Pelican Bay.
With approximately 43 people still continuing to strike (out of what was originally thousands), force feeding is about to start. However, the Governor and the CDCR higher-ups insist that they won't negotiate until the striking stops.
The strikers, however, feel that if they stop, they will lose their only leverage.
So how to break the stalemate?
Writing for the Nation Magazine, former California State Senator Tom Hayden suggests some alternatives to the all or nothing stance of the Brown administration. Here's a clip from the middle Hayden's column:
…So what options do the hunger strikers have now? With the governor taking a fundamentalist line, only a fast-track restoration of checks and balances by the courts and legislature, propelled by public questioning, might yield a breakthrough.

• The first track to a solution is the legal one. A federal judge upheld a class action suit by ten hunger strikers, most of them in solitary confinement for two decades, that they have been subject to unconstitutional cruel and unusual punishment and denial of a meaningful process to challenge their indefinite confinement. But Governor Brown has adopted a defiant stance towards court monitoring, and the case will not be resolved before it is too late for the fasting inmates.

• The second track is a possible emergency hearing by state legislators worried about a massive state prison system on which they spend billions but which is beyond their control. The hearing could give voice to the inmates demands, send a message to Brown, and draw the crisis into the light of public debate. It might convince the isolated inmates to live to fight in another forum. It would take an immediate signal from the legislature, which has yet to make a decision.

• The third track is the mobilization of public questioning and protest. While the public has no love for prison gangs, there is increased questioning of the costs of the governor's continual quarrels with the courts…
NOTE: Earlier this month, the CDCR's new head guy, Jeffrey Beard, wrote an op ed for the LA Times saying that the strike's organizers are all leaders in the various prison gangs, who are and are asking for more privileges by "putting lives at risk to advance their own agenda of violence."
There is no question that the power wielded by California's prison gangs is a deeply corrosive problem that has proved extremely difficult to combat.
Yet, many of the changes these "bad guy" leaders are requesting are just quality of life improvements…like wall calendars, the right to wear watch caps and sweats, no more group punishment, and the chance to occasionally see the sunlight. Perhaps we are missing something, but it is hard for us to see how occasional access to sunlight, and the like, will strengthen the power of EME and/or AB shot callers.
Here, by the way, is an essay in LA Progressive by CUNY Sociology professor Denis O'Hearn, who got to know the hunger strike's most notorious organizer, Todd Ashker. What O'Hearn has to say about his experiences with Ashker and some of the other strike leaders in the so-called Short Corridor Collective, is interesting and challenges much of what has been uncritically accepted in the media.
---