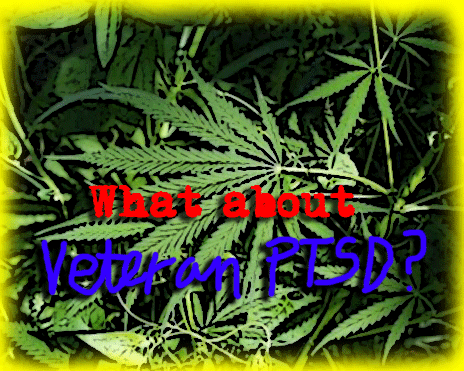 VETERANS' PTSD NOT YET A QUALIFIER FOR MEDICAL MARIJUANA USE
Right now, Oregon veterans seeking to use medical marijuana to treat their Post Traumatic Stress Disorder must have a different qualifying condition to legally receive the drug. Veterans and advocates of medical marijuana are pushing to get PTSD on the list of approved conditions, but are being met with political opposition.
The Oregonian's Noelle Crombie has the story. Here are some clips:
As with virtually all marijuana-related matters in the United States, the debate over expanding Oregon's program to include PTSD is politically charged. The drug's outlaw status under federal law makes it a lightning rod for controversy. Two previous attempts to add PTSD to Oregon's program have failed, and Colorado and Arizona officials recently rejected efforts to add the condition to their medical marijuana programs.

Law enforcement in Oregon generally opposes the expansion of the program. Some drug treatment providers caution against treating PTSD sufferers with what they view as an addictive drug.

Oregon is home to an estimated 300,000 veterans, including more than 20,000 from the Iraq and Afghanistan conflicts, according to the Oregon Department of Veterans' Affairs. A 2008 Rand Corporation study found nearly 20 percent of Iraq and Afghanistan vets reported PTSD symptoms.

Jason Hansman, senior program manager for the Iraq and Afghanistan Veterans of America, said medical marijuana's potential to help sick veterans deserves serious examination.

"We treat it like any other new treatment technique: We want to see it studied. We want to see increased research to see if it's a viable solution," said Hansman, whose group represents 145,000 veterans.

[SNIP]

States considering whether to add PTSD to their medical marijuana programs face a lack of research on the topic, and that's not likely to change anytime soon.

Dr. John H. Halpern, an assistant professor of psychiatry at Harvard Medical School and researcher at McLean Hospital outside Boston, one of the country's leading psychiatric hospitals, said there's an "overabundance of case reports" suggesting marijuana aids PTSD sufferers. In a recently published paper, Halpern presented a case study he helped conduct on a PTSD sufferer whose marijuana use dramatically eased his symptoms.

But the politics of marijuana bogs down any meaningful examination of its benefits, Halpern said.
---
CONFIDENTIAL INFORMANTS OFTEN REPLACE UNDERCOVER OFFICERS IN DANGEROUS DRUG OPERATIONS
Sarah Stillman has an excellent article for The New Yorker called "The Throwaways" on the unchecked use young confidential informants in the war on drugs and the life-threatening situations they are often put in. Even if you don't subscribe to the New Yorker, find a way to get a hold of this article (found in the Sept. 3rd issue). Here is a clip from the abstract:
On the evening of May 7, 2008, a twenty-three-year-old recent Florida State graduate named Rachel Hoffman got into her Volvo sedan and headed north to a public park in Tallahassee, Florida. On the passenger seat beside her was a handbag that contained thirteen thousand dollars in marked bills.

She was not a trained narcotics operative. Perhaps what put her at ease was the knowledge that nineteen law-enforcement agents were tracking her every move, and that a Drug Enforcement Administration surveillance plane was circling overhead.

Three weeks earlier, police officers had arrived at the door of her apartment after someone complained about the smell of marijuana. The cops seized slightly more than five ounces of pot and several Ecstasy and Valium pills. Hoffman could face serious prison time for felony charges.

The officer in charge, Ryan Pender, told her that she might be able to help herself if she provided "substantial assistance" to the city's narcotics team. She believed that any charges against her could be reduced, or even dropped.

The operation did not go as planned. By the end of the hour, police lost track of her and her car. By the evening of her disappearance, Rachel Morningstar Hoffman had been working for the Tallahassee Police Department for almost three weeks. In bureaucratic terms, she was Confidential Informant No. 1129. In legal parlance, she was a "coöperator," one of thousands of people who, each year, help the police build cases against others, often for the promise of leniency in the U.S. criminal-justice system.

Informants are the foot soldiers in the government's war on drugs. By some estimates, up to eighty per cent of all drug cases in America involve them, often in active roles like Hoffman's. For police departments facing budget woes, untrained C.I.s are an inexpensive way of outsourcing the work of undercover officers.

Unlike wiretaps and other highly regulated investigative techniques, informants can be deployed without a warrant. Often, their efforts involve no paperwork and no institutional oversight, let alone lawyers, judges, or public scrutiny. Every day, offenders are sent out to perform high-risk police operations with few legal protections. Some are juveniles, sometimes as young as fourteen or fifteen. Many have been given false assurances by the police, used with striking disregard for their safety, and treated as disposable pawns of the criminal-justice system.
---
CA DEATH SENTENCE OVERTURNED
The CA Supreme Court overturned Miguel Bacigalupo's death sentence Monday due to unearthed evidence that the prosecution failed to present to the defense during the double murder trial. The court determined that there was a probability that the jury would have recommended life in prison without parole had the jurors heard the missing evidence.
The San Jose Mercury's Howard Mintz has the story. Here are some clips:
In a unanimous ruling, the seven-member court, which seldom overturns California death sentences, ordered a new penalty phase trial for Miguel Bacigalupo, who was sent to death row for the 1983 slayings of two brothers in their San Jose jewelry store. The Supreme Court left Bacigalupo's murder convictions intact, but concluded that prosecutorial misconduct could have altered the jury's death sentence recommendation.

The Supreme Court largely followed the findings of a superior court judge assigned to explore allegations that the lead prosecutor, current Santa Clara County Superior Court Judge Joyce Allegro, and her lead investigator decades ago did not reveal crucial evidence to the defense that a Colombian drug cartel was involved in the crime.

"Substantial evidence supports the (lower court's) determination and it is reasonably probable that petitioner's penalty phase jury would have returned a verdict of life in prison without parole had it heard the evidence withheld by the prosecution," Justice Joyce Kennard wrote for the court.

[SNIP]

As with most of California's more than 720 death row inmates, Bacigalupo's appeal has languished in the state Supreme Court for more than 20 years, and his case has never even reached the federal courts, where cases typically take another decade to resolve.

Proposition 34 backers say this bogged-down system has become too costly for California to maintain. But death penalty supporters argue the punishment is still justified for the state's most heinous murderers, and that the system would cost less if the courts processed appeals more swiftly.