On Tuesday, 26-year-old Deshay Murphy, received an early Mother's Day gift when her $30,000 bail was posted allowing her to be released from jail and go home.
Murphy, a small, slender woman, who is eight-and-a-half months pregnant and has a four year old daughter,* has been locked up in the Los Angeles County's Century Regional Detention Facility for women, ever since her arrest on April 13 for her alleged involvement in a minor family domestic dispute.
Now, however, instead of having her baby behind bars, the impending birth of Murphy's second child was celebrated on Friday at a special baby shower that was held in her honor at the Los Angeles Community Action Network offices—or LACAN.
It was LACAN, a nearly two-decade old community organization–which helps low income LA residents to "create and discover opportunities"–that teamed up with Creative Artists Agency to raise the money to bail Murphy out.
"Ms. Murphy's case illustrates the unjust impact of pretrial detention on Black families," said LACAN's executive director Pete White, who on Friday afternoon was in ICAN's office helping with last minute prep for the baby shower. "Upon hearing of her case," he said, LACAN immediately identified Murphy as "someone we needed to help so she could return to her 4-year-old daughter, resume pregnancy in a safe environment, and be home for Mother's Day."
Nationally, Deshay Murphy's release is part of the coordinated effort of the National Black Mama's Bail Out Day campaign, #FreeBlackMamas, that is giving incarcerated mothers around the U.S. an opportunity to spend Mother's Day with their families, while highlighting the impact of "destructive bail practices on local communities."
Since its inception in May 2017, the #FreeBlackMamas program has spread to an impressive number of cities across the nation. According to program organizers, in slightly more than one year, over 14,000 people have donated to bring nearly 200 mothers home to their families and communities in the cities of Oakland,  Los Angeles, St. Petersburg, Montgomery, Memphis, Durham, Atlanta, Houston, New York City, Little Rock, Charlottesville, Charlotte, Kinston, Birmingham, Baltimore, Philadelphia, St. Louis and Washington D.C..
"In California, most of us have the right to freedom before trial," said UCLA Professor Kelly Lytle Hernandez, who was present at a Thursday press conference about Murphy's release.  "But that right comes at a price–money bail. In most cases, the price of freedom will never be refunded. Therefore, we are charging people for their constitutional right to freedom," continued Hernandez, who is the lead researcher on UCLA's Million Dollar Hoods Project, which maps how much is spent on incarceration per neighborhood in Los Angeles County. "It is time to rethink our money bail system."
(WLA reported on Hernandez' important Million Dollar Hoods Project here.)
---
Jail, bail, and American women
As it happens, Ms. Murphy's case is painfully typical of the women who occupy our nation's jails.
Slightly under half of the approximately 219,000 women incarcerated in the United States right now are in local jails, and 60 percent of these jailed women—like Murphy—have not been convicted, but are still awaiting trial, according to a 2017 report produced jointly by The Prison Policy Initiative and the ACLU's Campaign for Smart Justice.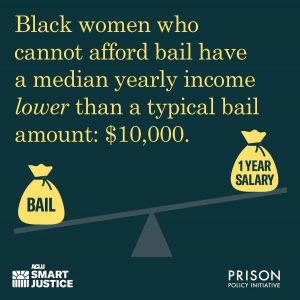 And, like Murphy, nearly 80 percent of the women in jails are mothers. But, unlike incarcerated fathers, jailed women are, by and large, single parents, solely responsible for their young children, which means most judges consider them less of a flight risk.
Furthermore, the majority of the women waiting for trial, are charged with lower-level offenses—–mostly property or drug-related. In addition, these women tend to have less extensive criminal histories than their male counterparts. In other words, statistically speaking the majority of the women in jail as they await trial are not really behind bars for any reason that benefits safety or justice.
Yet, if bail is set, which is most of the time, women are much less likely to be able to afford to pay than their male counterparts.
The reason behind women's inability to be able to post a cash bond, according to a Vera Institute report, "is a result of the wide range of social barriers many women involved with the justice system face." But that inability, says Vera, is also rooted in systemic income inequality.
According to the findings of Detaining the Poor, a 2016 study by the Prison Policy initiative, women who were unable to make bail had an annual median income of just $11,071, which was nearly one third lower than the annual median income of men who could not make bail.
---
A broken system
Deshay Murphy's situation is emblematic of nearly all of the multiple reports' findings. As we mentioned above, she was not arrested for a low level he said/she said family dispute, that involved no physical violence. (We have agreed not to reveal any additional details of Murphy's case in order to protect her privacy.)
By any sensible measurement Murphy was no threat to public safety, nor is she a flight risk because, among other reasons, she is about to have a baby and her entire support system is in Los Angeles. Nevertheless, the non-returnable $3,000 fee that a bail bonds office would have required of her in order to front the $30,000 necessary for her release, was well beyond Murphy's reach, especially with the pile of expenses that accompany the birth of a baby.
Nearly every offense in California is bail-eligible, according to an April 2017 report by Human Rights Watch. Yet, many too defendants, like Murphy, cannot afford to pay the fees that will allow them to go home while their cases make their way through overcrowded court systems.
It doesn't help that California's median bail rate is five times higher than that of the rest of the country.
Even worse, as WLA's Taylor Walker reported last month, in California and across the nation, cash bail has a disproportionately negative impact on poor and minority Americans. The system allows wealthy defendants to go free while indigent defendants who can't afford bail remain behind bars awaiting trial.
The state's proposed bail reform bill, SB 10, hopes change this policy of locking people up while they await trial solely because they cannot afford to post bail.
Meanwhile, as the bill slowly wends its way through the legislative process, hopefully toward passage, for this Mother's Day at least, one locked-up, very pregnant mother was able to bail out—with a little help from a bunch of caring LA friends, many of whom she may never meet.
---
Those pictured in the top photo are, left to right, Deputy Public Defender, Sherise Francis, Deshay Murphy, Patrisse Cullors of Dignity & Power Now, Pete White of Los Angeles Community Action Network, and UCLA Professor Kelly Lytle Hernandez.