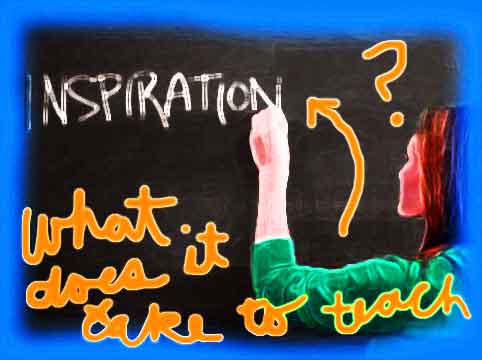 The hunger-striking LAUSD teachers are in their second week. They still hope to shame or persuade or shake, if they can, the district into using available stimulus funds to prevent thousands of teacher layoffs, which if instituted could cause class sizes to balloon disastrously.
So far the district honchos and the school board have shown little indication that they will do what the teachers want.
As the larger battle plays out, this is the story of what can happen when, instead of cutting teachers, an extra teacher is added to an English class at Venice High School—-and, as a consequence, students who had previously rejected books and writing, are able to find their voices.
*********************************************************************************************************************
The extra teacher was supplied through a program called PEN in the Classroom, which is sponsored by the writers' organization, PEN USA.*
PITC sends professional poets, novelists, screenwriters and journalists into classrooms—mostly in underserved and under-performing schools—for a 12-week-long creative writing residence. In past years, the program has placed writers in such big, failing high schools as Jefferson, Crenshaw, and Roosevelt.
This time it was Venice— not a failing school, per se, but a big public high school where a lot of kids were struggling.
The classroom teacher for this particular round of PITC was Dennis Danziger. (who is also a book author) The PEN writer who came in to lead the 12 week workshop, was his wife, essayist and nonfiction writer, Amy Friedman.
Here's what Danziger wrote about the day that he brought the class the anthologies of their work that are the culmination of the PEN in the Classroom program.
It is an account that is filled with joy.
Yesterday I took the freshly published PEN in the Classroom anthologies to Venice HS and distributed them to my students.

My first period seniors are the authors. I called them up one at a time to receive a copy. They were all, to a person, shy. No excessive smiles or high fives. I think they were in shock as they thumbed through the pages and saw their stories in print, their names on the page staring at them.

Later in the day, I saw some of them in the hallway. They asked if they might have an extra copy. When I walked across the campus to lunch I saw my young writers in a huddle showing off their anthologies to admirers who read
over their shoulders.

Most of the day, I teach ninth graders, the majority of whom are reading on a middle school level. Many will struggle to graduate and most hate to read. I held up a copy of about a dozen anthologies and told them that the PEN anthologies had arrived and they could read them for about 15 minutes at the start of class. Each period, almost every student, came running at me for a copy. I cracked out more anthologies, handed them out.

Here's the amazing part. These are students, 14 and 15 years old who are fidgety and focusing is not their strong suit. For each of the four periods I handed out the anthologies my student read silently, paralyzed except for the turning of pages. I have never seen anything like this in my 16 years teaching in the LAUSD.

I have students with zero averages. Zero averages over a period of 32 weeks of school. Kids who never do anything academically in my classes. Who don't attempt the simplest of in-class assignments. And they read non-stop.

I have a student who suffers from fetal alcohol syndrome who comes into my classroom and puts his head down on the desk and sits there eyes open, motionless. He read the PEN anthology for the entire period. Same for kids who are wannabees and taggers and skaters and surfers and smokers. They sat and read until I asked them to return the books, which I promised I'd let them read in the coming days.

Kelly, the new girl in class, refused to return the book and continued reading while we moved onto our regular assignment.

At one point a teacher entered my room, surveyed my students and said, "Nice class. Wow, they're really focused. Are they AP?"

AP?


Another teacher who I had never met, came to my room, introduced herself, told me she had heard wonderful things about the anthology and asked if she could borrow one to use for her civics/government class. By day's end a half dozen other teachers had asked for a copy. Some offered to pay for it. Some of my students wanted to pay for a copy of their own.

At the end of each period I asked my students to write their initial reaction to the PEN anthologies. An informal, anonymous note.

Here's what some wrote:

"I loved reading the stories! I wish I could meet the people who wrote them. I also like that they're from Venice. It shows that everyone has a story to tell, either good or bad. But yea, it was really good!"

"For me, it's hard to get into a book. It only took me 35 minutes to read 5 of these essays. I love these stories. Thanks for sharing."

One student wrote, in all caps, "SHOCK."

"The stories are really good. You can relate to all of them. And it's like if they are putting us under a microscope and relieving our true lives. The seniors who wrote these are really good. They should do more books."

"I read the story of the girl whose dad hit her. It really hit me a lot and well because I kind of have a similar story to that, but whatever."

"It's astonishing when you look at a person and they're just another human taking space in school but when you look inside them they have a whole story inside."

"I just want to read that book non-stop."
These are from non-readers. And it shows what we have long known, that every student can be turned on by reading when the literature is relevant.

[Amy] guided my students and encouraged them, pushed them, and refused to give up on them even when some of them wanted to call it quits. I watched her help these reluctant writers to find the courage to pen their most intimate stories.

Yesterday, I witnessed a little miracle in my classroom. It makes all those days that feel anything but miraculous seem worthwhile.

So given the chance, and some focused attention on the part of two caring and skilled adults, a group of kids— many of whom are of the sort that overstressed educators simply write off—have become writers. They are newly-hatched writers, it's true. But they are real, honest-to-goodness writers nonetheless. What is more, after struggling (as all writers do) to get their words and thoughts and dreams down on paper, those same kids saw—correctly—that what they have written has value, not just to themselves, but to others.
What in the world could possibly be more worth supporting?
********************************************************************************************************************
Meanwhile the layoffs loom.
Danziger has been an LAUSD teacher for sixteen years, so he won't be laid off.
"But I have colleagues, close friends, who will end up being booted from the District having taught with the District for years," he told me when I asked if his job was at risk.
"The hundreds of millions of dollars over budget that the District wasted," he said, "just between the new Visual Arts School and Belmont HS would have more than kept every teacher in his/her job. And ninth grade English classes capped at 20 instead of the mid-30s come fall. Oh well."
Oh well.
**************************************************************************************************************
* Full disclosure: I'm on the board of PEN USA. But that has nothing to do with why I love this story.