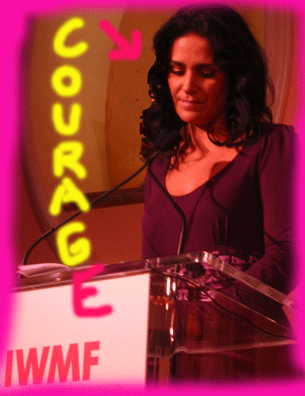 Mexican journalist, Lydia Cacho

Last night I went to an event called the Courage in Journalism Awards where the International Women's Media Foundation honored eight women journalists who have risked everything to report the truth they saw around them.
Since awards nights like this inevitably function also as fundraisers, the affair was suitably glitzy, featuring a dinner held in one of the ballrooms at the Beverly Hills Hotel, with actresses Meg Ryan and Angelina Jolie somewhat incongruously introducing several of the awardees. Yet none of the Hollywood flash could obscure the heart of what took place.

The women celebrated included a fresh-faced 27-year-old Ethiopian reporter and newspaper publisher named Serkalem Fasil, who was arrested, beaten and charged with treason for criticizing the government's conduct in the 2005 parliamentary elections (she has since been released).

Also honored was a particularly remarkable Mexican woman journalist named Lydia Cacho who now is followed everywhere by four bodyguards because of the very credible threats made against her after she wrote a meticulously documented book alleging that certain wealthy and prominent Mexican politicians and businessmen were pedophiles involved in a ring of child pornography and prostitution. (Her description of things confided in her by some of the six and seven year old little girls who are among the victims made it clear why she does the work despite the risk.)

Yet, the most vivid moment of the night was when the award was presented to six Iraqi women journalists who work in the Baghdad bureau for McClatchy news service.
Right now Iraq is the most dangerous place in the world for reporters. 32 journalists and staff have been killed last year alone. Since the beginning of the war in 2003, 153 reporters and news personnel have been killed—80 percent of those Iraqis. Yet, still women like these six who continue to go the places that the Americans and the rest of the international news corps can't go, and do the bring back the interviews and stories that the Americans and the internationals can't touch.

We were forbidden to photograph the Iraqi women, four of whom were present at the dinner, because if anyone in Baghdad got hold of the photos their lives and the lives of their families would be in grave danger. One of them has already had her husband, daughter and mother-in-law killed by insurgents. A second woman was herself nearly killed by an IED. A third, Sahar Issa, has had her son killed in a crossfire, her nephew killed in a market bomb.
Here's a fragment of what Issa wrote for a McClatchy story about the experience:
"We were asked to send the next of kin to whom the remains of my nephew, killed on Monday in a horrific explosion downtown, can be handed. From the waist down was all they could give us. 'We identified him by the cell phone in his pants' pocket. If you want the rest, you will just have to look for yourself. We don't know what he looks like.' Now begins the horror that surpasses anything I could have possibly envisioned." – Sahar Issa
It was Issa, a head-scarved woman with an elegant bearing, who acted as the spokesperson for the other three when they stood up to accept the award:
"We live double lives," she said….

"My children must lie about my profession. Every morning, as I leave my home, I look back with a heavy heart, for I may not see it again – today may be the day that the eyes of an enemy will see me for what I am, a journalist, rather than the appropriately bewildered elderly lady who goes to look after ailing parents, across the river every day. Not for a moment can I let down my guard.

"I smile as I give my children hugs and send them off to school; it's only after they turn their backs to me that my eyes fill to overflowing with the knowledge that they are just as much at risk as I am.

"So why continue? Why not put down my pen and sit back? It's because I'm tired of being branded a terrorist. Tired that a human life lost in my country is no loss at all in the eyes of the world. This is not the future I envision for my children. They are not terrorists, and their lives are not valueless.

"I have pledged my life, and much, much more, in an effort to open a window through which the good people in the international community may look in and see us for what we are—ordinary human beings with ordinary aspirations—and not what we have been portrayed to be.

"Allow me, ladies and gentlemen, to reach out. Help us to build bridges of understanding and acceptance. Even though the war has cast a dark shadow upon your nation and mine. It is not too late."
After Issa stopped speaking, there was a loud, long and raucous standing ovation, with many damp eyes among the scores of journalists and editors in the room .

Yet, as everyone streamed out of the ballroom and raced to shove their claim tickets into the hands of the uniformed guys at valet parking, it was unclear if the emotions behind the teary faces would last long enough to trigger some kind of surge of greater courage on the part of any of the American press present. Or whether last night was just another nice, poignant, but easily forgotten evening at the Hotel California.
*******************************************************************************************

PS: When I finally made it home from Beverly Hills, turned on a Tivo'd recording of the Democratic debate and heard Tim Russert ask Dennis Kucinich and Barak Obama about space aliens, followed by Brian Williams questioning Obama about what he'd be wearing for Halloween….I did not consider it a hopeful sign. (And I see, neither does blogfather, Marc Cooper, who sat directly to my right.)