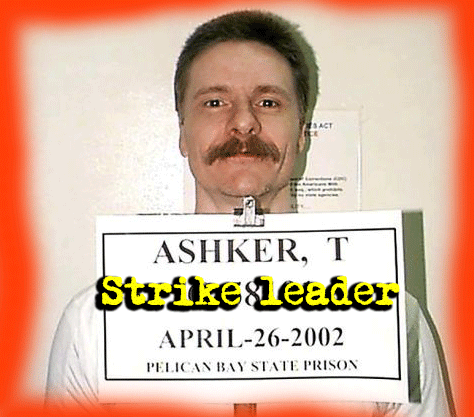 PORTRAIT OF CONVICTED KILLER TOD ASHKER, LEGAL BRAIN BEHIND CALIFORNIA'S PRISON HUNGER STRIKE
More credit to Paige St. John for her complex portrait of the inmate who is one of the prime movers behind Pelican Bay SHU's "Short Corridor Collective," the masterminds of the prison hunger strike that began on July 8.
Here's how it opens:
Inside the concrete labyrinth of California's highest-security prison, an inmate covered in neo-Nazi tattoos and locked in solitary confinement has spearheaded the largest prison protest in California history.

Convicted killer Todd Ashker and three other inmates — representing the Mexican Mafia, Nuestra Familia and the Black Guerrilla Family — called for a mass hunger strike July 8, largely to protest indefinite incarceration in solitary confinement.

More than 30,000 prisoners answered.

Though segregated from others, the leaders, who dub themselves the Short Corridor Collective, have kept the protest going, with more than 600 inmates still refusing food.

Among the four, Ashker is the most outspoken of the collective and the legal brains behind the strike.

Some prisoner-rights advocates describe the intense and sometimes volatile man as a brilliant champion for California's 130,000 prisoners.
---
PERPETUAL SOLITARY
Michael Montgomery for the Center for Investigative Reporting and KQED has this excellent story on those stuck in solitary confinement for years based on surprisingly flimsy evidence.
---
A HUNGER STRIKER DIES BUT THERE'S CONTROVERSY OVER THE REASON
Steve Gorman of Reuters has the story taht, at this point, is loaded with controversy.
Here's a clip:
Supporters of California prison inmates staging a prolonged hunger strike said on Saturday that one of the prisoners who had been refusing meals has died, but state corrections officials said the death was under investigation as a suicide.

The inmate, identified by mediators for protesting inmates as Billy Sell, died on Monday at the Corcoran State Prison in central California, where he was serving time in a "security housing unit" for prisoners held in solitary confinement, according to the Prisoner Hunger Strike Solidarity Coalition.

The group said in a statement that fellow inmates have reported that Sell was participating in the hunger strike, and that he had been requesting medical attention for several days before his death.
---
PRISON REFORM THE CONSERVATIVE WAY
An Op Ed by Pat Nolan and Chuck DeVore of the Right on Crime movement, in the LA Times, slams conservatives for trying to score "short-term political points by employing old scare tactics about the state's prison 'realignment' plan," instead of employing common sense and "successfully reforming prisons with conservative ideas."
Here's a clip, but read the whole thing. It's far better than a single clip can capture.
Go, Right on Crime!
When liberals expand the reach and cost of government, we conservatives label them "knee-jerk." However, conservatives have shown themselves to be enthusiastically knee-jerk in one area: criminal justice spending. For more than 40 years, conservatives have blindly supported a vast expansion of criminal laws and appropriated billions of dollars for new prisons to hold the inmates convicted under those laws.

Now, the weight of those costs is sinking California's budget, siphoning off dollars that could go to schools, roads, hospitals or tax cuts. With the state's expensive and troubled corrections system in crisis, there is a great opportunity to apply conservative principles — smaller, more effective government at lower cost to the taxpayers — to the prisons.

We are leaders in the national Right on Crime movement. We believe it's no longer enough for conservatives just to be tough on crime; we also must be tough on criminal justice spending. That means getting the most public safety for the fewest taxpayer dollars. Conservatives must demand the same accountability from our correctional system that we require from other government programs…
---
RIGHTEOUS INVESTIGATION OF HIGH HANDED BEHAVIOR? OR POLITICAL VENDETTA?
In case you missed this latest, strange LASD story over the weekend. Robert Faturechi reports for the LA Times Take a look.