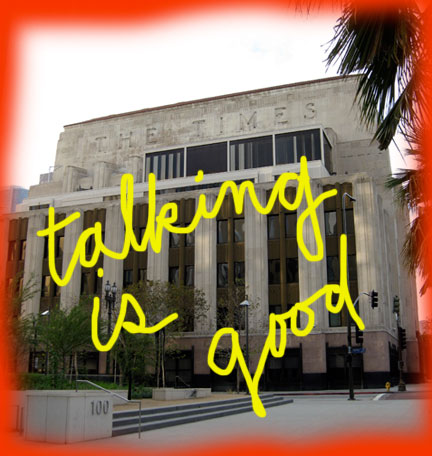 Late afternoon on Wednesday, Assistant Managing Editor David Lauter, who oversees state and local reporting for the LA Times, responded to the concerns and criticism raised this week by me, Daniel Heimpel and others about some of Garrett Therolf's reporting for the Times on child deaths within the foster care system and what those deaths suggest about the functioning of the system itself.
I appreciate the fact that David Lauter took the time and thought to craft a detailed response. Dialogue on issues this crucial and complex should be very much welcomed by all of us.
I have also exchanged emails and a phone call with Garrett Therolf, which I appreciate as well.
Naturally I have some disagreements with what David Lauter wrote.
Since it is the wee hours of the morning as I type this (and a puppy will soon get me up very early), I'm going to present Louter's response—and my response to his response—in two parts.
You'll find the first half below. I'll have the second half very soon. So check back.
---
THE LA TIMES REPLIES (AND WLA REPLIES BACK) – PART 1
LOUTER: In writing about these topics, The Times has ventured into an arena where emotions run high. Social workers dealing with abused and neglected children labor at one of society's most difficult jobs, often facing an array of bad choices from which they must try to choose the least bad. On the subject of when — and how often — to remove children from their parents and put them in foster care, many people who work within the system have deeply held ideological positions honed over years of debate.

In recent weeks, some officials in the county bureaucracy as well as some writers who have a long-standing position in favor of keeping children out of foster care — even if that means leaving them with abusive parents — have taken to criticizing The Times' stories.
WLA: Boy is that ever a straw man you just set up and knocked down, David. Nowhere in anything I've written even marginally suggests a "position [longstanding or otherwise] of keeping children out of foster care"—especially if that means leaving them with abusive parents. The notion is beyond preposterous.
However, I am very much against removing kids from a parent or parents who are non-abusive and basically decent, and deeply traumatizing the children in the process. I have seen that happen a depressing number of times over the years, several of those instances while reporting at very close range.
DCFS—foster care—is an essential agency. We all know that. When parents can't or won't take care of their children safely, we in the greater community must step in and protect the child's well being. Often that means removing a child from his or her parents either temporarily or permanently. At other times, it means helping a struggling family right itself rather than shattering it, with the kids the most shattered of all.
LOUTER: The critics have raised some statistical issues, on which they are simply mistaken. We detail the facts below.

Many of these critics also make an argument about what they call "social worker panic." According to this line of thinking, a news organization that pays attention to policy or management problems at a child welfare agency generally will make matters worse because social workers, feeling themselves under scrutiny, will invariably overreact, putting more children at risk. Presumably, in the view of these critics, a news organization that finds evidence of mismanagement or poor execution of policies should say nothing for fear of how a panicked bureaucracy might respond.
---
WLA: "... Presumably, in the view of these critics, a news organization that finds evidence of mismanagement or poor execution of policies should say nothing for fear of how a panicked bureaucracy might respond…"
Seriously? That's really the point you think I/we were making? That if a reporter or a news organization finds evidence of wrongdoing y'all should just keep quiet?
You're kidding right?
Oh, I get it. A second strawman propped up and whacked to the ground.
For the record, I've never used—or thought of using—the term "social worker panic," but be that as it may.
The panic we were concerned about is among policy makers, pushed by a public panic, and thus public pressure—a notoriously toxic combo that has historically produced lousy policy, and a wake of collateral damage.
No one suggested that you report less,. I/we are urging you to report better, and with the kind of nuance and context that could lead to positive policy changes, not knee-jerk reactive pressure to "crack down" in this or that, with children harmed in the process.
[MORNING NOTE: Not that I'm suggesting you are urging the crack down, just that it can be the by-product when readers and policy makers do not have the broader view. We've seen it happen repeatedly in the realm of criminal justice.]
---
LOUTER: We'll let readers decide for themselves whether that line of argument seems reasonable.
WLA: That would be the false argument you've just advanced?
LAUTER: In the meantime, we'd like to set the record straight on some serious statistical issues that have been carelessly bandied about by some critics of The Times' stories.
---
PART 2—THE FACTS AND FIGURES—COMING shortly. (Here's a link to the whole reply by David Louter.)