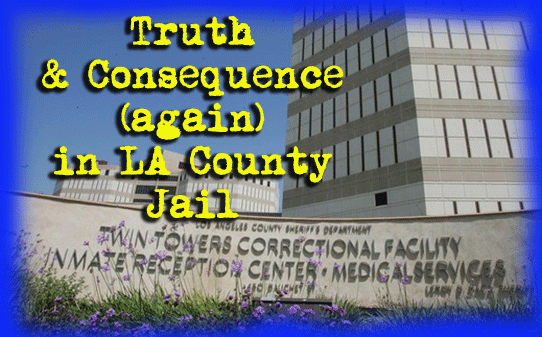 After a flood of negative media, a string of high ticket lawsuits, and an aggressively widening FBI investigation, there has been a measurable drop in use of force inside the county's jails in the past two years.
Yet, while the force incidents are thankfully fewer, when brutality is reported, it still seems to be rare that deputies are ever found to be at fault, even when inmates are badly injured.
It is left to juries to hold those who brutalize inmates accountable as, all too often, the Los Angeles Sheriff's Department does not.
The story below by WitnessLA reporter Matt Fleischer begins as one more example of a failure by the department to critically examine a questionably-timed account of the beating of an inmate by a group of deputies.
Yet this time the story has an interesting and unexpected ending.
---
---
Truth & Consequence: the Inmate, the Beating & the Deputies Who Lied

by Matthew Fleischer

---

On the afternoon of April 8, 2011, Gregory Burkhamer, then an inmate in the Los Angeles County Sheriffs Department's Twin Towers Correction Facility, claims he was beaten by a group of Los Angeles Sheriff's Department deputies. According to a declaration given by Burkhamer to the ACLU, the inmate says he was waiting in a hallway to be taken back to his cell after a visit to the jail's medical clinic, when he began whistling to pass the time. Annoyed by the noise, LASD deputy Douglas Michaelson allegedly told Burkhamer to "shut the fuck up."

When Burkhamer mouthed off in return, Michaelson allegedly grabbed the inmate by the throat, dragged him to a holding tank, and beat him with the help of five to six other deputies. When the beating stopped, in addition to bruises, Burkhamer had a gash in his forehead that he said required five stiches at Los Angeles County USC Medical Center.

Burkhamer's is a story told all too often in recent years as tales of deputy abuse of inmates in the LA County jails made national news, then became the subject of an FBI investigation that the US Attorney has suggested will result in indictments, along with the more recent Department of Justice civil rights probe, plus the scathing findings presented by the Citizens Committee on Jail Violence.

Yet despite evidence that there has been a pattern of abuse of inmates by certain deputies inside the county jails, as with most other recent abuse cases of note, even those that have resulted in high dollar settlements, the Los Angeles Sheriff's Department had a very prescribed view regarding who was at fault in the conflict between Burkhamer and Michaelson.

According to Michaelson's official report of the incident, Burkhamer had grown impatient waiting to return to his cell, so squared off in a "fighting stance" against deputies. While being subdued, Burkhamer then allegedly made "terrorist" threats against the deputy.

"Michaelson, I'm going to remember that name because when I get out of jail, I'm going to find you and shoot you in the fucking head!"

Though the incident occurred on April 8, 2011, and despite the seriousness of the purported threat, there was no charge at that time, nor was Burkhamer disciplined, according to his declaration.

On June 29, Burkhamer met with Esther Lim of ACLU to talk about the incident. Their conversation, he says, was within earshot of a sergeant who was present for his beating. One week later, he claims,, he was notified an "add" charge brought by the Los Angeles District Attorney's office for "resisting an executive officer" and "making criminal threats" against an officer. According to court documents in the case, Burkhamer's alleged threats against Michaelson created in the deputy a "reasonable and sustained fear for his safety and the safety of his immediate family," and caused Michaelson to believe that he faced the "immediate prospect of execution," based on his interaction with Burkhamer.

Burkhamer, meanwhile, maintained his innocence, and insisted that it was the deputies, chiefly Michaelson, who had beaten him—–their actions unprovoked, save for Burkhamer's brief bout of mouthing off after Michaelson swore at him.

Months later, the Los Angeles District Attorney's office used the new charges as a bargaining tool and offered a deal to drop the charges in the terrorist threat case in exchange for a plea on Burkhamer's original case that brought him to jail in the first place. Burkhamer's alternate public defender, Jeffrey Cohen, says he believed at the time that Michaelson and the other deputies had lied about the beating, and urged his client to go to trial. The suspicious timeline of the charges, which were brought only after Burkhamer spoke with the ACLU, only furthered Cohens conviction.

"At the same time, I counseled Mr. Burkhamer that I couldn't guarantee we'd be able to win," he says.

If Burkhamer rejected the deal and was found guilty of the additional charges, Cohen warned his client, it could add years to his sentence.

"All you have is Mr. Burkhamer's word against several deputies," says Cohen "If you go to trial, in that situation, you have to ask the jury to believe Mr. Burkhamer's word against Michaelson, and the five other deputies who signed off on that story. That scenario does not typically work out well for the defendant."

On December 9, 2011, Burkhamer agreed to accept a plea of four years in state prison, minus 261 days for time served in jail, and a reduced sentence of 40 days for good behavior.

Attorney Cohen assumed the case was a wrap. Then, something unusual occurred.

On April 9, 2013, almost two years to the day after the disputed incident, Cohen received a letter from Assistant Head Deputy Margo Baxter of the Van Nuys branch of the Los Angeles County District Attorney's office. The letter read in part:

"We have been informed by the Los Angeles County Sheriff's Department that LASD deputy sheriff Douglas Michaelson has admitted to authoring a false report and authoring perjured testimony during the preliminary hearing [in the Burkhamer case]…This information is being provided to you so you may take whatever action you deem necessary."

Cohen had handled several cases where his clients had claimed deputies had testified falsely against them. But this was the first time he had ever received a formal letter confirming that his client's claims were in fact the truth. Michaelson, as Burkhamer had suggested all along, had lied.

(The letter, which you can read in it's entirety here, didn't specify precisely what Michaelson lied about.)

"For years, Sheriff Baca, Department officials, [department spokesperson] Steve Whitmore and other have tried to cover up the jail abuse scandal by saying that inmates lie," says ACLU of Southern California legal director Peter Eliasberg. "Unfortunately, we are now seeing numerous cases that indicate deputies also lie. And they sometimes lie under oath."

Asked about the matter, LASD spokesperson Steve Whitmore says Michaelson is no longer with the department after resigning on October 24, 2012.

"He was under investigation by Internal Affairs, and when presented with the facts of the case against him, he resigned."

Whitmore was unable to discuss the specifics of the IA case, but did note, curiously, that Michaelson's resignation had "nothing to do with force and it had nothing to do with perjury."

What exactly Michaelson was under investigation for, and whether or not criminal charges will be brought against him, remains to be seen. James Garrison of the LA District Attorney's Justice System Integrity Division (JSID), which is responsible for prosecuting cases against local law enforcement, tells WitnessLA that there is no record of a pending case against Michaelson in the system.

That doesn't mean, however, that charges will not be filed. Garrison was not authorized to speak about the matter, but sources with knowledge of the situation indicate the investigation into Michaelson may be part of a larger case against a department deputy named Jermaine "Action" Jackson.

A five-year LASD veteran, Jackson was arrested in December of last year and charged with assault by means likely to produce great bodily injury, assault by a public officer and filing a false report against another Twin Towers inmate named Derek Griscavage

According to his ACLU declaration, Griscavage says he was beaten severely by Jackson while handcuffed on Christmas day 2010, after the two got into a brief verbal spat during a routine cell search. After the beating, Griscavage was put on "lockdown" for assaulting a deputy, allegedly because Jackson received a scratch on his hand during the altercation.

Jackson also stands accused of assaulting another inmate, Cesar Campana, at the Compton courthouse lockup in 2009.

This same Jackson was one of the deputies who signed off on Michaelson's report, and was a participant in the beating that left Burkhamer injured. Burkhamer further alleged that Jackson threatened him several times in the wake of the incident.

So that makes at least two deputies who, it now appears, falsely reported about the circumstances in which Burkhamer was beaten.

Cohen says that after he received the DA's letter, he contacted Burkhamer in prison about the possibility of filing a writ of habeas corpus—a petition to a judge for sentencing relief. Since the threat of two additional felony charges hung over Burkhamer when he reached his plea deal, there is a chance he could receive a lesser sentence were he to petition the court for relief. The Alternate Public Defender's office largely does not handle habeas petitions, so all Cohen could do is make Burkhamer aware of his legal options. Cohen says he is unaware what action, if any, Burkhamer took, but that with roughly only one-year left on his sentence, habeas wasn't really a practical option.

"It's really too late now," he says. "Mr. Burkhamer already pled to something that didn't go down.

"It's horrifying really. This is the first time I've received a letter like this. But how many more cases are there where Michaelson or Jackson lied, or backed up a buddy of his who lied?"

Based on his experience, Cohen says he thinks cases like Burkhamer's happen a lot.