In 2016, the Vera Institute of Justice published The Human Toll of Jail, a series of essays written by people held in jails across the nation and their families, as well as individuals who worked in jails. Now, in 2023, Vera has partnered with PEN America's Prison and Justice Writing program on a new set of eight stories of life inside jail, all written by incarcerated people. 

This round of essays includes stories about the pressure of the pretrial court process, stories about mental health spirals caused by solitary confinement, stories about being treated as something less-than-human, and stories of violence, death, and medical crises ignored by jail staff.

In one essay, author Ben Frandsen describes being shuffled around for three days in LA County's notorious Inmate Reception Center (IRC), where people are sent to be processed into the jail system after arrest.

I repeated the same sadistic circuit—morose guy, window, window, bench, next window, medical with a different doctor, deputy at the end of the hall cut off my wristband again. It had now been 47 hours. No sleep. No toothbrush. No soap.
"Go to window 32."
"Wait. I've already done—"
"Next!"
About 16 hours later I looked up through bleary eyes at the first doctor again.
"Say 'ah.'"
"No, wait," I said frantically. "This is the third time I've been in this office. I haven't slept in three days. They just keep sending me around in circles. Please, look at the name. Remember? Captain Frandsen."
Recognition flickered in his eyes. "Oh, right. Let me make a call."
They put me back in the first holding cell from three days ago, only there were even more men stuffed inside this time. They must really think we are animals, I thought, slumping onto a bench with a groan. "I can't believe," I said to no one in particular, "they've been processing me for three days."
Frandsen describes seeing the IRC for the first time, a "disgustingly filthy" place packed with people sitting and sleeping on benches and floors covered in moldy sandwiches and trash.

Frandsen's experience occurred approximately two decades ago, yet, recent reports of conditions inside the overcrowded and dysfunctional entryway to the county's jail system still resemble some of Frandsen's descriptions.

Late last year, the LA County Sheriff's Department came under fire for inhumane treatment inside the IRC.
Both the county's Office of Inspector General and ACLU lawyers reported seeing garbage, feces, and urine on the floors of the facility.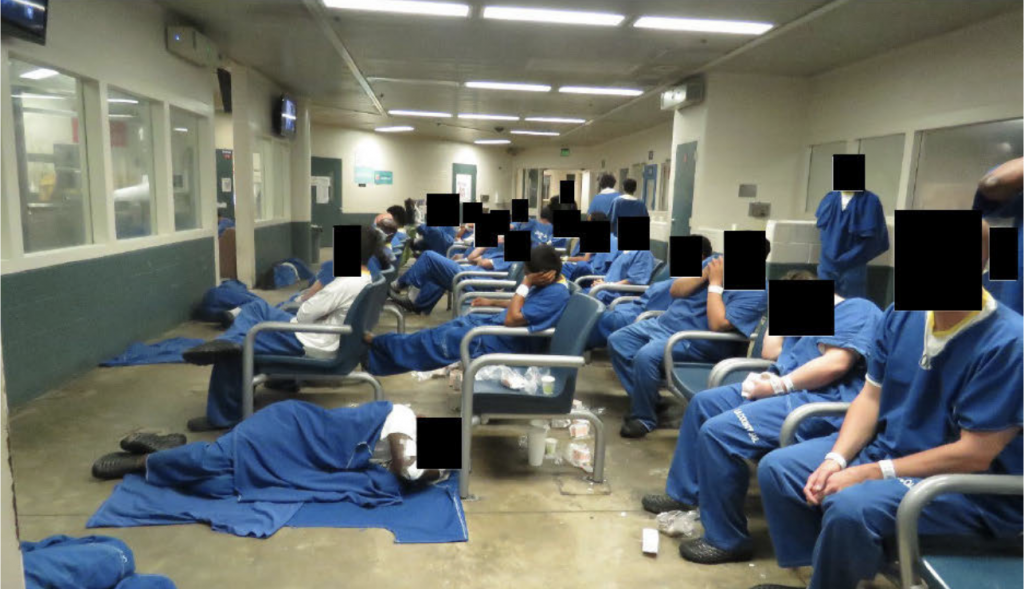 The OIG found that some people with mental illness had been chained to benches for "over sixty hours each." One man diagnosed with schizophrenia was reportedly cuffed to the jail's front bench for more than 99 hours.

Cut off from communication
In another essay, Rahsaan Thomas, co-host of the award-winning (and Pulitzer-nominated) Ear Hustle podcast, tells of the ADA-violating treatment deaf people receive in California's jails, where interpreters, hearing aids, and phone call accommodations are rarely offered.

Jaime Paredes told Thomas that over the 8 years he spent in Ventura County Jail, he received more than 1,400 disciplinary write-ups from officers who thought he was being rebellious. "I wasn't," Paredes told Thomas. "I couldn't hear them."

One person who goes by "Never Broke Again" reports going four years without being able to use a phone while in the Santa Rita County Jail.
"It took two weeks for someone to bring me a phone for Deaf people, but it didn't work very well," he said. "I went four years without a phone call in Santa Rita Jail."
Both Paredes and Never Broke Again described not receiving a hearing aid for about a year and that the county jails where they were held allowed only one hearing aid per person.
Locked down
A third essayist, Elizabeth Hawes, describes being stuck in a cell for 23 hours per day for 14 months.

When I think of jail, I think of being tired and having no one to talk to. I think about running out of paper and envelopes. How the guards would toss our cells—knocking our few toiletries off the ledge above the metal sinks in our rooms, throwing our clothes and books on the floor. I think about not being outside for more than a year. Of not understanding what was happening to me in court or how the legal system really works.
I think about being cold and usually hungry. I think of people coming down from heroin and just off meth, begging for anything sweet. I think of my best friend dying from an out-of-the-blue heart attack at the age of 46 and how I sob for three days and can't attend his funeral or speak with his mother. I think of my wedding anniversary and not being able to see my husband because the jail was on a lockdown, and we couldn't have any visits.
Head over to Vera to the rest of the three stories, and the five other jail essays.