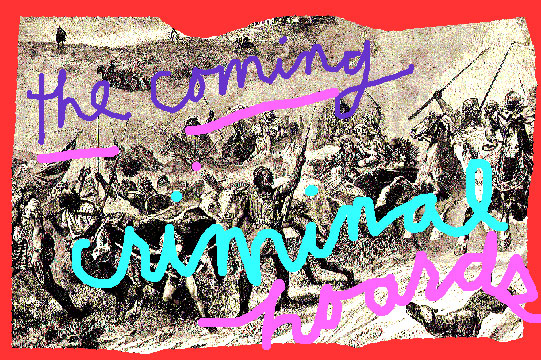 THE MEDIA'S MANUFACTURED CRISIS (HINT: FACT CHECKING IS YOUR FRIEND)
Monday's (and today's) local newspapers and news broadcasts were filled with alarmist rhetoric about the state's early release policy that kicked in on Jan 25, and that would result in the release of a flood dangerous prison inmates on Los Angeles.
"Over 6K Inmates to be Released Early In LA?" shrieked Monday's KNX headline.
NBC's Scott Weber reported that the number of prisoners being released early. was, in fact, 21,000 over the next two years, with 6,000 of those early releases coming to LA.
The LA city officials that Weber quoted on the topic were quite horrified at the prospect.
Guillermo Cespedes, who runs Mayor Antonio Villaraigosa's Office of Gang Reduction and Youth Development, called the situation "a bit of a crisis."

He said the release of inmates who are notorious gang members could disrupt progress made by gang interventionists in attaining truces and in convincing youths to stay away from gangs.

Councilman Dennis Zine, a former police officer, was infuriated by the governor's plan.

"It's a disaster that's going to happen," he said. "It really frustrates me that we've reduce crime and all of a sudden we're going to see a surge."
There was only one problem with all this hysteria about the coming crime wave: That flood of prisoners that everyone's warning about? It doesn't exist. What has been reported by numerous news outlets and reinforced by clueless city officials about the state's prisoner reduction plan that began on Monday—ISN'T TRUE. Really. I'm not kidding.
The truth is out there and easily accessible, but evidently no one is bothering to fact check.
---
EVERYONE IS NOT ENTITLED TO HIS OWN FACTS
Here is the actual factual reality of the situation: In the next year the CDCR intends to reduce the population of California's overcrowded prisons by about 6500.
That part, at least, most people seem to have a grip on.
"Reduce" however, does not mean "release."
Most of the CDCR's hoped for numerical reduction involves slowing down the pipeline of those going into prison, not opening the floodgates for those coming out.
Repeat, early release is not the way that the CDCR is going to lower the prison population under the new law that kicked in on Monday.
Instead, the idea is to lower the numbers by having fewer people return to prison through a parole reform plan that gives "high control" parolees increased supervision., and removes low end parolees from supervision altogether so that, although they are still technically on parole (and may be searched at any time) if they don't commit new crimes, they won't be sent back to prison.
Simple as that.
( Last Friday, I wrote about some of the details here.)
Again, the primary change is not to the OUT door of prison, but to the IN door.
CALIFORNIA'S FAILED PAROLE SYSTEM
You see, until now, California has been one of only three states in all of the U.S. that puts every single one of its offenders on parole following his or her release—a strategy that experts have, for years, been decrying as a failure.

Most states only apply parole to those people who have committed certain kinds of crimes. The rest just get shown the door. No complex conditions of parole. No drug testing. No insistence that the former inmate can't travel out of LA for a 2-week job training, or go to visit his mother in this or that neighborhood. And guess what? Research shows that those other more selective parole systems—in which only the high-end parolees get close monitoring and the rest can just go about their business as long as they remain law abiding— work better.
---
THE TEENSY, WEENSY, PATHETICALLY SMALL EARLY RELEASE PLAN
Okay, yes. There is one early release plan embedded in the CDCR's new prison population reduction strategy.
As part of the plan, some low-level inmates who have already served their statutory sentences, will be allowed to knock up to 6-weeks off their time if they fully participate in certain kinds of rehabilitative programs such as getting their GEDs, going through a drug and alcohol program and the like—programs that have been statistically proven to reduce recidivism. The idea is to incentivize the kind of healthy behavior that may help an inmate to stay out of prison after he or she is paroled.
And how many inmates are we talking about being released 6-weeks early within the next year, statewide?
I asked CDCR Secretary Matthew Cates that very question on Monday in the course of a telephonic press conference.
He said between 1000 to 1500 maximum, for the year. Just to make sure, I asked him again. He reiterated. That would be at most 125 inmates per month— around 42 of whom would likely come to LA.
"LA always gets around a third," he said.
Yes, you read right. Our monthly flood of early-release inmates is—at most: 42 people.
The horror.
Sadly, I think Mr. Cates is being optimistic even with the 42. After I questioned Cates fairly thoroughly on the early release issue, KQED's Michael Montgomery asked him if the CDCR planned to add some rehabilitative and educational programs since nearly all of them have been cut.
On the topic of program cuts, Cates phumphered. Uh, no, the CDCR wasn't really adding programs. "it's a really hard thing that we are cutting programs at this time. But the state's out of money. But, we still have…" and then he named a couple of programs, one of them a drug rehab program that I wrote about here. Unfortunately—although the Secretary appeared not to know it—it is a program that has already been mostly cut.
Obviously, if there are not enough of the necessary rehab programs, fewer inmates still would be eligible for early release.
So it may be that LA is going to bet fewer than 42 new inmates per month.
---
"NOT BY ME!"
Near the end of the press conference, one reporter said to Cates (in a rather confrontational manner) that 6000 inmates had just been released "today in LA."
Cates sighed. "Not by me," he said.
"As of today, we have released zero," said Cates. "None." He sighed again. "There's been a lot of misinformation. There are some people who just don't want reform."
You got that right.
---
SLOWING THE MONTHLY FLOOD
According to Cates, there is a flood of inmates, one might say, that will be returning to LA's streets. Around 3,000 of them this month. "Just as a matter of course, we release 9,000 prisoners a month every month," said Cates, and about 3,000 of those come to LA every month.
You have to remember, that most of those who go to prison in California eventually get out," he said.
"The biggest difference with the plan that went into effect on Monday,' said Cates, "is that fewer of those 3000 will be coming back on technical violations. We aren't putting people out the door faster."
May it be so.
PS: Patrick McGreevy of the LA Times was one of the few who did a calm, largely accurate report on Monday, although he should have challenged the fact-free statement by Los Angeles Police Lt. Brian Johnson.