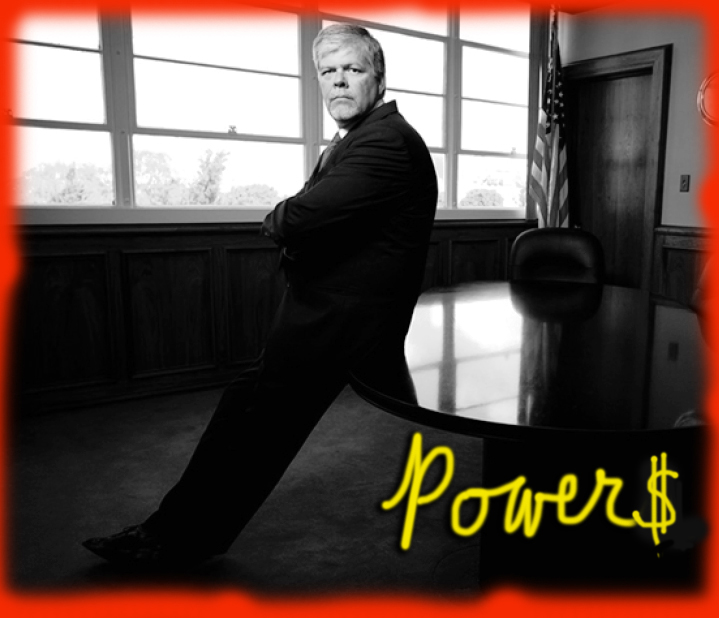 EXIT PRICE
LA County Probation Chief Jerry Powers will be leaving his post as head of the agency on Monday, January 4, 2016, right after the upcoming New Year's weekend.
Ever since the news of his leave-taking was confirmed, the question that many of us have been asking is: what kind of exit package is Powers being given on his way out the door?
In case you've forgotten, Powers was not-so-gently persuaded to resign due, primarily, to allegations that he was engaged in an inappropriate romantic relationship with another probation employee, Kym Renner, whom it appears that he hired after he had become involved with her. It is further reported that Powers may have circumvented the proper vetting process in getting Renner hired to begin with. Moreover, although Renner, 42, was originally hired to be a close aid for Powers, 53, in short order, she was moved up the power ladder to oversee the $820 million budget, accounting and expenditures for the nation's largest probation department—never mind that Renner appeared to have no appreciable experience in the realm of budget and finance.
For her work, Renner was paid a base salary of $159,660, plus benefits—-bringing the total package well past $200,000, nearly nearly twice what she was making in her prior long-term position in Stanislaus County. (Powers, if you'll remember, was the probation chief for Stanislaus County before assuming the head position in LA in December 2011. Renner, who was married when Powers took the LA job, worked in Human Resources for the same county with a base salary of $87,812 then, as her marriage split up, very briefly took a similar position in Redondo Beach before Powers brought her to Los Angeles.)
The final straw for the supervisors was reportedly when county attorneys informed the board that, by his alleged behavior, Powers was putting the county at risk of being hit with a very large, very nasty sexual harassment lawsuit by Renner, should she be so inclined, along with exposure to similarly unpleasant lawsuits that could conceivably brought by other probation employees claiming favoritism, et al.
---
THE ACTUAL PACKAGE
When Powers was first hired to take the helm of LA County's large and troubled agency in late 2011, his contract stipulated that whenever in the future it came time for him to leave, he would receive an exit package that was equivalent to six months worth whatever monthly salary he was currently making.
Q: So, what about now? Will Powers still get that very generous six month farewell payment, despite the circumstances of his departure?
A: Yes—and a lot more.
WitnessLA has learned that, in addition to a nice six month salary parachute, which amounts to a payment of $147,125.88 (or half of Chief Powers' current base salary of approximately $294,252 per annum), the Supes also voted in a closed door session to give Powers a second six months worth of salary, as a good-by gift, meaning he will now get two payments of $147,125.88.
Or to put it another way: Powers is getting paid more now that allegedly problematic behavior has precipitated his retreat, than he would have received had all gone swimmingly.
The vote, reportedly, was not unanimous.
In the months to come, while the county's supes and the CEO engage in a national search to find Powers' successor, former Ventura County probation chief, Cal Remington, will act as interim chief for LA, a position he has held twice in the past.
---
POST SCRIPT: Yes, we're still technically on a break until January 4. But sometimes news, as they say, must out.