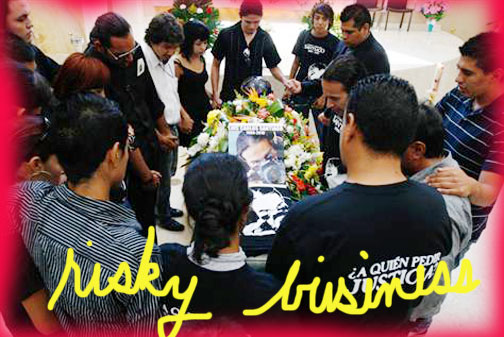 The frightening announcement came this week that Iran's best known journalist/blogger Hossein Derakhshan, who blogs under the name of "Hoder," is likely going to be executed for his past criticism of the the Iranian government—or whatever charge his jailers have trumped up against him.
(The LA Times has more on Derakshan's story here.)
The news cannot help but call to mind the other horror for journalists that continued to unfold, this week, in Ciudad Juarez, the most dangerous place for reporters in the Americas.
Last week a second journalist from the newspaper El Diario was killed , 21-year-old photographer Luis Carlos Santiago. (In 2008, the police reporter for El Diario, Armando Rodríguez Carreón, was shot dead in front of his 8-year-old daughter.)
In reaction, this past Sunday El Dario's editor ran an open letter to the leaders of organized crime on its front page. The message was devastating and chilling. It read in part:
"We want you to explain to us what you want from us. What are we supposed to publish or not publish, so we know what to abide by. You are at this time the de facto authorities in this city because the legal authorities have not been able to stop our colleagues from falling.
(More at the NY Times)
Journalists are not at all safe elsewhere in Mexico, as the AP reported late Thursday:
Imagen (is) a daily newspaper in the once-quiet state of Zacatecas where drug cartels have taken over in just the last few years. Then editor Patricia Mercado got a phone call ordering her to print a prepared article or she would be kidnapped.

Mercado ran the story — verbatim — of an innocent young man killed by the army, which was committing human rights abuse.

"If it's a question of life or death, I have no trouble making a decision. The lives of my reporters are most important," she said, after telling a group of Mexican journalists Thursday that traffickers from the Zetas cartel have "almost become the news editors."
"All along the border," writes the NY Times, "news organizations have silenced themselves out of fear and intimidation from drug trafficking organizations, but El Diario had a reputation for carrying on…."
Not any more.
Then on Wednesday another voice was muted when the editor of a leading online newspaper in Cuidad Juarez asked for and got asylum in the U.S. because of threats against his life.
On Thursday, Mexican President Felipe Calderon vowed to offer federal protection for reporters.
Let us hope and pray it does some good.
Photo by Alejandro Bringas / Reuters