TWO DEATHS, TWO HIGH $$ PAYOUTS
Despite the work toward reform in the Los Angeles County Jails in the last few years, the problems that were allowed to bloom largely unchecked inside the nation's largest jail system continue to take millions of dollars out of the pockets of LA County's taxpayers in the form of legal settlements.
On Wednesday of this week, the day after voting day, the board of supervisors agreed to pay a grand total of $3,250,000 in settlements to the families of two inmates who died in the jails.
In addition to the $3.25 million on the two cases, the county paid $928,564 in attorneys fees and expenses on the cases that dragged on for a year and a half, in once case, and two-and-a-half years in the other.
One of the deaths occurred after many of the reforms were supposedly in place, at least in part.
---
SUICIDE OR NOT?
The most recent of the cases was filed in April 2015 by Arean Edwards, the mother of 24-year-old Earl Lee Johnson, who alleged that, on September 27 2014, sheriff's deputies at Twin Towers jail beat her son in the head so badly that he became unconscious. Then, according to the lawsuit, the deputies covered-up the alleged assault by hanging the young man from a bedsheet in his cell to make his injuries appear be suicide.
Johnson did not die right away but lingered in the hospital for three weeks before succumbing to this injuries.
James Orland, the attorney for Johnson's mother, told an AP reporter in April 2015 that the LA coroner's office Johnson killed himself by hanging.
Orland said that the family got its own autopsy, which concluded Johnson died from a "fractured skull" caused by "blunt-force trauma."
County counsel recommended settling.
---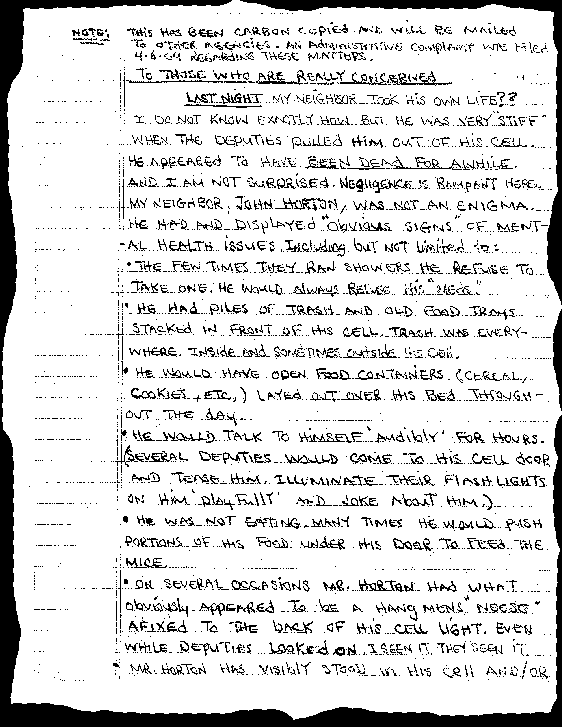 DEATH INSTEAD OF FIRE CAMP
The second case was brought by Helen Jones, the mother of a 22-year-old man named John Horton who, on March 30, 2009, was found hanging from a noose in his cell in Men's Central Jail.
WitnessLA wrote about the case in a two-part series back in 2009, and learned that, when Horton died, he had been in jail for over a month on a drug possession charge and was waiting to be shipped off to fire camp where he was to serve two years. As a nonviolent, low-level offender without a pile of priors Horton was eligible the program that allows inmates to learn elements of wildland firefighting. According to his mother, he welcomed the idea of fire camp.
Yet, for reasons that no one could adequately explain, for nearly entire duration of Horton's time in CJ, Horton had been kept in insolation in a a dimly lit, windowless, solid-front cell the size of a closet.
The cell was around 5 X 7 feet, said Margaret Winter, the head of the ACLU's national prison project, when we talked back in 2009 about Horton's case.
Winter, who has seen many cells in her professional life, said that Horton's cell was so dimly lit that reading would have been difficult or impossible. "And there was nothing else in the cell. It was a room with no desk, no chair."
Only a cot, sink and toilet and a cement floor. This meant that Horton was left in the room for hours and hours on end, seeing no one, talking to no one, reading nothing, receiving none of the prison programs. Glimpsing no sunlight. For hours, and days, that turned into weeks.
Horton's mother, Helen Jones, told me that, initially, she thought it was a good thing that her son was in jail. She was optimistic that the arrest would be the wake up call he needed to get him off of drugs and back on a positive path.
Horton was originally arrested for drug possession in 2007, Jones explained. At that time, she said, he accepted a plea agreement and was ordered by the judge to go to a drug rehab. Horton agreed eagerly, according to his mother. But on the day he was supposed to report to the rehab facility, he never showed up. As a consequence a bench warrant was issued in his name.
Fast forward to late February of 2009. Jones was worried about her son. She didn't see him use drugs but she knew something was amiss, "He was a good boy. But he was messed up, she said. He loved kids. He was talented boxer. But he was having problems, she said, and she was at a loss to know what to do about it.
Finally one night Jones found John overdosed. She was fairly sure he had taken a bunch of pills. Terrified, she drove him to the emergency room of St. Francis Medical Center in Lynwood.
At the hospital, the existence of the arrest warrant was discovered. Once Horton was determined to be out of immediate danger, he was taken to Men's Central Jail.
---
STUCK IN SOLITARY
Helen Jones went to visit him a day later and he still seemed very groggy. I'm alright, he told her. I'm reading the Bible. It's okay.
Jones wasn't sure. So she made a point of going to the jail again a couple of days later. This time she was told her son could have no visitors. Nor could he make phone calls. "He's in protective custody," the deputy said. No one seemed to be able to explain what exactly this meant.
Jones said she tried again a few days later still. Again, she was told that Horton could have no visitors. Worried, she asked to see the watch commander, whom she said was uninformative. "My son needs to know I'm here for him," she said she told the officer. "He needs my support."
Helen Jones next saw her son on March 16 when he went to court to face the consequences of his AWOL from rehab.
According to Jones, the judge seemed to see that John was no hard core criminal but a young man in need of help. In any case, it was this judge who agreed to sentence Horton to the two years in fire camp, where he would learn a trade and get back in good physical condition. Jones was overjoyed at the fire camp sentence.
"When I talked to him, he was relieved too," she told me in 2009. There would be no more running. No more drugs. "He was already planning what he would do in two years when he was released. He wanted to come out and go back to boxing. That was his plan."
Jones said she actually thanked the judge.
Yet, during the hearing she became concerned about her son's mental condition. He was behaving strangely.
"He wasn't all the way right," she said. The judge who, according to Jones, recognized that Horton was in some kind of state of mental distress, told her that John would be in the medical unit of the jail for at least the beginning of the two or three weeks it would take to arrange the transfer to fire camp. He told her that she shouldn't worry.
---
STILL NO VISITORS

A few days later, Jones again went to visit her son, but was once more told he could have no visitors, and could not make phone calls. "He's supposed to be in the medical unit," she told the jail staff. No, he was in "protective custody," they said. Again there was no explanation.
Jones continued to go back to the jail during visiting hours to try to see her son, but was never able to see him.
The last day Jones tried to visit her son at Men's Central Jail, it was on a weekend. This time she was told he was in "disciplinary custody." Frightened and furious, she asked how he could go from isolation in protective custody to isolation in disciplinary custody, when a judge had supposedly slated him for the medical unit. Had John done something wrong? The staff said they could give her no information.
Jones again asked to see the watch commander. She was told that seeing a watch commander was not possible. By this time, Helen had been trying to visit her son for a month and had been repeatedly put off. She was not about to be put off again. She worked her way up the command structure until finally the watch commander did come out to talk to her.
He was very polite, Jones told me. Kind even.
Since it was the weekend, he said, if she would come back the following Wednesday, he would get to the bottom of things and have an answer for her then.
Wednesday turned out to be too late. "By Monday he was gone," she said.
John Horton hanged himself on Monday, March 30.
---
WAS ANYONE PAYING ATTENTION?
By the time deputies found Horton he had been dead so long that rigor mortis had set in. "How long was he in there? He's very stiff!" the prison paramedic reportedly remarked to the officers, according to the ACLU's Winter.
The man in the cell next to Horton reportedly began taking frantic notes immediately after the young man's death, just to make sure that someone had a record of what had happened. WitnessLA obtained a copy of the inmate's notes. (See image above.)
In the days before his suicide, wrote the inmate/witness, Horton showed many signs that he was a man in serious trouble. For one thing, he had tied a noose tied to the back of his light fixture in his cell and hanging in plain sight.
"I seen it. They seen it. Mr. Horton visibly stood in his cell and/or squatting atop his sink with plastic ties around his wrist and looking directly at the noose (several deputies observed these "items" and 'behavior' when taking me or bringing me back they brought me back from the law-library)…"
Horton stopped eating, refused his meds, began talking to himself, yet according to the witness, he told staff that Horton needed help. But he observed no help or intervention given.
At the time, we talked to a second inmate who, while farther away, told a similar story of Horton being in distress, and no one reportedly paying attention until it was much too late.
---
MORE READING
Frank Stoltze at KPCC has a report that looks at the changes being made inside the jails now, which includes training as to how to better deal with mentally ill inmates.
And the Office of Inspector General Max Huntsman has issued a new report that looks at progress in reform efforts in the LASD in general, and specifically in the jails. You can find that report here.