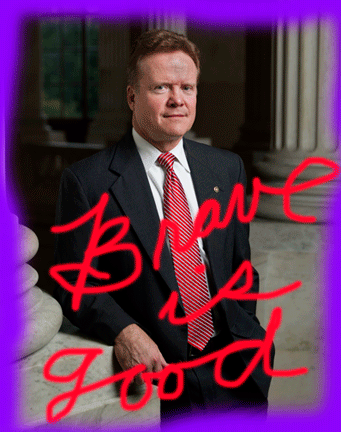 Over the weekend, I finally read the stunning speech—remarkably for its political bravery—- that Jim Webb made to the Senate this past Thursday, when he introduced his bill calling for a blue ribbon commission to reform the nation's criminal justice system, which he calls "a national disgrace." The bill, titled the National Criminal Justice Act of 2009, is what many of us with an eye on criminal justice issues have been eagerly awaiting since late last year.

I knew that criminal justice advocates like Marc Mauer of the Sentencing Project had been working with Webb and his staff. But even so, his presentation was more intelligent more articulate, more informed—and more courageous—than most had dared to hope for. Here are some clips:

Let's start with a premise that I don't think a lot of Americans are aware of. We have 5% of the world's population; we have 25% of the world's known prison population. We have an incarceration rate in the United States, the world's greatest democracy, that is five times as high as the average incarceration rate of the rest of the world. There are only two possibilities here: either we have the most evil people on earth living in the United States; or we are doing something dramatically wrong in terms of how we approach the issue of criminal justice. I would ask my fellow senators and my fellow citizens to think about the challenges that attend these kinds of numbers when we are looking at people who have been released from prison and are reentering American society. We have hundreds and hundreds of thousands of people who are reentering American society without the transition necessary
to allow them to again become productive citizens.

[SNIP]

The elephant in the bedroom in many discussions on the criminal justice system is the sharp increase in drug incarceration over the past three decades. In 1980, we had 41,000 drug offenders in prison; today we have more than 500,000, an increase of 1,200%. The blue disks represent the numbers in 1980; the red disks represent the numbers in 2007 and a significant percentage of those incarcerated are for possession or nonviolent offenses stemming from drug addiction and those sorts of related behavioral issues.
Salon's Glenn Greenwald has written about Webb's bill in a manner that illuminates both the man and the issue.
Here's how Glenn's article opens:
There are few things rarer than a major politician doing something that is genuinely courageous and principled, but Jim Webb's impassioned commitment to fundamental prison reform is exactly that. Webb's interest in the issue was prompted by his work as a journalist in 1984, when he wrote about an American citizen who was locked away in a Japanese prison for two years under extremely harsh conditions for nothing more than marijuana possession. After decades of mindless "tough-on-crime" hysteria, an increasingly irrational "drug war," and a sprawling, privatized prison state as brutal as it is counter-productive, America has easily surpassed Japan — and virtually every other country in the world — to become what Brown University Professor Glenn Loury recently described as a "a nation of jailers" whose "prison system has grown into a leviathan unmatched in human history."

What's most notable about Webb's decision to champion this cause is how honest his advocacy is. He isn't just attempting to chip away at the safe edges of America's oppressive prison state. His critique of what we're doing is fundamental, not incremental.
Yep.
Webb himself had an article in Parade Magazine on Sunday in which he explains and campaigns for his bill.
On Sunday, he was also interviewed for NPR
***************************************************************************************************