Campus Kilpatrick Brings Complex Hopes and Expectations
"This is a sentinel moment," said Los Angeles County Probation Chief Terri McDonald, when it was her turn to get up and address the expressly invited crowd at the Friday, June 30, opening for Campus Kilpatrick, the long-awaited juvenile probation facility that carries on its shoulders a great many complicated hopes and expectations.
The road to the official ribbon cutting that took place around noon on Friday in the chaparral-covered hills overlooking Malibu where Kilpatrick is located, has been a long, and winding one.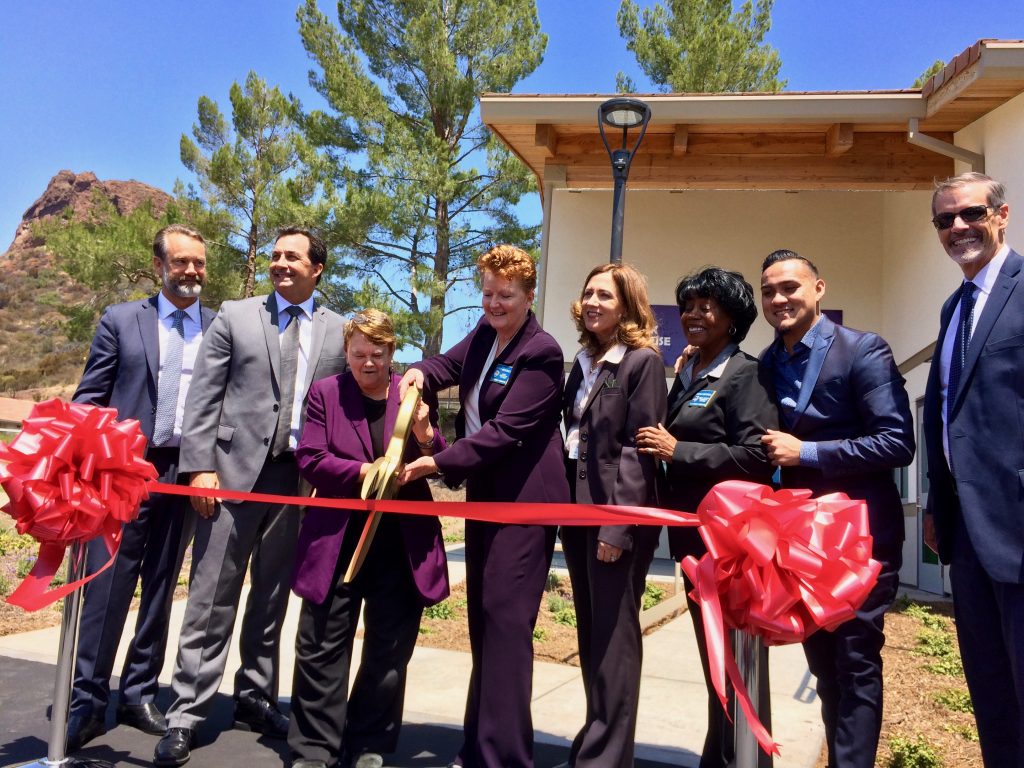 It began in January 2009 with a badly written proposal submitted by a very resistant LA County Probation to the Board of State and Community Corrections (BSCC) in the hope that the county could get a portion of a pot of state money triggered by California's Senate Bill 81, the "Juvenile Justice Realignment Bill," signed into law in 2007 by Arnold Schwarzenegger.
SB 81 made sweeping changes to California's juvenile justice system by imposing strict eligibility requirements before kids could be sent to the state's scandal plagued juvenile facilities. The bill also allowed for two forms of funding to be allocated to counties, which would now be working with the kids who would no longer be sent into the state's horribly broken juvenile justice system.
One of the two streams of SB 81 funding made grants available to California counties that came up with a proposal for the construction or renovation of a youth facility or facilities, which was rehabilitative in nature.
Leadership at LA County Probation submitted a hastily written proposal. Yet, it was so slipshod that the county didn't even get close to snagging any state dollars the first time around.
Eventually, through the very persistent involvement of a cluster of extremely determined juvenile advocates, under duress, the probation department wrote and submitted a new plan. The proposal wasn't stellar, but it was good enough, and in December 2010, the LA County was selected for $28.7 million in funding by the BSCC.
It took more than a year, for the LA County Board of Supervisors to cough up the necessary twenty percent in matching funds that would allow the county to accept the state money. Finally, in February 2012, the Supes voted to allocate nearly $13 million, and eventually another $7 million after that, bringing the final budget to more than $48 million.
And so it was that five years and four months after the board gave the go-ahead, Camp Vernon Kilpatrick, one of LA County's oldest juvenile probation camps, and its most depressingly run down, was razed and reborn this past Friday as Campus Kilpatrick.
---
Tipping Points
The county's 18 camps—most of which were built in the 1950s and 1960s, with more added in the 1990s—were constructed as penitentiary-esque facilities, built according to the fashion of the day, which favored a "command and control' model of dealing with kids and, after the super predator myth hit in 1996, included little or no rehabilitation, treatment, or healing.
Among other non-welcoming features, the camps featured razor wire-topped perimeter fences, and half of the camps had SHUs where kids could be kept in solitary confinement for hours or days.
As a consequence, LA County's juvenile probation system acquired a reputation for staff brutality, and a sky-high recidivism rate, all of which attracted a string of lawsuits, scathing reports, and a seven-year-long, 41-provision Memorandum of Agreement (MOA) with the Department of Justice that required the county to hit regular marks showing progress in fixing the camps' considerable problems.
The DOJ's regular visits, along with one particularly large class action lawsuit brought by the ACLU of Southern California and Public Counsel, forced a series of measurable improvements. After February 2015, when the camps got out from under DOJ supervision, improvements continued, (albeit sometimes at a stutter-step pace), including a largely transformed educational system, and broad restrictions on the use of solitary confinement for kids in the county's camps and juvenile halls.
"There are tipping points in organizations," said Chief McDonald before the ribbon cutting. "Tipping points that cause them to go downward" and there are tipping points that cause them to go upwards."
McDonald said she believes the new Kilpatrick can be the latter kind of transformative tipping point for the LA County Probation in general.
"Since I was eighteen-years-old I've worked in locked institutions," she said, meaning her decades of work for the California Department of Corrections & Rehabilitation, an experience she told the audience she often found hope-crushing, particularly in the grossly overcrowded years of the late 1980ss. But, she believes, she said, that Campus Kilpatrick's "LA Model" can be a national model that fundamentally transforms juvenile probation.
"As I came here today it's renewed my heart and my hope."
---
The LA Model
A report authored by youth policy experts from the California Children's Defense Fund, Cal State LA, and Bellwether Education Partners provides what is probably the best outline of the much-wrestled-over LA Model.
The LA Model, which in many ways in LA County's interpretation of the famed Missouri Model (more on that in Part 2), is the governing theory behind the running of Campus Kilpatrick, and the system—according to McDonald, and Sheila Mitchell, the Assistant Chief Probation Officer over Juvenile Services—that is to eventually be "implemented at every Los Angeles County [juvenile] facility." (There are ten camps, and three juvenile halls still open. Within three years, probation hopes to reduced the number of camps to six.)
The idea, as the authors describe it, is that the $58 million Kilpatrick, and the LA Model, will act as "a vehicle to bring LA's juvenile justice system into the 21st century," and will a pilot a therapeutic, research-guided, "trauma-informed" environment that helps and heals, not punishes, kids who wind up in one of the county's youth lock-ups. It will be a place that emphasizes, as its planners describe it, "a culture of care rather than a culture of control."
The basics of the LA Model are as follows:
1. Multi-disciplinary team planning occurs with collaboration across agencies and at all levels.
2. Programming is engaging and meaningful for youth and staff with a focus on skill-building, mental health, healing, and personal growth. It consistently and meaningfully includes families and community members as critical partners.
3. Families are engaged early and often, treated with respect, and seen as partners in the treatment and aftercare process.
4. Aftercare and reentry are the core drivers of case planning from the day of arrival, in order to build a continuum of care and to support stability when back in the community.
5. The small-group care model includes cohort consistency, a focus on relationships, homelike living spaces, and shared responsibility for daily activities, self-care and ordinary maintenance of shared spaces.
6. Safety, both psychological and physical, is a priority for staff and youth and is promoted through a variety of positive mechanisms integrated into daily interactions and activities.
7. Academic achievement and engagement are critical to each youth's program, and input from education providers is a fundamental element of case and reentry planning.
8. Probation and all other staff are mentors and are consistently integrated into program delivery. Support for staff mental health and wellness is provided as an integral component of the LA Model.
9. Approach to programming is individualized, strength-based, and developmentally-appropriate, meeting youth where they are at in the process of change and focusing on empowerment, problem-solving, and the promotion of protective factors.
10. Data is continuously collected and analyzed in order to drive decision-making, guide case planning, support continuous improvement, and evaluate implementation and effectiveness of activities/programming.
One thing that the advocate-generated report on the LA Model makes clear, however, is that, despite everyone's enthusiasm for the colorful new campus with its swimming pool, airy gymnasium, small, welcoming cottages and classrooms, and secure lockers for every kid, the truth is that national data has repeatedly indicated that incarcerating kids—"which is still what this facility does" the authors note —has never been shown to increase public safety. Rather, it "has been correlated with higher rates of recidivism and trauma."
Thus, wrote the authors, "we must at every moment revisit whom and for what reasons we are removing youth from their homes, and keep youth out of locked facilities wherever possible."
Yet, despite these urgent concerns, and despite the many very real questions about how Campus Kilpatrick will actually function in the days, weeks, months after kids arrive to fill those bright colored cottages, on the hot and bright Friday of Campus Kilpatrick's opening, for most present, the fact it had opened at all felt like a remarkable victory.
"Look, I'm blown away," said Dr. Jonathan Sherin, on ribbon cutting day. Sherin is the new director of LA County's Department of Mental Health, and a neurobiologist as well as a psychiatrist. "The environment that we live in is absolutely critical. What the brain does," he said, is largely help you navigate your environment. "There are things in your brain called mirror neurons, which are cells that are involved in reflecting your environment. Over time, they tell you a narrative, your narrative." Being in an environment like Campus Kilpatrick helps tell a different narrative, Sherin said. "Kids that are here need to know that they are worthy and that people care about them. And this is not just because you've been victimized, and because you've been traumatized. but because you deserve opportunities. So come here and leverage these opportunities…."
---
Look for Part 2 of the Birth of the LA Model, coming next week.