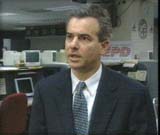 Betting on a knock-out: When Rocky falls, watch Antonio loyalists, Wendy and Jack, rise.
Was it just an odd coincidence that personal and political problems emerged at nearly the exact same moment this month for both Mayor Antonio Villaraigosa and City Attorney Rocky Delgadillo, L.A.'s top two estranged leaders?
Unless you believe in the tooth fairy and expect your 401k to earn 45 percent this quarter, you probably shouldn't believe that the past two weeks of political theater was an impromptu show. More likely, some of the best acts were scripted. The back-to-back crises even raise questions about whether the mayor's office masterminded some of the Rocky scenes, adhering to the classic plot of punishing an adversary, rewarding allies and, by doing so, making City Hall a nicer place for the mayor, particularly if he sticks around for a full second term.
Like how could this be a mere coincidence? On Friday, June 8, the mayor sends out a press release announcing that his marriage is ending and that he'll hold a press conference the following Monday. The next day, on Saturday, we read in the L.A. Times about the first transgression by Rocky's wife: she got a traffic ticket in 2005 while driving her own car on a suspended license. Minor, but things got more serious in Tuesday's paper. Along with coverage of the mayor's say-nothing press conference, we learned that Rocky stuck taxpayers with the $1,222 repair bill for his city-owned SUV, damaged when his wife drove on a suspended license while he partied it up at the Democratic Convention in Boston three summers ago.
Sure, these two nuggets broke within days of Paris Hilton's early release from jail on June 7, raising suspicions at the time that Rocky's disgruntled staffers leaked word of wife Michelle's misfortunes to embarrass the sanctimonious, hypocritical city attorney, who was getting his fix of media-face time by criticizing Sheriff to the Stars Lee Baca's handling of the heiress. And that may be true. Rocky's detractors could fill several courtrooms, and it's quite possible that the mayor's office, if it did act, did not act alone.
But look what happened when Rocky couldn't figure out how to respond to the SUV accident story. For at least eight days, he refused to answer reporters' questions about his wife's use of the city-issued SUV. No new revelations about Rocky or his wife emerged during this silent period. What sheer brilliance. Flinging any new dirt would have been a waste and run the risk of taking pressure off Rocky to come clean about his mishandling of his wife's minor accident. Finally, Rocky held a news conference on June 18, which he bungled by failing to give correct answers to simple questions. And guess what? Over the next four days, the negative stories about Rocky and his wife once again flowed, in timed doses that took on a sense of a preordained order, with the Daily News and Times breaking the same story on Michelle's unpaid business fees in Saturday's papers. By then, the hits seemed calculating and methodical, more than random shots fired by fed-up civil servants or fresh developments uncovered by diligent investigative reporters relying on shoe leather alone.
The take-down campaign ingeniously served up an array of misdeeds, as though designed to offer at least one sin to rankle even the most permissive Angeleno's soul, from Michelle's unauthorized use of the SUV, her bench warrant, the couple's insurance problems, leaning on staffers for babysitting and household chores and the wife's missing business license.
Is it too far-fetched to see in the anti-Rocky avalanche the inspiration of Ace Smith, the king of opposition research? This guy has a national reputation for carving up political enemies and now heads Hillary's campaign in California. Ace was Jerry Brown's campaign manager in the Attorney General's race last year and was Antonio's campaign manager in 2005 and remains a trusted adviser. Wouldn't he likely have a file or two overflowing with documentation of the missteps and screwed-up judgment of Rocky and Michelle? He probably knows as much as anyone about the depths of Rocky's political problems and had little reason to use much of the material during the lopsided campaign last year. (A message left for Ace at the mayor's office Sunday went unreturned. In an email Monday night, Ace said he never got the message.)
But why go after Rocky now? Maybe it was simply an effort to distract reporters snooping around the mayor's marital problems. Or, maybe it's part of a bigger plot to bruise Rocky or push him from office to ensure the mayor's top lieutenants inherit the City Attorney's and City Controller's offices in 2009. Or, maybe all of the above, and more.
It could be that an Antonio sympathizer leaked some of the stories, knowing that Rocky's office harbors a roster of attorneys and other staffers with animosity toward the boss who would keep alive the attacks with their own contributions to the narrative of a doomed politician. I lost count, but weren't there seven unnamed present and past employees who took on Rocky in Babysittergate?
Rocky's political career is over, but how ugly will it get before he steps aside? One of the beneficiaries of Rocky's early-release from City Hall could be Antonio's top pal on the City Council — Jack Weiss, who plans to run for city attorney in 2009 when Rocky is termed out. Jack is facing a recall organized by residents of his Westside district upset with the sway that fat-cat developers have on their councilman. If Rocky resigned, the council could appoint Jack to fill his unexpired term as city attorney, sparing him the wrath of voters in his district as well as saving him the trouble of running for the job he covets. And Jack gets a bonus: in two years, he could run as an incumbent.
Councilwoman Wendy Greuel also stands to gain. She formally announced in May that she wants to run for city controller in 2009, when Laura Chick is termed out. Rocky, who is also termed out in 2009, is said to be considering a run for that office, too. Rocky's political career likely ended this month, but if he's forced to resign, Wendy becomes a shoo-in. Of course, the mayor wants one of his top loyalists to take over the city watchdog post. Can you imagine the heat and endless audits Rocky would bring against the mayor if Antonio hangs around for a second term? For Rocky, it would be get-even time with a mayor who has repeatedly upstaged him and humiliated him.
It's also about as likely to happen as a Delgadillo presidency.