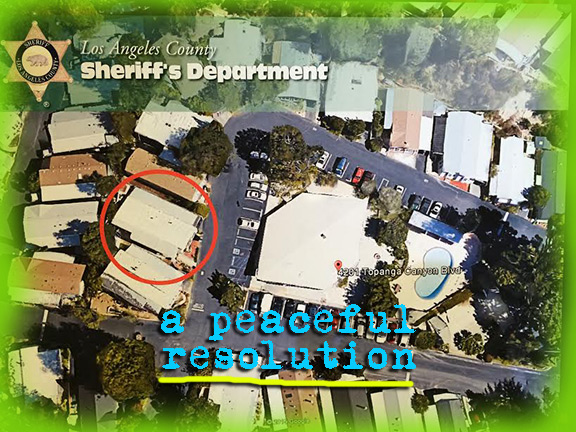 LASD 22-HOUR STANDOFF WITH ELDERLY WOMAN A MODEL FOR HOW LAW ENFORCEMENT INTERACTIONS WITH THE MENTALLY ILL CAN GO RIGHT
Last Thursday, beginning at 5:30a.m. in a mobile home park on the 4200 block of Topanga Blvd., a mentally ill 74-year-old woman armed with a revolver engaged members of Los Angeles Sheriff's Department in an intense standoff that lasted more than 20 hours.
On Tuesday, LA Sheriff Jim McDonnell called a press conference to lay out the details of the crisis situation, which would have tested "the resolve, training and tactics of any law enforcement agency."
The woman reportedly brandished the gun at paramedics and officers who had responded to her distress call, as well as mobile home park residents (who were quickly evacuated), before taking over a neighboring mobile home. The LASD sent in its Crisis Negotiations Team, a Special Enforcement Bureau (SWAT) "Blue Team," commanding officers, and special equipment.
The raving elderly woman reportedly shot at a robot sent in to negotiate with her, as well as at officers during the standoff. At one point, the woman approached officers, saying she had lost her gun, before pulling it out and firing two rounds.
Sheriff McDonnell said the incident "provided rare insight in to the continuum of decisions that our deputies make in life or death situations…decisions that balance the need for control in the name of public safety…with the safety and welfare of an individual."
Officers deployed a great deal of less-than-lethal resources, including foam projectiles, tear gas, and even a fire hose, all of which failed to subdue the woman. Despite believing the woman had at least one live round left, a Special Enforcement Bureau (SWAT) "Blue Team," stripped out of their gear, helmets, and vests. Five Blue Team members very carefully crawled under the house, and were able to take the woman into custody—all at great danger to the unarmed officers.
McDonnell praised the officers' skillful handling of a situation that could have easily ended in tragedy. "It would be a mischaracterization to say that the SWAT team was 'held at bay,'" said McDonnell. "The Special Enforcement Bureau's SWAT team held themselves at bay of out an overriding desire to end the incident without having to resort to using deadly force."
Sons of the elderly woman, who they said had never been in trouble or caused any disturbances before, expressed deep gratitude to the members of the Lost Hills Station and SWAT team: "…everyone we came into contact with exhibited the utmost in compassion, concern, patience, discipline  and restraint: for the residents of the mobile park, their fellow officers, our family and most importantly, for an elderly woman in need of help."
---
SENTENCING VIDEOS BRING DEFENDANTS HUMANNESS INTO THE COURTROOM, BUT WILL THE COST KEEP THEM OUT OF REACH FOR POOR DEFENDANTS?
It is becoming increasingly more common for defense lawyers to submit mini biographical documentaries during sentencing. The new defense tool, commonly called a "sentencing video" focuses on a defendant's history, hardships and traumas, and potential, in an effort to humanize defendants and sway judges toward handing down lighter punishment.
Advocates are concerned, however, that as the trend grows, the use of often-costly sentencing videos will not be possible for indigent defendants using public defenders.
Silicon Valley De-Bug, a criminal justice non-profit, seeks to level the playing field.
The NY Times' Stephanie Clifford has the story. Here's a clip:
Even in cities with robust public defense programs, like New York, lawyers may be handling as many as 100 cases at once, and they say there is little room to add shooting and editing videos to their schedules.

"It's hard for me to imagine that public defenders could possibly spare the time to do that," said Josh Saunders, who until recently was a senior staff attorney at Brooklyn Defender Services, adding that lawyers there are often physically in court for the entire workday. He sees the humanizing potential of videos, he said, but "I would also be concerned that defendants with means would be able to put together a really nice package that my clients generally would not be able to."

Mr. Jayadev's nonprofit, Silicon Valley De-Bug, a criminal justice group and community center in San Jose, Calif., believes that videos are a new frontier in helping poor defendants, and is not only making videos but also encouraging defense lawyers nationwide to do the same. The group has made about 20 biographical videos for defendants, one featuring footage of the parking lot where a homeless teenage defendant grew up. With a $30,000 grant from the Open Society Foundation, De-Bug is now training public defenders around the country.

Given that a defendant has a right to speak at sentencing, a video is on solid legal ground, said Walter Dickey, emeritus professor of law at the University of Wisconsin Law School, "though the judge can obviously limit what's offered." Professor Dickey said that because, at both the state and federal levels, the lengths of sentences are increasingly up to judges rather than mandated by statute, it followed that videos that "speak to the discretionary part" of sentencing were having a bigger role.

Mr. Jayadev takes a standard approach to his projects: The producers identify the defendant's past hardships and future prospects, then select supporters or family members to describe those, usually in a visual context, like a pastor in a church pew. Mr. Jayadev said he found it was more natural to have the defendant talking to someone off-screen, rather than staring at the camera.

For Mr. Quijada, "this story is around this young man's transformation from a life that had sort of run its course," Mr. Jayadev said.
---
A COLLABORATIVE SF PROGRAM TO PROVIDE FORMER OFFENDERS WITH FREE HOUSING AND REHABILITATION SERVICES TO HELP THEM GET BACK ON THEIR FEET
Forty-two recently released low-level former offenders and more serious offenders who are currently on probation will soon move into their own studio apartments at Drake Hotel in the heart of San Francisco. Through a united effort between the SF Superior Court, Probation Department, and Tenderloin Housing Clinic, a single-occupancy hotel is being transformed to specifically house homeless former offenders who struggle with addiction.
The move is particularly meaningful in a city where the average apartment runs $3,458 per month. The goal of the housing program, which is funded with realignment money, is to help tenants find permanent housing within one year of living at the Drake Hotel.
Tenants will be given a set of responsibilities and a curfew and will be paired with case managers who will help them access public benefits and save up for a deposit and first month's rent on their own apartment.
The SF Chronicle's Heather Knight has more on the program. Here are some clips:
…asked why criminals should get free housing in San Francisco when law-abiding low-income and even middle-class families struggle to afford apartments, court officials seemed to be caught off guard.

"The kind of housing these folks are getting is not something to be envious of, honestly. It's just a room," said Lisa Lightman, director of the Superior Court's collaborative courts, which include special courts for drug-addicted people and mentally ill people and the Community Justice Center, which handles low-level crimes committed in the Tenderloin.

Asked the same question, Krista Gaeta, deputy director of the Tenderloin Housing Clinic, said the public will benefit if people who have committed crimes are living in decent housing and provided case management.

"You can't let someone out of jail, give them $5 and say, 'Good luck,'" she said. "The better plan is to do things like this so they can go out and get permanent housing, find work and not commit the crimes that got them in trouble in the first place."

[SNIP]

Fletcher said it has become increasingly difficult to help people on probation in San Francisco find any sort of housing because of the city's sky-high rents. Last month, San Francisco landlords with available apartments were asking a record average rent of $3,458 a month.

The Drake Hotel will specifically serve people on probation who are homeless and are addicted to drugs or alcohol. The facility will be considered a clean and sober building, but tenants won't be evicted for having relapses, Fletcher said.