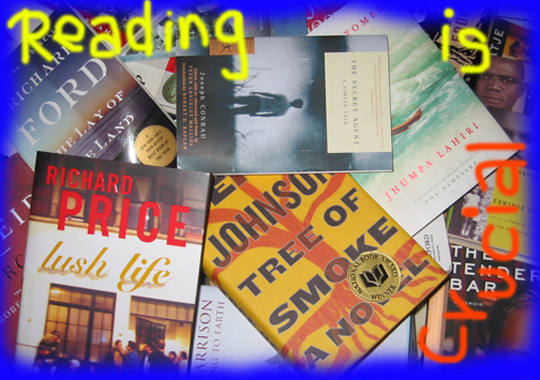 Here's round two of our late summer reading recommendations (which, by the way, have been a lotta fun to gather).
Today:
—Sheriff Baca tells you exactly which book can help change your life…..
—Zev Yaroslavsky picks the ultimate tome to read by the pool while fashioning public policy….
—Novelist/writing prof/blogger Tod Goldberg recommends smart, entertaining reading for hot days.
(Plus there's more from an LAPD Deputy Chief, a well-known criminal justice writer, and an oft-quoted LA community activist.)
Tomorrow we'll have round three, which will include District Attorney Steve Cooley, LA Times Opinion Editor Nick Goldberg and others.
Overall, it's a varied list. But there is one thing everyone had in common: They all believe books really matter.
(NOTE: For Summer Reading List Part 1, with Connie Rice, Fr. Greg Boyle, Dennis Zine, David Ulin & Marc Cooper, click here.)
********************************************************************************************************

1. SHERIFF LEE BACA (Sheriff of the County of Los Angeles)
"The most important book I've read? The Denial of Death By Ernest Decker
"Reason: This book has all the core ingredients for the purpose of life."

2. DEPUTY CHIEF SERGIO DIAZ: Chief of Central Bureau of the Los Angeles Police Department
"I just started on Broken Paradise, a novel by an LA-based, Cuban-American writer, Cecilia Samartin. [Chief Diaz is also Cuban American.] It's the story of two upper middle-class girls who are cousins and who are separated by the Castro revolution. One relocates to Miami and the other stays in Cuba. So far, very compelling writing. I'm not much of a fiction reader but Cecilia's writing was recommended. (My wife Letty just finished another of Cecilia's books, Tarnished Beauty, which takes place in a very different context. That one is about a Mexican girl with a disfiguring defect who comes north to LA to get treatment. She really liked that one.)

3. ZEV YAROSLAVSKY: Los Angeles County Supervisor
The book which has become my bible in the making of public policy is The March of Folly by Barbara Tuchman. Her assertion that folly is a perverse persistence in a policy that is demonstrably unworkable, should guide decision-makers in every walk of life, especially in government. I have long recommended this volume to newly elected officials, and I refer to it constantly as a reminder of the "do's" and "don'ts" in decision-making.

4. TOD GOLDBERG: novelist and short-story writer (Living Dead Girl and Burn Notice: The Fix among others), blogger, and head of the UC Riverside's MFA Program in Creative Writing and Writing for the Performing Arts
Something about the summer always turns me toward crime fiction —perhaps the pool just isn't the appropriate place to ponder the existential conundrums of humanity — but since I live in the hottest place on the planet (I'm pretty sure La Quinta has recently moved a few inches closer to the sun), I often look for summertime reads that will cool me down, at least metaphorically. With that in mind, I recommend Daniel Woodrell's brilliant novel Winter's Bone. Set in the winter mountains of the Ozarks, it begins with the vision of frozen meat hanging in trees and only gets more troubling as the novel's 16-year-old narrator, Ree Dolly, searches for her bail-skipping father in hopes of saving the family house. But, of course, it's far more than that as Woodrell sends Ree on a knight's quest that is alternately brutal and poetic. Since Woodrell is that rare writer who doesn't care about genre, he's just writing the stories that move him, and Winter's Bone is a stunner. Plus, it's about twenty degrees throughout the entire narrative, which is good when it's 120 outside…

5. JOE DOMANICK: journalist, author (To Protect and Serve and Cruel Justice), Senior Fellow at the USC Annenberg Institute for Justice and Journalism, and at the Center on the Media, Crime and Justice at John Jay College of Criminal Justice

I've got two:
1) The Power Broker: Robert Moses and the Fall of New York by Robert A. Caro. Simultaneously the best written biography, most compelling work of public policy and the greatest book ever written about 20th Century New York City when the Big Town was the capital of the world. The perfect study of how genius is corrupted by the arrogance of power.
2) Interpretations and Forecasts by Lewis Mumford. In this collection of essays — on the New England transcendentalists, and on Melville, Aquinas, Marx, the origins of war, urban architecture, the excess of the gilded age, the advent of a world culture and utopia — Mumford writes like a great 19th Century poet about America's cultural history and antecedents. His essay on Thoreau is sublime, placing him in the context of the coming industrial age, as he looks back on all Thoreau told us we were going to lose as a result.

6. NAJEE ALI: LA activist, founder, Project Islamic Hope, blogger
The Audacity of Hope by Barack Obama is my choice.
Obama's book gave me insight into his political vision and platform. It reads as a political blueprint for a future run at the Democratic nomination for the White House. We all now know how that story ended! I think it's even more important to read now as we go into November. It helps, as I re-read it now, to give a much more serious look into his thinking.
***************************************************************************************************************
THE BE CONTINUED….