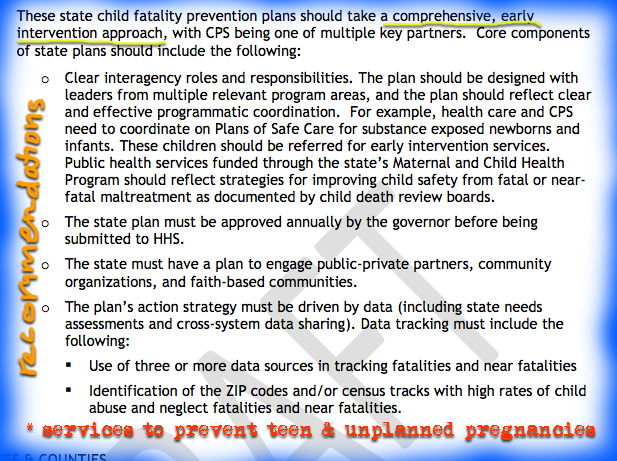 THE IMPORTANCE OF INCLUDING TEEN PREGNANCY PREVENTION STRATEGIES IN THE TOOLBOX FOR PREVENTING ABUSE AND NEGLECT
Teen pregnancy prevention services are missing from a recently released draft list of recommendations from a national commission created to develop strategies for reducing abuse and neglect-related deaths of children, according to Marie Cohen, a former social worker and policy researcher.
Cohen says the Commission for the Elimination of Child Abuse and Neglect Fatalities should recommend Congress gather data on how many of these fatalities involve kids born to teen parents, or born to parents who started having children when they were teenagers. Cohen also calls on the commission to recommend all teens—especially kids involved in the child welfare and juvenile justice system and at high risk for pregnancy—have full access to all contraception options, as well as counseling and education.
Girls in foster care in Los Angeles are 2.5 times more likely to be pregnant by age 19 than girls not involved in the child welfare system, according to statistics gathered by Alliance for Children's Rights.
And in LA County, kids with teen mothers involved with the child welfare system experienced a rate of abuse and neglect, themselves, two to three times higher than kids born to teen moms with no DCFS-involvement, according to a 2013 report funded by the Hilton Foundation.
Second or subsequent infants born to mothers younger than 17 years old, were 11 times more likely to be murdered than firstborns from mothers who were over the age of 25, according to a national study on infant deaths between 1983-1991.
Here's a clip from Cohen's op-ed for the Chronicle of Social Change:
As National Campaign to Prevent Teen Pregnancy co-founder Sarah Brown recently pointed out, groups that focus on child and family well-being rarely propose interventions that begin before conception of a child. CECANF could begin to rectify this omission by including teen pregnancy prevention in its recommendations for reducing child abuse and neglect fatalities.

In her testimony before CECANF, Angela Diaz, director of New York's Mount Sinai Adolescent Health Center, discussed the connection between teenage parenthood and child maltreatment fatalities. In serving for many years on a child fatality review panel, she noticed that in many of these cases, the mother began childbearing in adolescence, and had more closely spaced children thereafter.

Dr. Diaz cited a national study of deaths of infants born between 1983 and 1991, which showed that "childbearing at an early age was strongly associated with infant homicide, particularly if the mother had given birth previously."

A second or subsequent infant born to a mother younger than 17 years old was 11 times more likely to be a homicide victim than the first child of a mother 25 or older. A second or subsequent infant born to a mother age 17 to 19 was over nine times more likely to be a homicide victim.

[SNIP]

Even without knowing the proportion of child maltreatment deaths occurring to children of teen mothers, we already know that teen motherhood is a risk factor for child abuse and neglect. CECANF should recommend increased emphasis on teen pregnancy prevention, especially for young women in high poverty areas and those in foster care.

The Commission should recommend that all teens, especially those at higher risk of pregnancy, have access to contraceptive methods and education. Clinics in low income areas and those serving youth in foster care and juvenile justice should provide the full array of contraceptive options including the long-lasting methods that are most effective, along with education and counseling.

Special attention should be devoted to preventing a second birth to a teenage mother by ensuring that she is provided with a contraceptive method at the time of the first birth. The federal Teen Pregnancy Prevention Program, which has been under attack in Congress, should be fully funded or expanded.
---
A UNIQUE VOTER-APPROVED TAX TO BOOST PUBLIC SAFETY IN OAKLAND MEANS MILLIONS IN FUNDING FOR INNOVATIVE RESTORATIVE JUSTICE AND VIOLENCE PREVENTION EFFORTS
Two dozen Oakland non-profits and public organizations will split $6.37 million in funding to reduce violence at the community level, thanks to Oakland's Measure Z, a parcel tax and parking surcharge meant to boost public safety efforts.
Among the non-profits and organizations the city's Human Services Department chose to fund were Youth Alive!, which connects with hospitalized kids and teens who have been shot or stabbed, or who have just been released from lock-up, to prevent retaliation and reoffending.
Youth Alive! was awarded $1 million, which was the largest grant, for a collaborative effort with Oakland California Youth Outreach to provide conflict mediation in neighborhoods prone to violence.
The San Francisco Chronicle's Rachel Swan has the story. Here's a clip:
Staff from the city's Human Services Department — which has an arm called Oakland Unite that manages public safety funds — recommended awarding 30 grants in all, allocating the money to 24 nonprofit and public agencies, out of 44 that applied. The City Council approved those awards Tuesday.

Clients from several of the organizations that received funding gave emotional speeches at the council meeting, highlighting the urgency of Measure Z.

"I just got out of prison two weeks ago," said Tommy Robinson, who had come to advocate for Oakland California Youth Outreach.

Robinson said he'd spent more than a decade behind bars, and the last six years in solitary confinement.

"It was tough going from being isolated to being around people again," Robinson said, adding that the group had helped him put together a resume and readjust to the outside world.

"Welcome home," said council President Lynette McElhaney, her voice quavering.
---
THE CRIME REPORT SURVEY: READERS' TOP TEN STORIES OF 2015
According to a survey conducted by the Crime Report, the "Black Lives Matter" movement was the most significant criminal justice-related news story of 2015. Among the other topics and developments that made the top 10 list were viral cell phone and body cam videos of police confrontations, sentencing reform, and a focus on jails.
Here's how it opens (head over to the Crime Report to read the full list):
Judging by news reports, Americans were experiencing more fear and insecurity in the closing months of 2015 than at any time since the 9/11 attacks. Last week's massacre in San Bernardino and the earlier shooting at a Planned Parenthood clinic in Colorado Springs reignited long-festering debates on gun control and domestic terrorism.

Nevertheless, in our fifth annual survey of the most significant criminal justice news stories and developments, TCR readers looked beyond those tragedies to focus on the injustices experienced daily by our most marginalized citizens at the hands of the U.S. justice system—and the network of civic activist groups that has emerged in response.

In choosing the growing political profile of Black Lives Matter and related organizations as the major development of 2015, readers also appeared to signal their faith and optimism in the ability of American civil society to drive change.

"(Black Lives Matter) brought national attention to issues of police brutality in the U.S.," said one TCR reader who requested anonymity. "And they have continued to fight to keep this subject in the spotlight."

Although the San Bernardino event occurred after we posted our nominations last week, that didn't mean the incidents of mass killings which have plagued America during a violent year—such as the June 17 massacre of nine people in an African-American church in Charleston, SC and the shooting spree in Colorado Springs that left four dead (including the shooter) and nine injured on November 27—were ignored.

The troubling phenomenon of domestic terrorism—targeted attacks that have been tied at least in part to ideological hatreds or racial bias—came in at fifth place on TCR's "Top Ten" List.

Nevertheless, by an overwhelming consensus, the most important developments were those that represented seedbeds for change.

And we think that's significant. TCR readers, of course, are among the country's most informed audience when it comes to criminal justice. Many of you are deeply involved in the nuts and bolts of the system, as academics, practitioners, advocates and journalists (just to name a few categories).
---
JUDGE OVERTURNS DEATH SENTENCE, SAYS PROSECUTOR CAN'T TELL DELIBERATING JURY THAT THE BIBLE SAYS MURDERERS MUST BE PUT TO DEATH
A US District Judge has overturned the death sentence of Rudolph Roybal, finding "egregious misconduct" from the prosecutor, who told the jury during the penalty phase of Roybal's trial that the Bible calls for murderers to be put to death.
While there is little doubt that Roybal did murder a 65-year-old Oceanside woman after she and her husband fired him for doing yard work too slowly, Judge Jeffrey Miller said the prosecutor's invalid argument encouraged a conflicted jury to choose a death sentence "because it was God's will, and not that the imposition of the death penalty complied with California and federal law."
The San Diego Union Tribune's Kristina Davis has the story. Here are some clips:
"The prosecutor's improper argument presented an intolerable danger that the jury minimized its role as fact finder and encouraged jurors to vote for death because it was God's will, and not that the imposition of the death penalty complied with California and federal law," Miller wrote in a 226-page opinion granting Roybal's appeal. The opinion was filed last week.

The judge also chastised Roybal's defense attorneys, ruling they provided ineffective counsel by not objecting to the prosecutor's inappropriate closing remarks.

"The failure of defense counsel to object to such egregious misconduct and secure an admonition deprived defendant of the fundamental fairness of a death penalty proceeding free from foul prosecutorial blows," Miller said.

[SNIP]

Alex Simpson, a professor at California Western School of Law, said the issue is less about the Bible than the prosecutor asking the jury to make a decision based on something other than the evidence presented in the case.

"It's an appeal to an authority or other evidence that shouldn't be considered by the jury," Simpson said in an interview. "In reality, the only thing a jury should do is consider what are the facts and how do the facts inform my decision to vote one way or the other."