---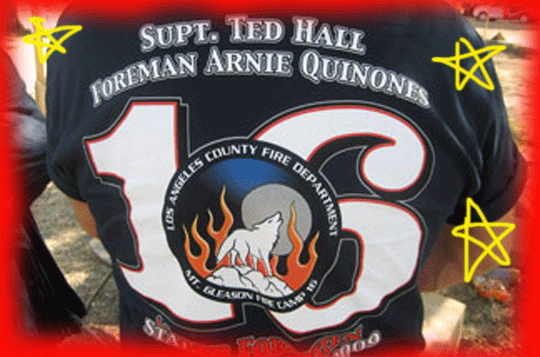 When I posted a less detailed version of the above story ten days ago, after the news of Hall and Quinones deaths became public, former Mt. Gleason inmates and their family members wrote in to say how much Hall and Quinones mattered to them.
You'll find some of those comments excerpted below:
---
FROM GABBY GUZMAN
Q, was an amazing foreman, well at least that is what my husband Steve Guzman says. My husband had the honor and priveldge of working under Q as one of the inmate firefighters for two years and developed a friendship with him. Q even made an effort to come out to visit and meet with the families which made it much more real. Steve has countless stories of the amazing man Q was, not once did he treat the men any less because of who they were. He developed genuine bonds with the inmates and for that he will always be hoonored. I can tell you first hand what the friendship meant to my husband, I saw it first hand. Q made an impact on Steve's life as he counseled and befriended him.
He is our fallen hero. May God bless his family and our prayers go out to them.
---
FROM KOOLY
Thanks for mentioning the inmate crews; seems they never get recognition. As an ex-inmate fire fighter I was proud to have served with such people as our fallen heroes.
---
FROM ANDREA BUTTNER
This is very close to me because my husband was one of the inmates left behind. I had called the camp minutes before the camp caught on fire and at that time they were getting ready to evacuate. I can just image the fear they felt. I never met captain Hall but heard really good things about him. I know my husband Christopher Buttner is really upset about the loss of Q as he called him. I had the privilege to meet him 2 months ago during a visit with my husband and he had nothing but respect for my husband and nothing but nice things to say about him. Q made is rounds that day to all the families there that were visiting. How he treated those men ment a lot to my husband. My husband said he always treated them like a fellow fire fighter not an inmate. This lifted him and showed him he was not just an inmate or a number. I thank his wife for being so supportive by standing by him as he trained and work a long side men that had done wrong and giving them a chance to rehabilitate themselves. My prayers go out to his whole family. He will never be forgotten.
---
FROM MARIA
My husband is also an inmate firefighter. He tells me that he loves giving back to society. The captains are very nice to them and get to know them as a person. They give these guys respect and a second chance.
---
FROM MARY C.
My son is a camp foreman at camp 16 and was on duty that day. He credits the efforts and actions of Ted and Arnie with saving their lives. The foremen and crews have suffered a great loss and experienced almost loosing their own lives as well.
(Note: The camp foreman is an LA County firefighter, not an inmate.)
---
FROM ANGELA
I am a wife of one of the inmates that was stuck in MT Gleason #16 and I'm still very devastated. The thought of watching it on T.V and not knowing what is going to happen to all of them and not able to get any information was the worst anyone can go through but thanks to all the prayers from all the families, they lived through it. I had a chance to talk to my husband and I'm thankful he and all the inmates and staff survived this hell. I'm very saddened with the loss of these two wonderful men Ted Hall and Arnie Quinones. I know they were good people and both men treated the inmates as people not criminals.
---
FROM SAMUEL
My son is alive because of the actions of those two men.But, there has to be an inquiry of why the system was not concerned about getting those men out of that terrible place. If that had been done, two people would still be alive and their families happy.
Now, they are saying that the LACO firefighters need therapy because of the tragedy. What about the inmates that were terrified and experienced fear and death? Why aren't thay being provided therapy? Do they not have any feelings.
---

FROM FORMER DEADWOOD
As a former inmate at a camp, I can attest to the dedication these men have to their crews. There are 33 camps in Calif,two women and the rest men. I am thankful for the camps and the chance it gave us to give back to society. These men are awesome examples of what a hero is and about how one should treat his fellow man.
NOTE: Memorial T-Shirts and Memorial Fund information may be found here,

Photo by Brian Watt/KPCC