The California Department of Corrections and Rehabilitation (CDCR) will pay $3.5 million to the family of Shaylene Graves, a 26-year-old mother killed in a women's prison in Chino.

In the early morning hours of June 1, 2016, guards at the California Institution for Women (CIW), found Shaylene Graves dead on the floor of a two-person cell. Her cellmate, Johney Davis, told prison staff that she woke up to find Graves dead. Davis reportedly said she had pulled Graves down from where she had hung herself with a bed sheet.

When prison officials called Shaylene's mother, Sheri Graves, they told her Shaylene had killed herself.

Sheri Graves was in the car, preparing to leave for work with her adult son. Both mother and son said they were incredulous at the news. Shaylene, they said, had not expressed any thoughts of suicide, and had just six weeks left of her eight-year prison term before she would be released to her family, and to her son, then nine years old.

Graves was arrested in 2008 for acting as the getaway driver for friends who robbed three convenience stores over the course of 24 hours. She had only recently started hanging out with the young men. They stole around $400 combined, Sheri Graves said.

Shaylene Graves was 19. It was the first time she had ever been arrested.
Sheri Graves described her daughter as a caring, uplifting, and passionate person. Shaylene was confident, too. Despite reaching just over five feet tall, her daughter had dreams of playing professional basketball, Sheri Graves said. "She was crushed when she figured out she wouldn't make it to the WNBA," Graves said. "I mean, legitimately."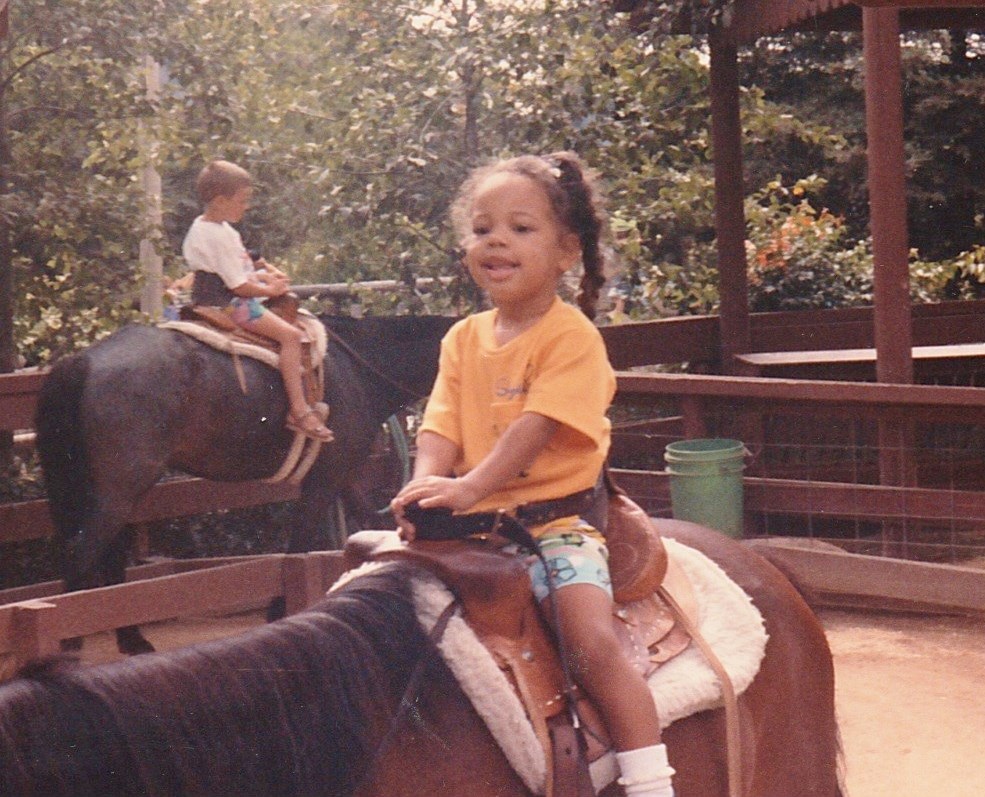 Shaylene Graves was also a great writer, her mother said. In the year before her death, Graves won a prison talent contest with a rap she wrote.
Over the course of the 8 years she spent in California prisons, Graves remained positive, and looked forward to the future, when she would return to her loved ones and community. She planned to start a nonprofit called "Out of the Blue," — a play on her nickname, "Blue" — to provide reentry support to women leaving prison.

Photos: Shaylene Graves.
Courtesy of Sheri Graves.
A year before she died, Graves transferred from Valley State Prison in Central California, to CIW in Chino, to be closer to her family in the Inland Empire. Sheri Graves said she and her grandson visited her daughter as often as possible, making the drive to Chowchilla, 250 miles north of Los Angeles every month.

But the drive to the distant prison was becoming too difficult for Shaylene's aging grandparents to manage. Closer to home, in Chino, she would get far more frequent visits from her family, she reasoned.

When she arrived at the new prison, however, Graves was surprised to discover an environment that was more violent, with more drugs, and access to fewer programs. She told her family some of what she was experiencing, but didn't want to worry them, Sheri Graves said.

Fatal prison terms

With at least five suicides and more than 65 suicide attempts between 2014 and 2016, CIW had the highest suicide rate among California's 34 prisons at the time — five times the average rate for California prisons, and eight times the national average for women's prisons.

In April 2016, a month before the death of Shaylene Graves, 35-year-old Erika Rocha, died in the mental health unit at CIW, just one day before a scheduled parole hearing.
In the weeks before Rocha's death, prison staff had placed her on suicide watch multiple times. And she had made at least one serious attempt at suicide in the past, when another potential parole hearing loomed. Still, the day immediately before her death, when her feelings about the upcoming hearing would be running particularly high, Rocha was unaccountably transferred off of suicide watch and into a mental health unit where she reportedly hung herself.
There were calls for change at the community level, and a state-level audit revealing serious problems with suicide prevention and risk analysis in CIW and other prisons. Then-Governor Jerry Brown signed a bill that required CDCR to submit annual reports to the state legislature detailing its progress toward remedying the problems found by the audit.
The new law will also require the state to report on its efforts to improve systems for promptly notifying loved ones when an incarcerated individual has died, attempted suicide, been seriously injured, or fallen grievously ill.
Lawmakers included the family notification provision based on "numerous troubling reports" of families receiving delayed notification or no notification at all when their loved one has died, been seriously hurt, or become ill.
For months, Shaylene Graves was reported as a suicide. WitnessLA wrote about the death as a suspected suicide, along with many other media organizations. It was included in the state audit's suicide numbers.
But Shaylene Graves did not commit suicide, the coroner's autopsy would later reveal. Her death, in a two-person cell, was a homicide.
Violent threats and requests to change cells ignored
Here's what happened, according to the Graves family's lawsuit against the CDCR.
In the days leading up to her death, Shaylene Graves asked three different members of the prison staff to transfer her to a different cell, out of fear for her safety.
Toward the end of May 2016, Graves was moved into a cell with Johney Davis, someone with whom she had had a romantic relationship. The cell change proved fatal for Graves.
On or around May 29, 2016, Graves began asking corrections officers to give her a "bed change" — move her to another cell — in a different area of the prison, hoping to get away from Davis.
The first request Graves made was to Sergeant Sharee Brown. She told Brown that she feared for her life. Brown denied Graves the bed change.
Around that same time, other incarcerated individuals reportedly saw Davis carrying around a broom, looking for Graves, saying "I'm gonna kill this bitch! I'm gonna stab her."
Davis had also told a friend over the phone that she wanted to kill Graves. Others in the vicinity heard Davis's threats.
At one point, while in line for medication, Davis grabbed Graves by her face and threw her against a wall, threatening to get her "little ass," and announcing "I'm gonna kill this (expletive)," court records showed.
On May 30, Graves went to another officer, Saul Hernandez, telling him of her cellmate's threats and requesting a cell transfer. Hernandez, like Sergeant Brown, denied the request.
A third officer, whom the legal complaint identifies as Lieutenant Whitmore, turned Graves down.
On May 31, Graves told again officers that she did not want to go on lockdown with Davis, citing safety concerns. Those guards reportedly told her that she could either keep her current cell assignment or go into solitary confinement. Graves did not want to move into punitive isolation, knowing that it often negatively impacted prisoners' records and, sometimes, their release dates. "Graves did not want to be unfairly penalized through the harsh conditions, stigma, and consequences of solitary confinement especially given her imminent release from prison," according to the complaint.
That same day, Davis screamed at an officer to open a door or she was going to "kill her," meaning Graves. At the time, the officer, G. Preciado, suspected Davis of being intoxicated. Others nearby heard Davis continue to make threats about killing Graves.
Graves asked Preciado for a bed change. Despite believing Davis to be inebriated, having witnessed at least one threat, and reportedly knowing that Graves had previously requested a transfer, Preciado told her she couldn't move out of the cell.
Graves then went back to Sergeant Brown and to Lieutenant Whitmore. Both doubled-down, each rejecting Graves a final time.
These cell transfers were only allowed every six months, unless the person requesting the move can show there's a credible threat to their safety. Yet, Shaylene Graves could not get away from a cellmate who was openly threatening to kill her.
The response from corrections officers and supervisors to Graves asking to move, should have been to err on the side of caution, to protect a woman in their custody from threats of violence, Graves family attorney, V. James DeSimone said. "The default should be to provide for the safety of the inmates. The prison is responsible for protecting them."
At 8:45 p.m. Graves went into lockdown with Davis. Officer Preciado was assigned to the unit until 11:00 p.m. People in nearby cells reported that they could hear loud fighting almost immediately after the start of lockdown. And the fighting sounds continued for hours. Officers on duty "did not aid Graves despite being in an area of close proximity to the violent noise emanating from Graves cell," according to the complaint.
No one came to check on Graves and Davis until the commotion had long died down. Emergency Medical technicians arrived at the cell around 3:00 a.m., about six hours after the start of the violence, the complaint said.
Nearby incarcerated people described seeing a body on the floor that looked stiff and discolored. Graves was declared deceased at 3:15 a.m.
Johney Davis reportedly told officers that she woke up to find Graves hanging. It appeared, upon investigation, however, that Davis staged the scene to look like a suicide, bedsheet on the floor next to Graves.
Sheri Graves and her sons tried multiple times and ways — including by showing up to the prison in person — to get more information about Shaylene's death. They were rebuffed, and told that the coroner's office would mail the family a report in six to eight months.
For months, while the investigation was ongoing, the official narrative was that Graves had killed herself. Only after the conclusion of the internal investigation and autopsy did officials tell Sheri Graves that her daughter was killed.
Even after the autopsy results were revealed, the family had to fight to learn the circumstances surrounding Shaylene's death.
"If Shaylene didn't have us as family," Sheri Graves said, there would have been far more unanswered questions, and perhaps a different narrative about how Shaylene died.
Photo: Shaylene Graves (far right), with her mother and siblings. Courtesy of Sheri Graves.

Photo: Shaylene Graves (center) with her son, mother, and siblings. Courtesy of Sheri Graves.
Sheri Graves said she wondered if all of the deaths labeled suicides before Shaylene were truly suicides, noting that many other families did not have legal representation like she did. It is a "challenge to find an attorney that will even hear you," Graves said, let alone represent you in a case against the State of California. She was determined to get answers, she said, and after many phone calls to different attorneys, she found one willing to take on her case.
Still, said Graves, "it was like five years before we got the transcripts from the interviews" of people who were near Shaylene's cell, and who heard threats from Davis and the commotion leading up to Shaylene's death. "That's how long, how many roadblocks" the Graves family faced, even with legal assistance, as they worked to learn the truth about how their loved one died.
Pushing for change
Attorney V. James DeSimone has helped the family get more than the $3.5 million financial settlement. In addition, Sheri Graves will be allowed to make a presentation to the CDCR's Gender Responsive Strategies work group about her daughter's prison experience and death. Graves and DeSimone will also send a video of up to 15 minutes to the CDCR's Director of Adult Institutions and Associate Director for Female Operations. The video will identify ways in which prison staff could have protected Shaylene Graves from harm.
Part of the presentation will focus on addressing intimate partner violence inside women's prisons.
Back in 2017, the state audit of suicides in prisons revealed that CIW staff attributed domestic violence among those who formed romantic relationships in CIW as a contributing factor behind some of the suicides and suicide attempts. The prisons' clinical support chief said the department had plans to develop a program to educate those in women's facilities receiving mental health services about domestic violence in relationships between women.
While those working inside the prison were likely aware of the potential for domestic violence among those in their custody, they were not trained on "how to address and respond to threats and reports of domestic violence to protect inmates from unnecessary risk of harm," the complaint stated.
Among other changes, Graves and DeSimone are going to push for confidential therapeutic outreach to those in women's prisons, and policies that emphasize separating people in prison whenever domestic violence or threat of violence is present.
"This is a textbook case on what not to do in the face of ongoing threats," DeSimone said, "and we are hopeful that the lessons learned can be applied to better assure the safety of women in prison."
---
Lead image: Shaylene Graves (left), with her mother, Sheri Graves (right). Courtesy of Sheri Graves.