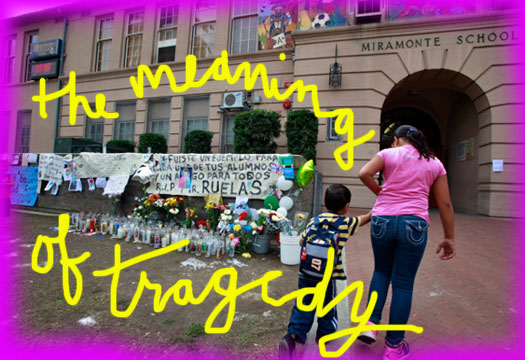 The funeral for Rigoberto Ruelas, the Miramonte Elementary School 5th grade teacher who killed himself over the weekend, was held on Wednesday at 5 pm.
It is still not clear whether the fact that Ruelas got an unfavorable rating according the LA Times online data base was among the reasons Ruelas decided to end his life by jumping off a bridge in Big Tujunga Canyon. Friends have reportedly said that Ruelas was "very concerned" about the ratings.
The situation was made somehow sadder and more confusing when an LAUSD administrator announced earlier this week that, in his final district evaluation, Ruelas received a "great performance ranking."
Also on Wednesday, Larry Mantle of KPCC had a good and sober-minded discussion about whether or not the LA Times should have published the value-added teacher ratings in question, in light of the adverse emotional affect the public airing of those ratings may have on the teachers who received less than stellar scores.
The most affecting moment in the show was when Ruelas' brother called in to talk.
You may find a podcast of the discussion here.