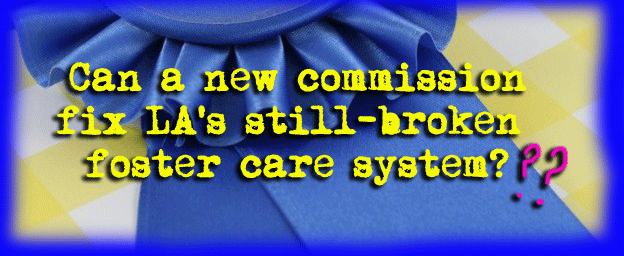 At next Tuesday's board meeting, Supervisor Mark Ridley-Thomas will introduce a motion to create a Blue Ribbon Commission on Child Protection—similar to the Jails Commission—to provide "an independent review of the obstacles to effectively execute much needed child protection reforms."
In proposing the motion, which is co-sponsored by Supervisor Mike Antonovich, Ridley-Thomas points to the various tragic child deaths that the department has failed to prevent, most recently the killing of 8-year-old Gabriel Fernandez, allegedly by his mother and her boyfriend.
Should this commission be approved, each board member would appoint two people to the commission for a total of ten members. The commission would then be asked to report back after six months. (The jails commission had a similar time frame, but extended it.) The proposed Blue Ribbon Commission on Child Protection would sunset after it delivered its report.
"When the lives of children are at stake, we simply cannot stand by and hope that reforms take hold," Ridley-Thomas said in a statement about the motion. "The hope is that this commission will examine the actions, or inaction, that have led to the deaths of innocent children and develop a true action plan not a band-aid solution."

Supervisor Antonovich added, "This commission will examine the full scope of departments involved, including Mental Health, Public Health and law enforcement, as well as the current public policies in place to more effectively help prevent future tragedies and improve outcomes for children."
EDITOR'S NOTE: If the motion for this commission is approved, we would hope that the commission's focus will be more than when to yank a kid out of a dangerous home, but also when not to take a kid out of a home that merely needs some help. Or to quote, Judge Michael Nash in his recent letter about DCFS:
"…. it is bad social work to remove children when there are ways to keep them safely at home as the law requires, and it is bad social work to leave children in the home when it is unsafe. The problem is that DCFS can't seem to strike the appropriate balance. It takes leadership and more to avoid blind adherence to one direction or the other.
Also, it would be helpful to define what a commission might hope to deliver that will have a longer-lasting effect than the last report about the problems at DCFS that was delivered to the board in April 2012 by the Children's Special Investigative Unit.
We're not saying we don't need a Blue Ribbon Commission, it is merely that we favor being clear about what the county wants from such a commission that hasn't already been tried.