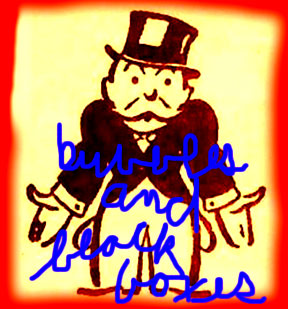 FOUR MUST READS AND A MUST SEE
1. FRANK RICH….FINANCIAL TRANSPARENCY NEEDED—ASAP
In Sunday's NY Times, Rich writes about the secrecy that helped precipitate the financial meltdown and the secrecy that is still occurring. Here's a clip:
…Incredibly enough, as we careen into 2009, the very government operation tasked with repairing the damage caused by Wall Street's black boxes is itself a black box of secrecy and impenetrability.

Last week ABC News asked 16 of the banks that have received handouts from the Treasury Department's $700 billion Troubled Asset Relief Program the same two direct questions: How have you used that money, and how much have you spent on bonuses this year? Most refused to answer.

Congress can't get the answers either. Its oversight panel declared in a first report this month that the Treasury is doling out billions "without seeking to monitor the use of funds provided to specific financial institutions." The Treasury prefers instead to look at "general metrics" indicating the program's overall effect on the economy. Well, we know what the "general metrics" tell us already: the effect so far is nil. Perhaps if we were let in on the specifics, we'd start to understand why.

In its own independent attempt to penetrate the bailout, the Government Accountability Office learned that "the standard agreement between Treasury and the participating institutions does not require that these institutions track or report how they plan to use, or do use, their capital investments." Executives at all but two of the bailed-out banks told the G.A.O. that the "money is fungible," so they "did not intend to track or report" specifically what happens to the taxpayers' cash.

Nor is there any serious accounting for executive pay at these seminationalized companies. As Amit Paley of The Washington Post reported, a last-minute, one-sentence loophole added by the Bush administration to the original bailout bill gutted the already minimal restrictions on executive compensation. And so when Goldman Sachs, Henry Paulson's Wall Street alma mater, says that it is not using public money to pay executives, we must take it on faith. ….
****************************************************************************************************************
2. ARNOLD'S "60 MINUTES" INTERVIEW
I have always voted against Schwarzenegger, and still disagree with him on much. Yet he has clearly grown on the job and, like many others of my fellow liberals—particularly those of us who are hyper-focused on criminal justice issues and/or the environment— lately I find myself wishing he was not terming out quite so soon.
Last night's 60 Minutes segment gives glimpses of why this is true.
****************************************************************************************************************
3. THE END OF THE BOOK?

Editor and blogger Tom Engelhardt writes an LA Times Op Ed in which he tells some very scary book publishing tales guaranteed to disturb the sleep of writers across America.
********************************************************************************************************************
4. GEORGE BUSH AND THE BONFIRE OF THE ECONOMY
If you haven't already read this weekend's NY Times article about the Bush Administration and the economy, now would be a REALLY good time. Here's a clip:
….So Mr. Bush had to, in his words, "use the mighty muscle of the federal government" to meet his goal. He proposed affordable housing tax incentives. He insisted that Fannie Mae and Freddie Mac meet ambitious new goals for low-income lending.
Concerned that down payments were a barrier, Mr. Bush persuaded Congress to spend up to $200 million a year to help first-time buyers with down payments and closing costs.
And he pushed to allow first-time buyers to qualify for federally insured mortgages with no money down. Republican Congressional leaders and some housing advocates balked, arguing that homeowners with no stake in their investments would be more prone to walk away, as Mr. West did. Many economic experts, including some in the White House, now share that view.
The president also leaned on mortgage brokers and lenders to devise their own innovations. "Corporate America," he said, "has a responsibility to work to make America a compassionate place."
And corporate America, eyeing a lucrative market, delivered in ways Mr. Bush might not have expected, with a proliferation of too-good-to-be-true teaser rates and interest-only loans that were sold to investors in a loosely regulated environment.
"This administration made decisions that allowed the free market to operate as a barroom brawl instead of a prize fight," said L. William Seidman, who advised Republican presidents and led the savings and loan bailout in the 1990s. "To make the market work well, you have to have a lot of rules."
But Mr. Bush populated the financial system's alphabet soup of oversight agencies with people who, like him, wanted fewer rules, not more.
****************************************************************************************************************
5. AND, AS A FOLLOW-UP, THIS MORNING PAUL KRUGMAN TALKS ABOUT LIFE WITHOUT BUBBLES
Yes, there will probably be some meaningful recovery by 2010 says Krugman, but anybody who thinks we'll be going back to business as usual—-he's looking at you, Obama advisors!—will be in for an unpleasant and jolting surprise.