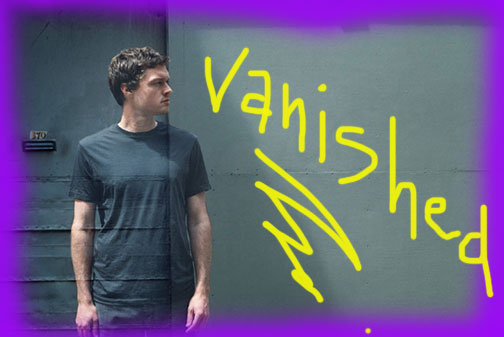 VANISHING IN A DIGITAL AGE
I'm bored out of my mind with the New Conventional Wisdom that persists in opining that the Internets have killed storytelling…..narrative writing….long form journalism…. or what have you, when research and practical observation repeatedly tells us otherwise.
We are a storytelling species.
I bring this up because of a the wonderful tale in the December issue of Wired Magazine that is justifiably getting lots of attention this past weekend. It is a terrific example of immersion journalism that is web-centric, interactive—plus it is engaging storytelling with a well constructed narrative.

It's called VANISH: Finding Evan Ratliff. It is about what happened when Wired writer Evan Ratliff tried to disappear without a trace in this brave, new non-private world.

Photo by Joe Pugliese for Wired

---
AND SPEAKING OF STORYTELLING….

The LA Times' Maura Dolan tells a heart-piercing first person tale of her teenage son's two friends, one of whom died at a Memorial day weekend party featuring too much alcohol. The other friend was the one who gave the booze party while his parents were out of town.
---
WEED CONTROL
As the LA City Council heads toward an actual, no-kidding vote on the issue of regulating marijuana dispensaries, the LA Times' John Hoeffel asks how many retail pot outlets is too many.
---
OKAY, IF YOU FEEL YOU MUST TALK ABOUT SARAH PALIN, READ THIS
Two things worth reading during the media's recent sheep-like Sarah Palin news storm.
1. Matt Tabbai's take on Palin as a WWE Star
Rolling Stone's Matt Tabbai has become one of the most consistently interesting journalists in America right now. Is he the nicest? Probably not. He seems to have an ego approaching the size of that new floating city thingy, the Oasis of the Seas. And he swears a lot. But he's also dogged and extremely insightful at noting and characterizing patterns.
Warning to those conservatives who are Palin fans. If you read this, be forewarned that Tabbai obviously doesn't like Palin. But read it anyway. It's the analysis that matters, not Tabbai's personal feelings about Sarah.
2. Carl Hiaasen's faux fact check of Palin's book.
It's old, but it's still really, really funny.
---
OBAMA, CHINA, AND HOW THE AMERICAN PRESS CREATES ITS OWN REALITY (AND NOT IN A GOOD WAY)
I am not in the least expert on China but the Atlantic's Jim Fallows is. And he (and some others whom he quotes) explains the media's latest vexing example of pack journalism—or horse race journalism as NYU's Jay Rosen began describing it nearly two years ago in the midst of the presidential primary. This particular instance has to do with Obama's trip to Asia, and Fallows explains that much of the American reporting on the trip is…well… incorrect. Unfortunately, wrong or not, by next week, the POV Fallow's describes will likely become the accepted reality of the situation.
Here are a couple of clips from Fallows' essay:
[Here Fallows quotes Howard French:]

Howard French goes on to say that these assumptions were flat wrong. He offers many explanations, including this: "I find that the Washington reporters tend to be typically the most subject to this instant scorekeeping. This is part of the game of Washington reporting. They're at the bleeding edge of this phenomenon that I think is distressing in terms of the approach of the press to serious questions. Everything is shot through this prism of short-term political calculation as opposed to thinking seriously about stuff. You can't be an expert on every question, and so you're part of the Washington press corps and if you're really good and really diligent, you're going to be expert maybe in a few things and one of those things might not be China."

[Finally, he concludes with this.]

We're all familiar with one "crisis of the press," the business collapse. This is a different kind of crisis, though it makes the business crisis worse: the distortion of reality by compressing every complex issue into the narrative of the DC-based "horse race." As you can tell, this really bothers me.
I traveled with the presidential press corps briefly once during the Carter administration, when I was young and wildly inexperienced. Yet because I was an outsider, I could see what the others seemed not to see: And that was the fact that the reporters who were daily defining the national dialogue talked to no one but themselves and a small cadre of government insiders from both parties. I also noted that they rarely, if ever, questioned an insidious kind of group think that made their reporting fact laden, and seemingly informed and connected, but often weirdly wrong. At the time, I found this vision frightening.
I still do.
---
STEVE LOPEZ AND TRULY INSANE COST OF AN ER VISIT
Steve Lopez's Sunday column was about a Santa Monica doctor who got his head slightly banged up playing some weekend soccer in the park, needed a few stitches, went to a local emergency room—-and came away with a bill that flabbergasted him (and remember, the guy himself is a doctor). There was, for example, the $350 tetnus shot that the doc knew for a fact cost $27. It got way worse from there. Read it.
---