THINGS TO DO, READ, LISTEN TO, CONTEMPLATE….ON A SUNNY LATE SEPTEMBER SUNDAY (AND MONDAY)

NOTE: AT SOME POINT THIS POST GOT YANKED OFF LINE for reasons that remain mysterious. Ghosts in the machine. So I've deleted the West LA Book fair part of the post as, sadly, it's too late for that, and have replaced it with a TRUE must read flagged by WLA poster, "LA Resident."

*****************************************************************************************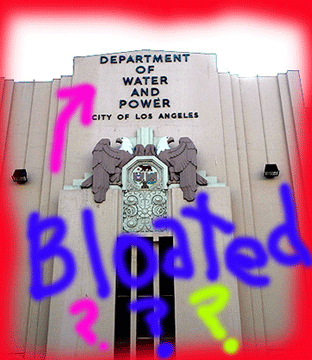 1. DWP RAKES IT IN (SERIOUSLY!)

Feel you're not earning quite enough as a teacher/writer/registered nurse/university professor? Drop whatever you're doing and apply for a job at the DWP. The first two paragraphs of this well-researched Daily News story make clear the reasons:
As the Los Angeles Department of Water and Power seeks a hefty taxpayer rate hike, a Daily News review of salary data shows the average utility worker makes $76,949 a year – or nearly 20 percent more than the average civilian city worker.

More than 1,140 of the utility's employees – or about 13 percent – take home more than $100,000 a year. And General Manager Ron Deaton, who is on medical leave, rakes in $344,624 a year – making him the city's highest- paid worker.
But while the article is good, the Daily News has gone one better and provided a searchable database that allows you to look up the salary of every single DWP worker—by name or by job.
OKay, I'll bite. I just randomly looked up "Assistant Communications Cable Worker." Salary: $73,414.08
(Newsflash, dudes, if any of you owe back child support and have been pleading poorhouse, you're SOL now!)
But these guys (cable wranglers seem to be guys) are only assistants, so out of curiosity I tried "Air Conditioner Mechanic." Alright! Salary, a healthy: $82,058.40

Hmmm. What might be further up the food chain? Maybe Assistant Director Information Systems? Yep, jackpot! There are two of them:
ENG,CLIFFORD KAI ASST DIR INFO SYS $149,459.04
TOWNSEND,STEPHEN M ASST DIR INFO SYS $164,325.60
Hey, what's this? Street Tree Superintendent? Wonder what he or she makes? And what the hell does a Street Tree Superintendent do anyway? In any case, here's what they're paid (and again there are two):
DEAL,THOMAS A STREET TREE SUPERINTENDENT $125,885.52
GARCIA,ROBERT STREET TREE SUPERINTENDENT $101,309.76
Then, just for the heck of it, I tried Executive Assistant to the General Manager, which is still further up the food chain, but nonetheless an assistant, when you get right down to it. In any case, at the DWP there are eight such people. Here they are together with their salaries:
ANDERSON,RENETTE D. EXEC ASST TO THE GM $197,065.44
GARRETT,BARBARA KAYE EXEC ASST TO THE GM $197,065.44
PASKETT ALBRECHT,LORRAINE ANTOINETTE EXEC ASST TO THE GM $186,667.20
RAMALLO,JOSEPH MANUEL EXEC ASST TO THE GM $167,478.48
RUBALCAVA,ADRIANA EXEC ASST TO THE GM $176,811.84
SICKLER,ALBERT DAVID EXEC ASST TO THE GM $197,065.44
ULM,DAVID HENRY EXEC ASST TO THE GM $197,065.44
WONG,GARY E EXEC ASST TO THE GM $186,667.20
Amazing. (And not in a good way.)

*******************************************************************************************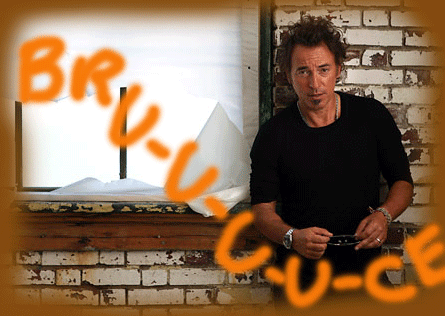 2. THE BOSS TALKS:
The New York Times' A.O. Scott has a nice, up-close-and-personal interview/encounter with Bruce Springsteen that's fun to read for the Boss-o-philes among us (and maybe even for you nonbelievers). The occasion is a new Springsteen album that is the first with the full E Street band to be released since the post-9/11 "The Rising."
So why is Bruce's new album a social issue? Because of the lyric content silly! Springsteen is not a happy camper about some of the things he sees going on in these United States right. He has written about what he perceives on this CD. Some of the songs are plain old, E-Street rockers. But some have a lot more going on, much of it subtly referencing issue like the war in Iraq. For example, below are the lyrics to "Gypsy Biker," a snapshot of life, riddled with private grief and loss.
The speculators made their money on the blood you shed
Your momma's pulled the sheets up off your bed
The profiteers on Jane Street sold your shoes and clothes
Ain't nobody talkin' because everybody knows
We pulled your cycle up back to the garage and polished up the chrome*
Our gypsy biker's comin' home

Sister Mary sits with your colors, brother John is drunk and gone
This whole town's been rousted, which side are you on?
The favored march up over the hill in some fools parade
Shoutin' victory for the righteous but there ain't much here but graves
Ain't nobody talkin', we're just waitin' on the phone
Gypsy biker's comin' home

We rode her into the foothills, Bobby brought the gasoline
We stood 'round her in a circle as she lit up the ravine
The spring high desert wind rushed down on us all the way back home

[Harmonica bridge]

To the dead, well it don't matter much 'bout who's wrong or right
You asked me that question, I didn't get it right
You slipped into your darkness, now all that remains
Is my love for you brother, lying still and unchanged
To them that threw you away, you ain't nothin' but gone
My gypsy biker's coming home

Now I'm out countin' white lines
'Countin white lines and getting stoned
My gypsy biker's coming home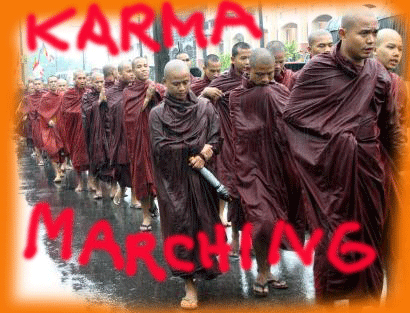 3. WHEN MONKS MARCH
"Mayanmar, writes Seth Mydans of the New York Times, has as many Clerics as Soldiers. Last week the monks lead the biggest antigovernment protests in 20 years, and many were shot for their passion. If you'd like some understanding of what is going on in the exquisitely beautiful and desperately troubled country once known as Burma, "KARMA POWER: WHAT MAKES A MONK MAD? is a good story to read.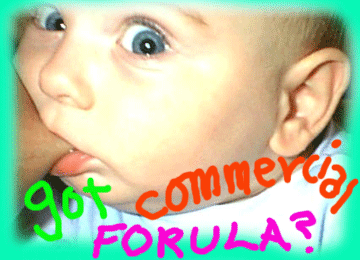 4. BUSHIES ARE ANTI-BOOB?
Will some conservative defender of the faith please tell me this isn't as loathsome as I think it is: In today's LA Times Opinion section, science writer, Wendy Orent, says in her op ed, "The White House V. Mothers' Milk" that, in response to the multizillion dollar baby formula industry, the Bush administration's Department of Health and human Services substantially watered down a 2004 campaign to encourage mothers to….breastfeed! Shameless!
Springsteen photo by Todd Heisler/The New York Times; Monks by AFP/Getty Images…..Oh, yeah, and the baby and boob photo is from this site labled "What God says about Breastfeeding" (Small clue: It seems that God and the baby formula industry are definitely not on the same page on this issue.)