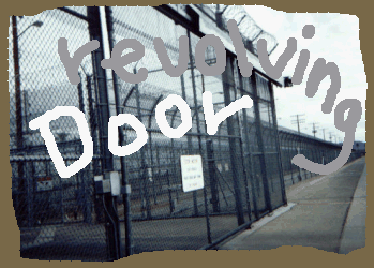 Every single year, 120,000 inmates —give or take—are released from California's prisons. Nearly all of them are placed on parole for around 1-3 years when they walk out the door.

The bad news is: more than two-thirds of these paroled will be right back in lock-up within three years—a rate that is twice the national average.
But the worse news is: the majority of the two thirds who return to prison, do NOT go back because they have committed new crimes. Most are returned to lock-up because of technical violations of their parole.

The violation might be a dirty drug test….or a missed meeting (or three) with a parole officer. Or it could be that the parolee is found in an area of town that is off limits according to the "conditions" of his parole.
Often the forbidden neighborhood is the area where the parolee grew up and where his mother still lives. Or maybe its where his child and long-time girlfriend live.
Doesn't matter. If he's found in the restricted area visiting his mom or his kid, it's over.
Here's another catch 22 parole condition: if a parolee is arrested, even if he (or she) is never charged with a crime, the arrest alone could send him back, depending upon how the parole officer elects to play it.

If the parolee was once a gang member, it is likely that any contact with any other gang member —present or former—will be considered a violation. This means if your little brother is a homeboy….tough. You can't see him.
If a parolee goes out of town for job training, or to see his sister, or to Las Vegas for the weekend, for many it's a violation.
The list is a long one. And, while some of the parole conditions are necessary and appropriate, others are little more than a system-defeating recipe for failure.

For the past few decades it has been clear that California's badly designed and over-burdened parole system is a major part of the state's recidivism problem. Yet there has been no political will to fix it.
Until now. Finally, as of this month, California is on the verge of taking a few small steps in the direction of true parole reform.
The person leading the charge is UC Irvine professor/researcher/author Joan Petersilia, who has been heading up the Governor's "strike team" charged with recommending parole overhaul. (Schwarzenegger deserves lots of credit for giving her the post as there's likely no one in the nation more expert on parole and reentry policy than Petersilia.)
In Monday's LA Times, she explains the changes that she and her team are proposing.
In terms of broad strokes, the biggest change is that there will be fewer people on parole, but those who remain on the parole rolls will get far more help and supervision than in the past. (Petersilia's Op Ed has more of the details.)

Admittedly, the reforms planned are little more than a toe in the water, but they're a welcome beginning.