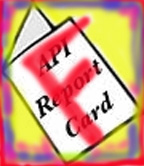 As anyone with even a passing acquaintance with public education knows, these days even schools get report cards. In the State of California the main form of measurement is the system known as the API scores—Academic Performance Index. The 2006 API scores were released Tuesday afternoon, and the news for the Los Angeles School District high schools is godawful.

Instead of improving over last year's already dismal scores, this year's LAUSD high school scores actually dropped 20 points.

The API system is slightly confusing so here's very smart Daily News education writer, Naush Boghossian, to explain it.


The Academic Performance Index shows how each school performs academically compared with other schools. It is used to determine whether California schools are meeting federal benchmarks set by the No Child Left Behind Act, President George W. Bush's education-reform initiative.

Scores range from 200 to 1,000 points, with 800 being the goal of all schools, as well as for all subgroups within each school, including minority, disabled and disadvantaged students, and English-language learners.
Okay, got that? A score of 800 or better tells us our schools are doing an adequate job of educating our kids. Really great schools score in the high 900's.
LAUSD high schools scored 602 this year. And remember, that's the median. Palisades Charter High School, one of the district's stars, hit 900 exactly. The schools that are in the most trouble—Jefferson, Jordan, Locke, Fremont and others— scored 500 or less.



(The above chart was snatched from the Daily News.)

Although my LA education writer friends don't want to be so impolite as to say it out loud, what everyone is thinking is that the drop in scores this year is particularly ironic in view of last year's expensive, bitter and extremely public mud-wrestling between the Los Angeles Unified school board and Mayor Antonio Villaraigosa over control of LA's schools—or some of the schools anyway. During the worst of the brawling, then school superintendent, Roy Romer, got very huffy at the suggestion that the district wasn't making dandy progress with its test scores. They were doing fine, he and the board said repeatedly, while simultaneously shrieking at the mayor that he better take his freaking hands off their educational system. Then they backed up their it's-our-ball position with a lawsuit preventing Villaraigosa from taking over three low-performing LAUSD school "clusters," although the state legislature passed a law allowing him to do so.
And so did the LAUSD administration manage to improve those failing high schools that it clutched so jealously to its administrative bosom? No, it did not. Most of those schools got worse. Again.
Meanwhile the scores of the (also public) non-administration-heavy Green Dot Charter High Schools, many of which serve the same neighborhoods as LA's most troubled campuses, went up. Again.
Green Dot, for those of you out-of-towners reading this, is a non-profit charter school operator that runs ten charter high schools in low-income areas of Los Angeles County. Since the Green Dot schools consistently outperform their LAUSD-run neighbors, around 18 months ago, the charter group made a bid to take over ultra-troubled Jefferson High School. But, as with the mayor, LAUSD honchos fought them tooth, nail, claw and press release. And, as with the mayor, the district won.
(Although Green Dot did succeed in opening five new charter schools around Jefferson this past fall, draining off a big chunk of LAUSD's 9th graders.)

So how did the much-fought-over Thomas Jefferson High School do in this round of testing? It's score was 451. Dead bottom.
I think there's a lesson in here somewhere. And if we look really, really hard, maybe we can find it.