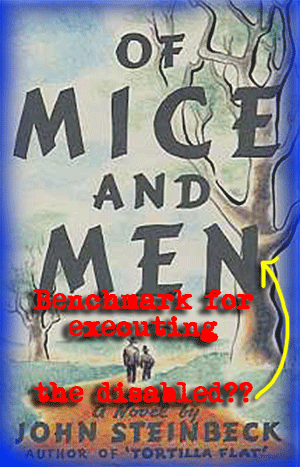 STEINBECK FAMILY INCENSED BY JUDGE'S REFERENCE TO OF MICE AND MEN DURING EXECUTION RULING
Marvin Wilson, a Texas man with an I.Q. of 61 was executed Tuesday after SCOTUS denied him a stay of execution. A TX judge referenced Of Mice and Men to illustrate the difficulty of knowing the level of mental disability one must have to be exempt from the death penalty under the 8th Amendment. Upon reading an account of the death penalty ruling, John Steinbeck's son, Thomas, joined the fight to stop Wilson's execution.
The NY Times' Robert Mackey has the story. Here are some clips:
As the legal analyst Andrew Cohen explains on The Atlantic's Web site, the execution of a 54-year-old man "who could not handle money or navigate a phone book, a man who sucked his thumb and could not always tell the difference between left and right, a man who, as a child, could not match his socks, tie his shoes or button his clothes," seemed to "directly contradict the spirit, if not the letter," of a Supreme Court ruling in 2002 that appeared to bar the execution of mentally retarded inmates.

Mr. Wilson's lawyers argued that the court should intervene because Texas uses criteria to determine whether someone can be fairly classified as mentally retarded that "lack any scientific foundation," The Texas Tribune reported. As The Atlantic Wire notes, in a 2004 ruling that paved the way for Mr. Wilson's execution, a state court judge turned instead to literature, invoking John Steinbeck's "Of Mice and Men" to describe the difficulties of defining "that level and degree of mental retardation at which a consensus of Texas citizens would agree that a person should be exempted from the death penalty."

[SNIP]

After Thomas Steinbeck, the writer's son, read a Guardian article on how his father's novel had been used in a Texas court to argue for the execution of the mentally retarded, he joined the effort to halt the killing of Mr. Wilson, The Beaumont Enterprise reported. In a statement released on Tuesday, just before Mr. Wilson was put to death for a fatal shooting in 1992, Mr. Steinbeck wrote:

On behalf of the family of John Steinbeck, I am deeply troubled by today's scheduled execution of Marvin Wilson, a Texas man with an I.Q. of 61. Prior to reading about Mr. Wilson's case, I had no idea that the great state of Texas would use a fictional character that my father created to make a point about human loyalty and dedication, i.e., Lennie Small from "Of Mice and Men," as a benchmark to identify whether defendants with intellectual disability should live or die.

My father was a highly gifted writer who won the Nobel Prize for his ability to create art about the depth of the human experience and condition. His work was certainly not meant to be scientific, and the character of Lennie was never intended to be used to diagnose a medical condition like intellectual disability. I find the whole premise to be insulting, outrageous, ridiculous and profoundly tragic. I am certain that if my father, John Steinbeck, were here, he would be deeply angry and ashamed to see his work used in this way. And the last thing you ever wanted to do, was to make John Steinbeck angry.
(Be sure to also check out Andrew Cohen's article for The Atlantic on the subject, as it is well worth reading.)
---
REPORT RELEASED ON JUVENILE JUSTICE TRENDS BETWEEN 2001-2011
A report released Tuesday by the National Conference of State Legislatures examines juvenile justice trends between the states over the past decade. The report reviews state policies distinguishing juvies from adults, the disproportionate representation of minorities in the juvenile justice system, and advances in mental health and rehabilitation policies.
Here's a clip from the NCSL press release on the report:
Between 65 and 70 percent of the two million youth arrested each year in the United States have some type of mental health disorder. With this in mind, states have focused on providing proper screening, assessment, and treatment services for young offenders with mental health needs. As just one example, a Colorado law now allows a 90-day suspended sentence, during which treatment is provided to juveniles with behavior disorders or mental health issues.

Minority youth come into contact with the juvenile justice system at every stage at a higher rate than their white peers. Between 2005 and 2007, Colorado, Indiana, Kansas and Tennessee established committees or commissions to address the overrepresentation of minorities in their juvenile justice systems. And in 2008, Iowa became the first state to require a "minority impact statement," which is required for proposed legislation related to crimes, sentencing, parole and probation.
---
RULING SAYS BURBANK PD WHISTLEBLOWER NOT PROTECTED BY FIRST AMENDMENT
The Ninth Circuit ruled Tuesday that a Burbank detective, who blew the whistle on fellow detectives whom he reportedly saw abusing suspects, was not shielded against departmental sanctions as his did not constitute protected speech. (Not sure what kind of precedent this sets—we'll let you know more as we find out more.)
Courthouse News Service's Annie Youderian has the story. Here are some clips:
Angelo Dahlia claimed he saw a fellow detective in the Burbank Police Department squeeze a suspect's throat and stick a gun in his face, saying, "How does it feel to have a gun in your face motherfucker?"
Dahlia said he heard yelling and the sound of people being hit as the detective continued to interview suspects.
He said he told Burbank Police Lt. John Murphy that "things were getting out of hand, the interviews were getting too physical, and too many people were doing their own thing and were out of control."
Murphy allegedly told Dahlia to "stop his sniveling."

[BIG SNIP]

Dahlia was interviewed by investigators at least three times. After each interview, Dahlia said he was harassed and threatened.

In May 2009, the Los Angeles Sheriff's Department interviewed Dahlia, who said he disclosed his colleagues' abusive interrogation tactics. Four days later, Burbank Police Chief Tim Stehr placed Dahlia on administrative leave.

Dahlia sued the city of Burbank and several officers, claiming the disciplinary action constituted retaliation for his protected speech.

A federal judge dismissed the lawsuit, concluding that Dahlia's speech was not protected because the "disclosure of incriminating facts" fell within his official duties as a police officer. The federal appeals panel in Pasadena agreed.