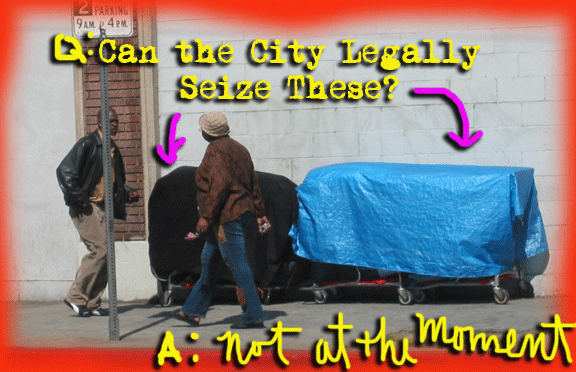 IN THE MIDST OF TB OUTBREAK ON SKID ROW, LA AUTHORITIES FILE WITH SUPREME COURT TO OVERTURN RULING ON HOMELESS BELONGINGS
Citing the recent outbreak of tuberculosis in downtown LA's Skid Row, , the City of Los Angeles will try to persuade the U.S. Supreme Court on Thursday to toss an earlier ruling by the 9th Circuit that prevents the random seizure and destruction of belongings that homeless Skid Row residents leave temporarily unattended on public sidewalks.
The LA Times' Andrew Blankstein and Alexandra Zavis report on the matter. Here are some clips from their story:
The Supreme Court filing comes after two years of legal wrangling between Los Angeles officials and homeless advocates over a controversial campaign to clean up downtown's skid row, which has the highest concentration of homeless people in the city.

"We have an obligation to the homeless, as well as to the other residents and businesses on skid row, to ensure their health through regularly cleaning skid row's streets and sidewalks," City Atty. Trutanich said in a statement. "The current outbreak of tuberculosis among that most vulnerable population should serve as a stern reminder to us all of just who and what is at risk."

Carol Sobel, who represents the homeless plaintiffs, said the TB outbreak, which has infected nearly 80 people and killed 11, has nothing to do with the property left on the streets. She accused city officials of deliberately allowing conditions to deteriorate in order to bolster their case, saying: "They have a public health issue of their making."

The dispute began when eight homeless people accused city workers, accompanied by police, of seizing and destroying property they left unattended while they used a restroom, filled water jugs or appeared in court. The seven men and one woman had left their possessions — including identification, medications, cellphones and toiletries — in carts provided by social service groups and in some cases were prevented from retrieving them, Sobel said.

In a 2-1 decision last September, the U.S. 9th Circuit Court of Appeals ruled that the belongings the homeless leave on city sidewalks for a short period of time may be taken only if the possessions pose an immediate threat to public health or safety or constitute evidence of a crime. In such cases, the court said, the city may not summarily destroy the possessions and must notify the owners where they can collect them.
This is a tough one. Homeless advocates had long battled the LAPD, whom they said often confiscated and trashed even those homeless-owned possessions that were tidy and clearly not abandoned, but left very temporarily.
On the other hand, Andy Bales, who heads up the Union Rescue Mission and is a deeply compassionate and dedicated advocate for the homeless, told the LA Times reporters that the 9th Circuit's ruling has had a destructive effect.
Just days after a cleanup, trash and debris begin to pile up again, said Andy Bales, who heads the Union Rescue Mission on skid row.

"We never, ever had to battle that before the injunction, which has taken skid row back at least eight years to before all the improvements," he said. "It has emboldened people to leave their stuff everywhere."
It is not clear whether or not the Supremes will take the case, so all this discussion may be for naught.
(If we get news later today or Friday, we'll update this post.)
---
YOUTH INCARCERATON DECLINING WITHOUT HARMING PUBLIC SAFETY
In their just published Kids Count data report, the Annie E. Casey Foundation found that the rate of young people locked up because they were in trouble with the law dropped more than 40 percent over a 15-year period—from a high of !07,637 to 70,792 in 2010, with no decrease in public safety.
The report also recommends ways to continue reducing reliance on incarceration and improve the odds for young people involved in the juvenile justice system.
It notes, however, even with the drop, that most of the kids incarcerated are in for nonviolent offenses, and that African American kids are still locked up with great disproportion (as are Hispanic and Native American kids, but not near to the degree that African American kids experience).
NOTE: The Annie E. Casey Foundation is well known for its Juvenile Detention Alternative Initiative that helps persuade counties to try programs other than correctional facilities for certain kids, and to establish small, treatment-oriented facilities for those kids who are locked up, using methods that have been proven effective. The results for counties, like Santa Cruz CA, who've become models for AECF's initiative has been extremely encouraging in terms of drops in youth incarceration and recidivism.
---
POST DORNER, FIRED LAPD OFFICERS NOW WANT CASES REOPENED.
The Post-Dorner complexities continue. After LAPD Chief Charlie Becker agreed to reexamine the whole of Christopher Dorner's Board of Rights case that led to his termination, other fired officers don't see why their cases can't be reexamined too.
The AP's Tami Abdollah has the story. Here are some clips.
At least six fired police officers want their disciplinary cases reopened after the Los Angeles Police Department began reinvestigating the termination of a former officer who left a trail of violence to avenge his firing.

Police Protective League President Tyler Izen wouldn't provide details on the former officers who asked to have their cases revisited, but he said the decision by Chief Charlie Beck to reopen Christopher Dorner's case is unprecedented and "has left many of our members in absolute limbo."

[CLIP]

Dorner's case brings up a significant issue about what to do when allegations of police misconduct are unfounded, said Commissioner Richard Drooyan. Dorner was dismissed for filing a false report alleging his training officer kicked a mentally disabled man.

"How do you make sure that you are punishing anyone who makes a false allegation or makes a false statement, while also at the same time not discouraging people from bringing potential misconduct to the attention of the department?" Drooyan asked.

Deputy Chief Bob Green, who oversees the South LA area, which is predominantly black and Latino, said the Dorner case has reopened "old wounds of trust" in the community….