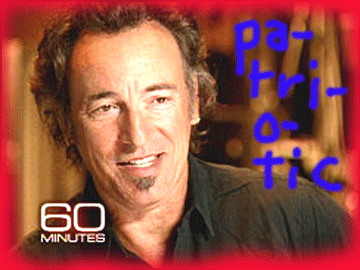 If you didn't see Bruce Springsteen on Sunday's 60 Minutes…..Well, I'm just sad for you.
But, not to worry. Fortunately, I'm able to provide you with the last few paragraphs of the segment. (Regrettably, for the musical parts of the segment, you're on your own.)
"I guess I would say that what I do is I try to chart the distance between American ideals and American reality. That's how my music is laid out. It's like we've reached a point where it seems that we're so intent on protecting ourselves that we're willing to destroy the best parts of ourselves to do so," Springsteen says.

Asked what he means, Springsteen tells Pelley, "Well, I think that we've seen things happen over the past six years that I don't think anybody ever thought they'd ever see in the United States. When people think of the American identity, they don't think of torture. They don't think of illegal wiretapping. They don't think of voter suppression. They don't think of no habeas corpus. No right to a lawyer … you know. Those are things that are anti-American."

[snip]

Springsteen says, "It's unpatriotic at any given moment to sit back and let things pass that are damaging to some place that you love so dearly. And that has given me so much. And that I believe in, I still feel and see us as a beacon of hope and possibility."

Springsteen sees himself following a long American tradition reaching back through Vietnam and on to the Great Depression.

"There's a part of the singer going way back in American history that is of course the canary in the coal mine. When it gets dark, you're supposed to be singing. It's dark right now," Springsteen says. "And so I went back to Woody Guthrie and Dylan and the people who said, say take Pete Seeger, who wants to know, doesn't want to know how this song sounds, he wants to know what's it for."


"What needs to be said, in this country at this moment, in your opinion, what needs to be said?" Pelley asks.

"I think we live in a time when what is true can be made to seem a lie," Springsteen says. "And what is lie can be made to seem true. And I think that the successful manipulation of those things have characterized several of our past elections. That level of hubris and arrogance has got us in the mess that we're in right now. And we're in a mess. But if we subvert, the best things that we're about in the name of protecting our freedoms, if we remove them, then who are we becoming, you know? Who are we, you know? The American idea is a beautiful idea. It needs to be preserved, served, protected and sung out. Sung out."
BRU-U-UUU-U-U-UUUCE! ….Ahem….. Alright, now back to our regularly scheduled programing.
******************
UPDATE: I wrote this in a light tone, as I happen to be an unrepentant Springsteen fan, and was poking fun at myself. But the points he makes are not trivial at all, they are essential.