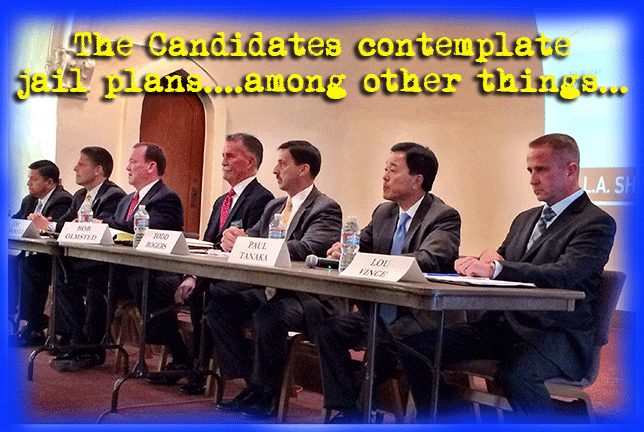 WHICH WAY LA? LOOKS AT NEWEST VERSION OF THE COUNTY'S EVER EXPANDING JAIL BUILDING PLAN
Nearly everyone seems to agree that we need to tear down the decrepit and dangerous monstrosity that is Men's Central Jail. Members of the LA County Board of Supervisors think so, as does Assistant Sheriff Terri McDonald who is in charge of the jails for the sheriff's department, along with So Cal ACLU legal director Peter Eliasberg, and various criminal justice advocates.
But after it's torn down, then what?
On Wednesday, Vanir Construction Management Inc. released the latest iteration of what has now ballooned into a possible $2.3 billion jail building project for the supervisors to consider in replacing Mens Central Jail and building a new 1,600-bed women's jail at the now-disused Mira Loma Detention Center in Lancaster. The proposed new facility would replace the overcrowded women's jail in Lynwood.
There are actually five versions of the plan that range in price from $1.74 billion to $2.32 billion.
The dollar figure is up from an earlier set of plans presented by Vanir last July, which were priced from $1.3 billion up to the deluxe version at $1.6 billion. And those price tags were already a jump from the $1 billion Vanir suggested just four months earlier still.
On Thursday night, KCRW's Which Way LA? hosted a critical discussion of the plan featuring Assistant Sheriff McDonald, and the ACLU's Eliasberg, with Barbara Bogaev hosting, standing in for Warren Olney.
Along with the price increases, the segment touched on a lot of the issues that have been troubling us. Things like:
Why is a Vanir—a construction company—acting as the highly paid "consultant" that comes up with the jail reform plan? Isn't that a bit of a conflict of interest? Put another way, isn't this report really just a bunch of glorified bids?
In any case, be sure to listen.
The Supes are due to consider the plan on May 6, which is Tuesday after next. We'll have more on the matter closer to the date.
---
IN LATEST SHERIFF'S DEBATE CANDIDATES TALK JAIL BUILDING & MORE… AND TRADE JABS WITH EACH OTHER
As it happens, in the most recent sheriff's candidates' debate on Thursday night at the Church in Ocean Park in Santa Monica, the seven would-be sheriffs were each asked what they thought of the expensive Vanir jail building proposal.
(For the record, this debate was moderated by the League of Women Voters and sponsored by Dignity Now: Safety for All in partnership with ACLU of Southern California; Justice, Not Jails; Los Angeles Regional Reentry Partnership; and Committee for Racial Justice.)
The candidates did not seem as prepared for the question as they had been for most of the others so their responses were interesting.
Here's a rundown on what the seven said:
Todd Rogers, who fielded the question first, balked visibly at the price, then said that although he favored a replacement for Men' Central Jail, he did not want to see the number of beds in the county system increased.
"I think we have plenty of jail beds in LA County and I think we can do a better job of managing our population." Rodgers said that more than fifty percent of the jail population was mentally ill or locked up as a result of substance abuse.
"We need to find…treatment out in the community for many of these people," he said, and save the jail beds for those who really need them. This wasn't easy, Rogers added. As assistant sheriff, he'd tried to find beds for the mentally ill. "And we only found 200. That's unacceptable."
Tanaka too favored getting rid of MCJ, the flaws of which he described in detail. But he also recoiled from the high price and talked about the groups who did not need to be in the facility, like "low level first time offenders who don't belong there."
He said that of the low level offenders should be diverted to "community programs that can get them on their feet and back out as productive members of society….The same thing goes for the mentally ill."
Lou Vince, Pat Gomez and Jim Hellmold also said no increased jail capacity, although Hellmold was particularly adamant that the nightmarish Men's Central had to be bulldozed.
McDonnell said that when he was on the jails commission he learned from a custody facilities expert that Men's Central Jail was one of the worst structures in the nation. But he was one more who questioned the big jump in price to replace the thing.
McDonnell also hit the topic of the jail systems' alarming numbers of mentally ill inmates. "We need to deal with mental health," he said,"but we need to deal with it on the front end, before people ever get to jail." For those who do wind up in the jails, he said, "we need to do the best we can," which required "a state of the art facility."
Eventually McDonnell circled away from the building plan, and back to the issue abuse in the jails. How the facility is run "is the most critical part of the issue," he said. "How we house [the inmates] or where we house them is one issue. But how we treat people with respect and dignity is a whole other issue."
Olmsted, who went last, said he'd been part of an earlier discussion to replace Men's Central in 2008, when the price tag was far lower. But whatever the price, he said, the problem was still the same.
"When was the last time you heard of our jails being undercrowded." he shouted to the audienced, then paused as the audience laughed. "Never! he said in answer to his own question.
So what would Olmsted do? "I can get 3000 or 3500 more beds… by having an intervention program for the mentally ill— a mental health court to get them booked somewhere else before they ever get into the system. ….I don't think society ever envisioned Men's Central Jail being the largest mental health hospital in the nation."
The rest of the debate was reasonably lively and featured the candidates taking jabs at each other.
Many of the jabs were aimed at Tanaka who, at present, has raised the most campaign funds, and, save for McDonnell, has the lengthiest list of endorsements. Candidates made frequent reference to Tanaka's infamous "working the grey," speeches. At one point, Lou Vince even quipped to Tanaka with a glance at his attire, "I wouldn't have worn a grey suit tonight."
In his closing remarks, Tanaka took his own swings back with some humor as he made reference to the punches he'd been taking all evening, and at earlier debates.
"I would venture guess that I've not met most of you, probably 99 percent of you, before tonight. So everything that you perceived about Paul Tanaka before you walked in tonight you read about or was perpetuated by these guys up here. And I know what you were thinking because I looked out in audience the when I sat down, and I saw some of you whisper, I know exactly what you were thinking. you were thinking, "Damn, I thought he was a lot bigger!"
"Because of all these horrendous things you've heard about me, I would just ask you to look at facts—objectively and non-emotionally…."
"Take a look at my 33 year track record…" And then he ticked off his accomplishments.