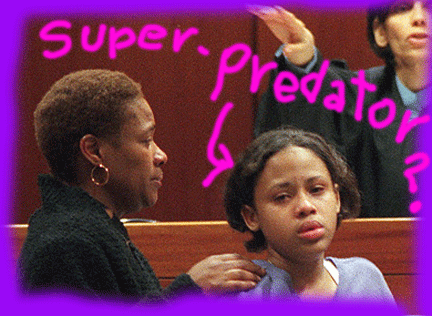 The United States is unique in all the world in its attitude toward punishing its young. Right now there are more than 2225 kids, age 17 or younger, who are serving life sentences in American prisons without the possibility of parole, according to a new study released today by the Equal Justice Initiative. Of those 2225 plus, the EJI researchers located at least 73 who were 13 or 14 at the time of their sentencing.
In December of last year, the United Nations voted on a resolution to ban the imposition of life sentences on children and young teenagers. The vote was 173 to 1. The U.S. cast the solitary NO vote.

Up until two years ago, we were also the sole country in the world that handed out death sentences to juveniles. (The Supreme Court finally put a stop to that practice in 2005, with the case known as Roper v. Simmons.)

Using the Equal Justice initiative report as a jumping off point, today's New York Times has an interesting and nuanced take on the question of whether juveniles who have committed serious crimes should be given the opportunity to one day be released:

Corrections professionals and criminologists here and abroad tend to agree that violent crime is usually a young person's activity, suggesting that eventual parole could be considered in most cases. But the American legal system is more responsive to popular concerns about crime and attitudes about punishment, while justice systems abroad tend to be administered by career civil servants rather than elected legislators, prosecutors and judges.

In its sentencing of juveniles, as in many other areas, the legal system in the United States goes it alone. American law is, by international standards, a series of innovations and exceptions. From the central role played by juries in civil cases to the election of judges to punitive damages to the disproportionate number of people in prison, the United States is an island in the sea of international law.
One of the most alarming elements of the EJI report is the section on the histories of the kids who have received life sentences, most of whom have been victims of abuse and/or neglect, often to a staggering degree.
Children sentenced to die in prison have in common the disturbing failure of police, family courts, child protection agencies, foster systems, and health care providers to treat and protect them. Their crimes occur in the midst of crisis, often resulting from desperate, misguided attempts to protect themselves.
And then the report goes on to list some harrowing examples.

Ashley Jones was repeatedly threatened at gunpoint by her parents, sexually assaulted by her stepfather, forced into crack houses by an addicted mother, physically abused by family members, and abducted by a gang shortly before her crime.

Severe neglect is also common among children in this group. Joseph Jones grew up in Newark public housing, where his crack-addicted parents left him to cook, clean, and take care of his six younger siblings. At 13, Joseph's parents took him to North Carolina and abandoned him with relatives.

Quantel Lotts saw his uncle gunned down in his front yard in a poor St. Louis neighborhood, where his mother used and sold crack cocaine out of their house. Quantel was removed from his mother's custody at age eight; he smelled of urine, his teeth were rotting, and his legs, arms, and head bore scars from being punched and beaten with curtain rods and broom handles.
EJI's lawyers have taken around a dozen of these lifer kids as clients and are challenging their sentences. Among the worst of their horror stories is that of Anthony Nunez, a kid who was sentenced to life in prison for a crime committed by adults in which no one was hurt.
When the juvenile justice system was invented over 100 years ago, it was based on the idea that children and adolescents were developmentally different than adults, that they were still forming psychologically and, as such, were less mindful of the consequences of their actions, and more malleable to transformation and reform. It was, therefore, the duty of the court to look at each young man or woman who came before it and to ask the question: is this kid redeemable?
A growing number of organizations think we should start asking that question again about our nation's lifer kids.
The rest of the world's nations agree. Unfortunately, at this point anyway, American public policy does not.
(photo by Jessica McGowan/The Birmingham News)