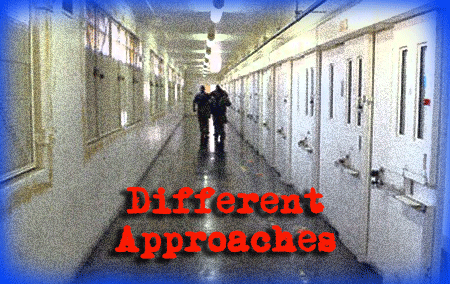 with Celeste Fremon
---
---
LOCK-UPS AND CRIME REDUCTION CONCEPTS
Nationally-renowned corrections expert, James Austin, in an Op-Ed for the LA Times, talks about the evolving perceptions of incarceration as the central means of crime reduction, attributing California's falling crime rate, in part, to changing demographics, better policing, and new rehabilitation strategies.
In 1960, California's prison population was less than 22,000. If you applied that year's incarceration rate to today's crime rate and total population, the state would have only 52,000 prisoners, well under the current state prison population of about 130,000. This dramatic rise is because the state, over the decades, dramatically increased the number of people it sent to prison and the length of their imprisonment.

However, a growing body of science shows that prison-only approaches may feel good initially — and be safe politically — but an overreliance on incarceration ultimately can make things worse. In other words, there is limited scientific evidence that prison reduces crime, or that longer prison terms reduce recidivism or crime rates.

The California Department of Corrections and Rehabilitation's data show that people serving one, two or three years have the same recidivism rates. We also know that the vast majority of people arrested in California are not recently released prisoners. Meanwhile, New York and New Jersey have significantly reduced their prison populations and continued to lower their crime rates.
---
SUPREME COURT AND THE CONSTITUTIONAL CONTROVERSY OF GAY RIGHTS
On Friday, the US Supreme Court is scheduled to consider whether or not it is going to agree to hear any or all of ten separate gay rights cases from the lower courts—one of them, California's Prop. 8 challenge.
Lyle Denniston, the super-wonk over at SCOTUSblog, has written a four-part series designed to guide court-watchers through the thicket of legal issues that will be in play with whichever of the ten cases the Supremes decide to take on.
Part 1 of the series looks at what is called the constitutional "standard of review"—in other words, the legal test that the Supremes might or might not use to judge the constitutionality of the issues to which each of these cases pertain.
Denniston points out that, in the past, the court has studiously avoided choosing a specific constitutional standard to be used in gay rights cases. He goes on to say that, with the petitions facing it Friday, a standard of review will be harder for the court to totally dodge.
He then explains the three main constitutional standards of review that SCOTUS will likely be choosing among.
As suggested above, Denniston and the rest of the folks at SCOTUSblog are a very wonky—but their work is also very much worth the effort. (We feel smarter every time we read Denniston's stuff especially.) Here's a rather large clip:
Over the years, and particularly in the last quarter-century, the Supreme Court has issued a number of significant rulings on gay rights, focusing on laws that were challenged as discriminating against individuals because of their sexual identity as gays or lesbians. In none of those decisions, however, has the Court settled on a specific constitutional standard to be used in gay rights cases; it managed to decide all of them without spelling out what government must prove to justify a law that treats homosexuals differently, and less favorably.

It is possible, of course, that the Court may decide one or more of the currently pending same-sex marriage cases without adopting a binding standard this time, either. But that issue is energetically debated by all sides in the cases, so it will not be easy for the Justices to leave it entirely untouched. Because the cases all involve a variation of arguments about constitutional equality or inequality, the Court is likely in considering a review standard to turn to that branch of constitutional law — "equal protection" guarantees under the Fifth Amendment, for federal laws, and under the Fourteenth Amendment, for state or local laws.

There are now three distinctive standards of review under equal protection analysis, and some decisions have relied upon a fourth standard, not very clear-cut but supposedly workable.

Here are the three most explicit standards:

** Rational basis review: This is clearly the most tolerant of the equal protection standards. In order to satisfy that test, a law or regulation need only have a "reasonable" link between what the law declares and a "legitimate" government interest. Such a law can be understood to have such a "rational basis" even if the legislature that enacted it did not spell out such a reason. If a court can think up a rational basis for a law that allegedly classifies people in differing ways, that is good enough: the law survives. The courts most often use this test when judging a law that seeks to regulate commercial activity.

** Heightened scrutiny (sometimes labeled "intermediate scrutiny"): This is the next step up from "rational basis," and it is, therefore, a more difficult standard to satisfy when a law classifies people based on some asserted difference between them. In order to meet this test, the government's interest must be "important," and not just "legitimate," and the link between what the law declares and that government interest must be a "substantial" one, not just "reasonable." This is the standard that the Supreme Court has specified for laws that treat women differently than men, based on their gender. It is sometimes spoken of as the test to be used when a law declares a "quasi-suspect classification." ("Suspect" in this sense does not mean suspicious; it means a social grouping that has a distinctive identity, whose identity does not affect its capacity to contribute to society, that has suffered a history of discrimination, and that has a comparative lack of political power so that it cannot easily obtain protective laws.)

** Strict scrutiny: This is the top-tier standard. A law that must satisfy this test is not necessarily always doomed to be struck down, but it must come close to being truly necessary to achieve a government policy goal of the highest order, if the law at issue is to survive. The government interest at stake must be "compelling," and not just "substantial," and the method chosen to serve that interest must be "narrowly tailored" to do so. It is used when a law creates a "suspect classification." It is the test that is used to protect individual rights that are considered "fundamental" to society; it has long been used to judge laws that treat people differently and less favorably on the basis of their race, country of birth, country of citizenship, religion, and poverty.
---
LA COUNTY BOARD OF SUPES ADDRESS FOSTER KIDS GETTING ENSNARED IN SEX TRAFFICKING
LA County Supe Michael Antonovich filed a motion Tuesday to form a task force to find ways to keep foster kids from becoming sex trafficking victims, which turns out to be yet another disturbing risk to which foster children can be subjected.
KPCC's Erika Aguilar has the story. Here's a clip:
The county's probation department found that 174 minors in juvenile custody in 2010 were arrested for prostitution related charges. About 64 percent of them had some previous involvement with DCFS because of child abuse.

"Even more shocking is that pimps are using child sex workers to recruit fellow foster care children at the DCFS Emergency Response Command Post and group homes across the county," says the motion filed by Antonovich.

The task force would be responsible for collaborating with other county agencies – mental health, probation, law enforcment and the district attorney's office.